Asian Champions Trophy 2016: Steely India overcome jittery start to triumph over Pakistan
In a match strewn with errors, India showed enough steel to make a comeback to beat Pakistan 3-2 and virtually cement a place in the Asian Champions Trophy semi-final.
In a match strewn with errors, India showed enough steel to make a comeback after being a goal down to beat Pakistan 3-2 and virtually cement a place in the Asian Champions Trophy semi-final at Kuantan. With two victories and a draw, India has seven points and two matches in hand.
Pakistan might feel stranded with three points after the defeat against India but two wins in their next two matches would also ensure them a semi-final spot.
Nerves dominated this tense encounter and India's display in the first two quarters was extremely jittery. They constantly lost the ball and Pakistan's dominance in the first quarter stemmed from the fact that they took the game to India. India scored through Pradeep Mor (22nd), Rupinder Pal Singh (43rd) and Ramendeep Singh (44th). Pakistan's goals came through Muhammad Rizwan (31st) and Muhammad Irfan Junior (39th). This was India's second consecutive victory over Pakistan after their 5-1 win in the Azlan Shah Trophy early this year.
Pakistan's coach Khwaja Junaid was disappointed but was happy that his team had given India a run for its money. "I think we played well and dominated the first half," said Junaid. "There were a few errors in the third quarter which India turned around to their advantage. But when I look at this encounter and that this was the 8th match after the World League for Pakistan, we can surely feel that we are turning the corner."
Pakistan captain Fareed Ahmed said with a bit of luck they could have held off for a draw. "I think India played well when it mattered," explained Fareed. "At 2-2, we should have played around the flanks but we gave the ball away easily. That was the crucial part."
Indian coach Roelant Oltmans felt it was one of India's better matches. "I think we stayed in the match and were strong," he said. "They were strong initially but we hung in and that showed the mental toughness of the team. We came through a tough period to win the match and I am happy with the result."
It was India who opened the scoring against the run of play when Rupinder's long ball saw Indian captain S K Uthappa pass to Pradeep. The stinging shot from the flanks deflected off Pakistan goalkeeper Imran Butt's pads, hit the far post and went in. Pakistan might have felt let down as they had initially dominated the proceedings and came close to scoring in the first five minutes earning a penalty corner in the process. But though India's display in the midfield and defence was not up to the standards they usually enjoy, they were dogged and didn't let the match slip away.
Pakistan found their way back into the game thanks to the defensive structure of Muhammad Arshad, Niwaz Ashfaq and Muhammad Bilal. They didn't play deep but came up and sent some breathtaking through balls that split the Indian midfield. India's defensive structure seemed to be all over the place. Thrice they were caught at the back and only the highly consistent Birendra Lakra bailed them out; once he had to tackle three Pakistan forwards to clear the ball.
Towards the end of the second quarter, India were coming alive after being in a slumber for most of the match. India couldn't sit on their one-goal lead as Pakistan were dangerous on the counter and with their captain Fareed playing pivot, they were breaking time and again.
The third quarter brought about most of the action with Pakistan finding the equaliser. Rizwan was allowed space to move in and he took a snap shot that sped past Sreejesh, whose vision was probably blocked by a defender. At one-all, Pakistan found their rhythm back. They showed more intent and were rushing up to meet the Indian players. Finally in the 39th minute, India allowed them into the half and Irfan found himself without a marker. His perfectly placed ball beat Sreejesh at the far post and suddenly the match had turned on its head. The lead was with Pakistan.
At this stage for a few minutes, the situation got to the Indian defence and some uncharacteristic errors creeped in. Pakistan were picking their spots and finding the players while the Indians were panicking. Pakistan were easily picking their spot and relaying the ball.
Off a counter, Talwinder asked for a referral which the video umpire gave to India, who earned their first penalty corner in only the third quarter. Rupinder washed off the sins of an indifferent display with a ferocious flick that didn't give any chance to Imran Butt. It was 2-2 and the match could have gone either way.
Exactly a minute later, a move down the left flank saw Lalit pass to Talwinder on the right side of the circle. Unselfishly, the Indian centre-forward tapped it to Ramandeep whose deflection on the moving ball beat the Pakistan goalkeeper. In the space of two minutes, India had scored two goals and snatched the lead back.
It could easily have been more but Nikkin Thimmaiah's super deflection was brilliantly saved by Imran. India were pushing Pakistan back and in the opening minutes of the 4th quarter, Pakistan had to dig deep to keep India away.
Defensive structures ensured that both team's had only one penalty corner each. "I don't think we need to be worried about the fact that we only had one PC," said Oltmans. "We need to understand that defences are getting organized and strong and it's a result of that."
Indian captain Uthappa, who has had better games, said the team was extremely happy at winning. "I think we were short of dominating and at the break, the coach did tell us where we were going wrong and the course correction happened in the third and fourth quarter."
The captain also said there was no reason to be tense because the opponent happened to be Pakistan. "I think the hype is a media build-up," he said. "We were playing a normal game and trying to win a match. We don't feel it any longer."
India has a break on Monday and then plays China on Tuesday before taking on the hosts Malaysia on Wednesday.
Sports
Odisha CM said Hockey India had recently approached the Odisha government to support them for the Men's Junior World Cup to be held in two months time.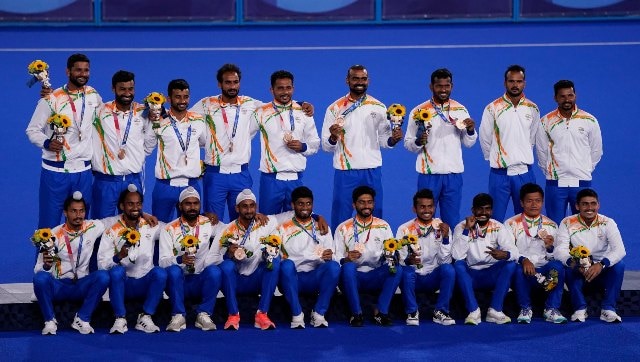 Sports
The Indian men's hockey team produced an inspiring performance at the Tokyo Games, where it edged out Germany 5-4 to claim a bronze medal, the country's first in the sport in 41 years.
Sports
The Belarus hockey federation had initially signaled Dmitri Baskov could stay on as president, but he told state TV on Friday he was stepping aside to avoid possible further sanctions against the federation if he stayed.