Asian Champions Trophy 2016: Losing wasn't an option, admits coach Roelant Oltmans
On Sunday night in Kuantan, after the Asian Champions Trophy final against Pakistan, Oltmans was a tad upset with the errors committed by his team, but extremely happy
It was an extremely satisfying night for Roelant Oltmans, who saw his team earn him his first victory as Indian hockey coach. Brought in as high-performance director in 2013, Oltmans has outlasted three coaches — Michael Nobbs, Terry Walsh and Paul van Ass.
On Sunday night in Kuantan, after the Asian Champions Trophy final against Pakistan, these thoughts were banished; Oltmans was a tad upset with the errors committed by his team, but extremely happy that they had managed to give the country a Diwali gift.
"It's a great win, and I think in the first 20-25 minutes we played outstanding hockey," said Oltmans. "We took a 2-0 lead, but then we started to make mistakes in the final part of the first quarter. Pakistan equalised, and just when it seemed to be getting critical, I think for the third time in the tournament, the team raised its level and we were able to score the match winner. We have been down before in the tournament — against Pakistan, Malaysia and Korea, but we have been able to come back. That shows the mental strength of this team."
Oltmans agrees that losing wasn't an option. He understands that when it comes to an India-Pakistan match, especially in a final, winning is everything. "Losing was not an option," Oltmans stresses. "I have been in about 20-25 India-Pakistan matches, mostly on India's side. I know what it means for people in both countries. It's a very important game and there is no option other than winning. We did it. And that's not easy. It's different for us. Even in the Asian Games, we were not the favourites, as we were not the top ranked Asian team. Then suddenly we are the top ranked Asian team and other teams are chasing us. It brings a different kind of pressure. It's also a different style of play than what we would employ against Germany or Australia."
In the last few matches, especially the semi-final against South Korea, the Indian defence was seen to be vulnerable to the aerial ball. Both Rupinder Pal Singh and Jasjit Singh Kular had difficulty in judging and trapping after the bounce. Pakistan also used it to good effect, and just when it seemed that India might break under the strain, they got out of it.
But not before Oltmans had a word with them after the third quarter. "I believe that they used the aerial ball in the first and second quarter and after that we discussed it," says Oltmans. "By the fourth quarter, they stopped the aerial ball and played a different style. I think we made many unforced errors. But we stuck to the plan and we had four big chances."
"Sitting outside and watching the match is not easy," said Oltmans. "You have a plan and the players stick to it. But it sometimes comes unstuck, because the opposition might change their plans and you have to adapt. But this is a team that does that very well. They stick together and play as per the plan."
Oltmans is then joined by skipper PR Sreejesh, who missed the final with a hamstring injury. "We have to calm him down when he is on the bench," the skipper says of the coach.
The Indian captain still limping a bit because of the hamstring strain. "I can't sit still. I have to shout, push the players. I have been doing that for ten years now. I keep motivating them. Sometimes the coach tells me to calm down but I cannot. It's a different feeling to sit outside on the bench. When someone makes a mistake inside, I feel tense."
The Indian captain was a member of the 2011 Asian Champions Trophy winning side, and to sit out when the trophy was being regained would have been frustrating. But Sreejesh doesn't agree. "It is still the best Diwali gift to my country. I already did my part in the semi-final. I took the team to the final. I trust my team. And they proved it today. It's not about one individual. It's about the team winning," he said.
Pakistan coach Khwaja Junaid was more philosophical about losing the final. "The rankings say the story," Junaid emphasised. "India is a stronger team and I am proud of the way the team (Pakistan) played today. They came back into the match when they were 0-2 down and equalised. India did play better in the fourth quarter and we might have held them a bit. But we take a lot of positives from this tournament and hopefully we will keep improving."
Junaid added that more matches should be played between the two countries. "Only sports can bring about a change in the nations," he said. "Once we used to play 8-9 matches in one series, and I think we should come together in hockey and play more matches. I can assure you that we would come up to the level of Australia, Holland and other nations if we do so," he said.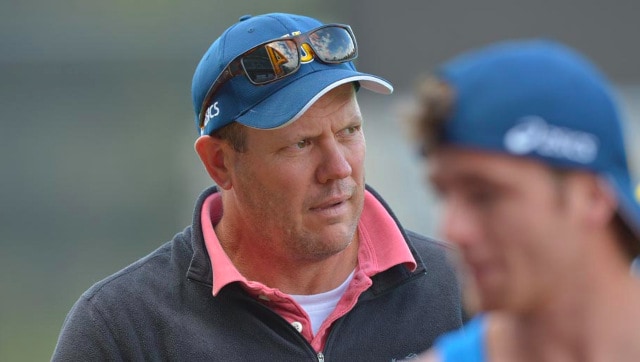 Sports
Emphasising on the importance of playing practice games, Reid, who is overseeing India's preparation for the event to be held from 25 November to 5 December, said he is trying to arrange a few matches against some participating European nations.
Sports
The Health Ministry, however, stated that all the arriving teams will have to follow necessary health safety COVID-19 protocols.
Sports
Chandigarh, Haryana, Maharashtra and Madhya Pradesh also won their respective pool games on the second day of the competition.