AS Monaco's Ligue 1 triumph justifies all the hype around Leonardo Jardim's sensible stewardship
Monaco's recent success in the Ligue 1 and Champions League is down to Leonardo Jardim and the vibrant brand of football they promote.
French football was in for a ride when the most successful club in France for the last five years failed to lift the elusive Ligue 1 title. Paris Saint-Germain found themselves outclassed, outsmarted and outmaneuvered by AS Monaco's free-flowing brand of football. The Ligue 1 title moved from Parc de Princes to a small principality, Stade Louis II, in Monaco as Leonardo Jardim's men were crowned French league champions for the first time since the turn of the millennium.
What left the football world in awe of Monaco was the way the tiny independent city-state kept the big guns absolutely quiet. This was enough to prove that the Ligue 1 is no longer a one-horse race. However, the story might remind us of Football Manager, if only one remembers how delightful the journey is.
Young guns over big bucks

After spending nearly €140 million in 2014, Monaco's trajectory had taken a massive downturn as the Ligue 1 side were forced to opt for a younger bunch that could make Jardim's team more than just a 'feeder club' and help them challenge for the title. 
Furthermore, what surprised Monaco the most was the vice president and CEO Vadim Vasilyev's decision to oppose the trend of spending big despite splurging so much on players earlier. Although, the Financial Fair Play (FFP) rules had also played a massive role in the club's sudden change of plans. A new bunch of players joined the squad earlier this season,
Much can be said about the successful La Turbie – Monaco's own academy – led by director Bertrand Reuzeau, who never misses an opportunity to make sure that the club will always promote youth over anybody else.
And if one remembers Monaco's successful youth policy, producing players like Thierry Henry, David Trezeguet, and Emmanuel Petit, World Cup winners in 1998, it is fair to say that the new boys have given a gleam of hope again. Although, the new squad boasts of a proper blend of youth and experience, Monaco have done enough to bring back the oomph among the fans with Radamel Falcao, Joao Moutinho and Jeremy Toulalan maintaining the balance.
"Leonardo Jardim knows that he has a number of talented players, gifted players from the academy. Monaco have been at the top in the French championship for many years and now they have regained their pride and their confidence where these kids who are 18-19 with some help from experienced Falcao," former Monaco and French midfielder Christian Karambeu told Firstpost.
But why did Monaco make the headlines for being the most exciting young team in Europe? Of the four Champions League semi-finalists, the average age of Monaco's outfield players in the last round was just 23.9 years compared to the much higher average ages of the Juventus, Real Madrid and Atletico Madrid starting elevens.
"Monaco are surrounded by young players and it all goes down to its disciplined academy. They don't want to buy talent anymore," points out former Monaco defender Rabiu Afolabi.
If plan A fails, turn to plan B
After securing promotion in 2012, Monaco successfully roped the services of players like James Rodriguez, João Moutinho, Radamel Falcao, Emmanuel Riviere, Geoffrey Kondogbia and Ricardo Carvalho to form their own 'Galacticos' and challenge for the premiership. Did they win the league then? No, they didn't. From the 2013 to 2016 season, Monaco saw themselves hanging at second and third position whilst rivals PSG enjoyed four successive league titles.

However, Monaco's planning slowly started to fade away, owing to an unstable family dispute. If reports are to be believed, in May 2014 club owner Dmitry Yevgenyevich Rybolovlev was ordered to pay a humongous $4.5 billion to his former wife. This, in return, turned out to be the most expensive divorce in history and that forced the club to sell a few players. One could argue that Michel Platini's enforcement of FFP obliged Monaco's billionaire Russian owner to find a solution to survive in the top division in France.
'There were two possible roads. The first was to spend big, that's what we did at the beginning. The second, now, is to build a project for the long haul. Yes, it takes longer, it is less glorious, we will be talked about less in the press, people will be worried, there are no longer stars and there is less glamour, but we believe in it," said Monaco's CEO Vadim Vasilyev in September 2015.
Monaco were a different side since Vasilyev's bold statement. Within a year, both Falcao and Rodriguez left as fans were angered by the loss of their star names. This was followed when Anthony Martial, Yannick Carrasco, and Geoffrey Kondogbia departed 12 months later.
This season, though, Jardim balanced his squad with a few additions and put faith in some of the young chaps. The current team boasts speed, agility, and fearlessness. Twenty-year-old Almamy Toure and Benjamin Mendy have donned the flanks. Their midfield looks young as well with 22-year-old playmaker Bernardo Silva and the lanky Tiemoue Bakayoko. Then there is the deep-lying Brazilian midfielder Fabinho, who has been on the radar of Bayern Munich and Manchester United for a possible transfer in the summer. Monaco have their own 'Blackenbauer' in Jemerson. Thomas Lemar is one of a kind and has been consistent for the major part of the season. Not to forget 18-year-old Kylian Mbappe's fox-like hunger to score goals that has kept many tight-lipped.
When Monaco defeated Borussia Dortmund 6-3 in the quarter-finals of the Champions League, six of those starters aged 22 or under. Mbappe and Toure were academy graduates while Lemar, Mendy, Toure and Bakayoko cost near £26m in total. This says a lot about their plans and   the path they have chosen.
Leonardo Jardim's faith in boys
The 42-year-old Portuguese was introduced in the 2013-14 season, finishing third with Braga in the 2011-12 season and second with young Sporting CP side in the next season in Portuguese Liga. Hired by Olympiacos in 2012-13, he left after six months with his team unbeaten and ten points clear at league summit. The foundations were laid when Monaco finished second behind PSG with a strong defence. They impressed, especially in the second half of the season both domestically and in Europe. 
The signings of attacking full-backs in Djibril Sidibé and Mendy proved to be one of the genius moves which not only solved attacking woes but also allowed Fabinho to guard the defence. Kamil Glik was signed to add a little more steel to a leaky defence. The athletic Bakayoko made the job easier for Jardim in the midfield. His jigsaw looked completed but he knew it was all about the execution.
Finally, the back four or five at times, looked rock solid despite being not so attractive on paper. Jardim's boys, as of the 20 May, have conceded just 29 goals in the Ligue 1, their sixth-best ever total.
The understanding and link-up play between Lemar, Silva, Falcao, Valère Germain and Kylian Mbappé were enough to ruffle a few feathers as oppositions were left stranded at times. Credit must go to Monaco's free-flowing football. "He's a very intelligent coach who reads games very well. He's also very good at reading players and understanding what they need. Those man-management skills have served him very well with this squad. He's got some very young players who still have some maturing to do, and he's patient and relaxed enough to teach them. That's played a major role in the team's performances and is one of the reasons why we are where we are in the league," Falcao was quoted saying by UEFA.com
We are talking about a team who have netted 156 goals in all competitions and four more than last two seasons combined. Jardim does not play with three at the back or an attacking 3-4-3 but his 4-4-2 seemed to have worked wonders. Only Paris Saint-Germain, Nice, Bayer Leverkusen and Juventus managed to take something out of them in this season.
"The mindstate of Leonardo Jardim is to encourage players and press the opposition more often. The average age in that squad is around 24 and everyone wants to follow the trend of Monaco today. We have a gem of a player in Mbappe and he is ahead of the game already. It is very different from my team back in the day as it's younger and can adapt to any given situation because of their vibrant nature and a manager like Jardim," explained Aflobi.
Master Falcao and Apprentice Mbappe
A large part of Monaco's success has been down to their outstanding attacking players, especially Falcao, who looks a deadly striker once again. Once surrounded by injuries, El Tigre now looks stronger than ever, making a mockery of his unsuccessful spells on loan at Manchester United and Chelsea from 2014 to 2016.
Teams were reluctant to sign the Colombian striker because of the uncertainty around his recovery from the atrocious knee injury he suffered just months after signing from Atletico Madrid for £50 million in January 2014.
Despite the recruitment drive failing massively, Falcao has rekindled faith among football fans and has helped Jardim's Monaco reach the goal they had set in 2014. Alongside him, there is another instrumental figure who has dribbled his way through the ranks, keeping Real Madrid's Fiorentino Perez, who is ready with a record offer, at bay.
"It's no surprise that Perez likes him," laughed Karambeu.
"In France, we always produce best players. (Nicolas) Anelka, Martial, Henry, (David) Trezeguet and the list goes on. So every time, every year we produce superstars. And also you can see that in the last 20 years we have produced the best players by far. This is a study I have done, no French player will start their careers in the German, Dutch, English and La Liga, you can only watch them in Ligue 1," says Karambeu.

"It's never early for a kid who has all the talent. I know that they need to take care and protect him. He has shown that he has the capability to play anywhere in any given situation".
The newly-capped French international has the ability to cause any defender sleepless nights. With Falcao supporting the 18-year-old speedster, the duo managed to score against both Manchester City and Borussia Dortmund. Talk about being the youngest player to reach 15 league goals in Europe's top five leagues and scoring past Gianluigi Buffon, 7,621 days his senior. He will definitely learn a lot from Falcao but his execution and attributes when he steps on the pitch have got the Colombian thinking whether Mbappe needs further teaching.
The players and Monaco, as a club has scripted a story that will be told or read for a long time. Why it is a Football Manager-esque story in the first place is because of how Jardim switched the gears and poured trust in the CEO, coaching staff and the players.
Monaco have won their first Ligue 1 triumph in 17 years, and one should thank them for showcasing the best attacking football in recent times.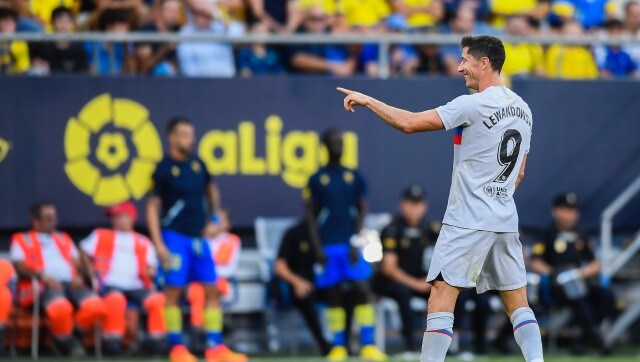 Football
After their 2-2 draw with Stuttgart, Bayern sporting director Hasan Salihamidzic said his team knew better than most the kind of damage Lewandowski could inflict
Football
Bayern have now won their last five meetings with Barcelona, including two in last season's group stage and their 8-2 victory in the 2020 quarter-finals.
Football
Kimpembe, 27, suffered the injury in PSG's 1-0 victory against Brest on Saturday.