Arsene Wenger's memorable quotes: From calling English food 'dreadful', labelling Jose Mourinho 'stupid' and more
As Arsene Wenger leave Arsenal at the end of 22 years, take a look at the Professor's most memorable quotes
Arsene Wenger announced his decision to step down as Arsenal manager after 22 years at the helm of the North London club. The Frenchman leaves the club after a trophy-laden career which includes three Premier League and seven FA Cup titles.
In 1996, Wenger arrived at Highbury from Japanese club Nagoya Grampus. His arrival was met with skepticism, not only by fans and the media, but his players too. However, the Frenchman managed to win over his players and critics with his innovations and tactical nous.
As the Professor announced his decision to leave Arsenal, here's a look at his most memorable quotes from his time in England.
"What's really dreadful is the diet in Britain. The whole day you drink tea with milk and coffee with milk and cakes. If you had a fantasy world of what you shouldn't eat in sport, it's what you eat here."
One of the first things that Wenger did when he arrived at Highbury was to change his players' diets. Inspired by his time at Japan, Wenger gave the menu at the Arsenal canteen a makeover by adding more vegetables and reducing the number of fatty foods served. The players, though initially unhappy with the change, soon bought into Wenger's philosophy and many later admitted that the diet helped prolong their careers at the top level.
"Everyone thinks they have the prettiest wife at home."
After bowing out to Bayer Leverkusen in the UEFA Champions League final, Manchester United manager Sir Alex Ferguson claimed that his side had been the best in the Premier League since Christmas. Wenger, who would go on to lead Arsenal to the Premier League and FA Cup double that season, was asked about his opinion of Ferguson's claim and he put an end to the debate with a witty quip.
"No matter how much money you earn, you can only eat three meals a day and sleep in one bed."
In 1999, Nicolas Anelka moved to Real Madrid from Arsenal after a falling out with the staff and fans. Wenger tried to keep the striker at Arsenal and advised him to not go after money, but the then 20-year-old French striker signed a seven-year deal with Real Madrid, who paid the Gunners £22 million. Anelka didn't settle at the Spanish capital and rejoined old club Paris Saint-Germain after a season. Anelka later admitted he shouldn't have left Arsenal and said he admires Wenger for what he had done during his stay at the club.
"To remain unbeaten in a championship like the English championship now is really unbelievable. I want to win the Champions League but, really, this is more important. It is something amazing, something special. How can you do it?"
A year after the Invincible's season, Arsenal struggled as Chelsea, under Jose Mourinho, took the league by storm. The Blues clinched the league by a record 95 points while Arsenal finished second with 83 points. After a particular match against Crystal Palace where Thierry Henry, having an off day, just about managed to get Arsenal the winner with a scrappy goal, Wenger compared his team's frustration with that of a child's when not given ice-cream.
"He's out of order, disconnected with reality and disrespectful. When you give success to stupid people, it makes them more stupid sometimes and not more intelligent."
Wenger and Mourinho's clash started in 2004 but it took a nasty turn when Mourinho termed Wenger a voyeur after the Frenchman raised questions on Chelsea's form after a couple of poor results. The comments shocked the footballing world with Wenger even threatening to sue Mourinho for his comments and termed him stupid.
"When you're dealing with someone who only has a pair of underpants on, if you take his underpants off, he has nothing left - he's naked. You're better off trying to find him a pair of trousers to complement him rather than change him."
Over the years, Wenger has earned praise for developing young players and allowing them with the freedom to believe in their abilities and express themselves on the pitch and he resorted to this weird metaphor to justify his beliefs.
"We do not buy superstars. We make them."
As Chelsea and later Manchester City began spending exorbitantly on players on their way to winning trophies, Wenger remained steadfast in his belief of not going overboard to sign a player. Instead, he focused on developing players like Cesc Fabregas, Robin Van Persie and Samir Nasri, who went on to establish themselves as superstars.
"The penalty decision was Old Traffordish."
In one of the classic United-Arsenal clashes, Wenger's men were cruising to a victory after Andrei Arshavin had given them the perfect start. However, at the stroke of the hour, United won a penalty which Wayne Rooney converted before Abou Diaby's own-goal gave United the win. With fans accusing referees of awarding United, the match also gave us one of the most memorable Arsene Wenger images when he stood in the dugout after being sent-off.
"Sometimes I see it [a foul by an Arsenal player], but I say that I didn't see it to protect the players and because I could not find any rational explanation for what they did."
Wenger has often been critical to refereeing decisions going against his team but he admitted to choosing to ignore fouls committed by Arsenal players in a bid to protect them and spare them the scrutiny.
"In my job, you expect to suffer. That's why when I go to hell one day, it will be less painful for me than you, because I'm used to suffering."
Wenger endured a torrid summer ahead of the 2009 season with Cesc Fabregas, Samir Nasri and Gael Clichy leaving the club for Barcelona and Arsenal. That was followed by a humiliating 8-2 loss at Old Trafford as Wenger sunk to his lowest point during his time at Arsenal.
Sports
The former Liverpool and Celtic manager, 48, had been touted as a leading candidate to join Spurs after they sacked Jose Mourinho last week.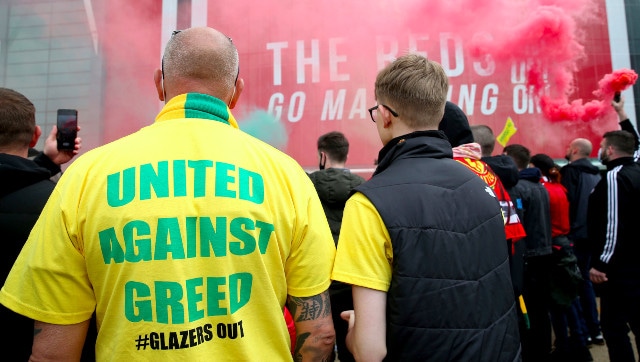 Sports
Fans invaded Old Trafford and went onto the pitch on Sunday as part of a protest against United's owners, the US-based Glazer family.
Sports
Manchester United, who said they would switch off all their official Facebook, Twitter and Instagram accounts, added that they had conducted their own research into online abuse.