Arpinder Singh's journey from enduring naysayers to courting Asian Games glory speaks of his character and resolve to excel
On a hot and humid night in Jakarta, Arpinder Singh finally laid to rest the internal demons and silenced the naysayers who doubted him by winning gold.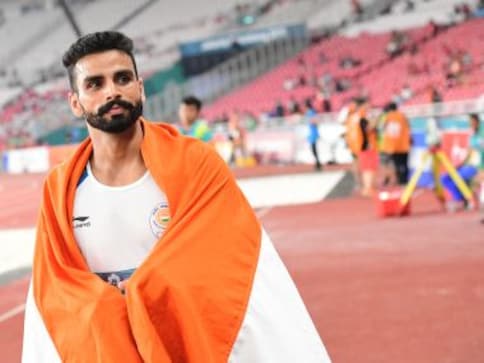 For triple jumper Arpinder Singh, life has always been a struggle on and off the track. As a 16-year-old, he suffered a back injury that left him bed-ridden for three months. If having to worry about his immediate future in the sport was not enough, Arpinder also had to deal with 'friends and well-wishers' in his village of Harsha Chhina in Punjab, going around saying his career had ended before it even began.
Fast-forward to 2016 and a disappointed Arpinder, having failed to qualify for the Rio Olympics, had to again deal with the advice of those well-wishers who urged him to retire and be happy with his 9-5 job.
Two years later, Arpinder now had to deal with the weight of expectations as he looked to become the first Indian to win a gold medal at the Asian Games since Mohinder Singh Gill achieved the feat at the 1970 edition in Bangkok.
For days before his event at Jakarta, Arpinder endured many a sleepless night. Talking to his coach helped, but as Arpinder puts it, "Kya hain ki dimaag hain. Jo marzi socho wahi jaega." (You can't help the mind. When it thinks of something, you can't help but fall down the rabbit hole). Seeing roommate Tejinder Pal Singh Toor win gold in the shot put a day before he took to the track only added to Arpinder's nerves.
But on a hot and humid night in Jakarta, Arpinder finally laid to rest the internal demons and silenced the naysayers who doubted him.
"My friends and people back in my village used to tell my dad that I wouldn't be able to do anything. So when my dad used to tell me all this, it used to hurt a lot," Arpinder said.
When the back injury forced him to the bed in 2006, it was Arpinder's family and especially his father, who kept his morale up and didn't let the doubters get to him. A year later, he repaid the faith put in him by winning his first medal at the National School Games.
After winning a bronze medal at the 2014 Glasgow Commonwealth Games, expectations of a good showing at the 2016 Rio Olympics rose. Arpinder was included in the Target Olympic Podium Scheme which helped him to go to London for a year where he trained under coach John Herbert. Things, however, did not go according to plan.
The cold and damp weather in London didn't suit Arpinder and he found adjusting to alien surroundings difficult. If Arpinder thought life inside the warm confines of the indoor court would be good, he was mistaken. Herbert, a Commonwealth Games gold medallist for England in the 1986 edition, decided on reworking Arpinder's technique.
"My technique was changed totally. The arm action on the runway was changed. On the first hop, I used to keep my arms horizontal but he told me to keep them vertical. He asked me to work on keeping my body alignment straighter. But on the step phase of my jump, my body would move a bit forward and my rhythm would break," Arpinder said.
As he found it difficult to adjust to his new technique, Arpinder's performances took a hit. He failed to make the cut for the Rio Olympics. For the residents of Harsha Chhina, Arpinder's career was over. He had represented his country at various events and even won himself a Commonwealth Games bronze and there was no topping that for them. The constant stream of negativity took a toll on Arpinder.
"First of all, there aren't many from your village who are athletes representing India. The one person who is, instead of being positive and encouraging, you focus on being negative," he said of his villagers on the sidelines of an event organised by Godrej Cinthol.
After failing to qualify for the Olympics, Arpinder was asked to come back to India by the Athletics Federation of India (AFI) and he resumed his training at the national camp. Does he feel that his time in London was a failure?
Not really. In fact, Arpinder believes that he is reaping the rewards of the year spent in London. However, he feels that had he spent another year training under Herbert, he would have improved much more.
"There were obviously a lot of hurdles. But I was feeling good. I felt that if I followed my coach's instructions, I would be able to do well. But I was there only for a short time. I think that if you are going out of the country for coaching, you should be there for at least for two years. You need time to implement the changes and I don't think I had enough time for that," the Punjab athlete said.
Arpinder didn't have time to celebrate his Asian Games gold as he had to travel to Ostrava for the IAAF Continental Cup right after the Asiad, where he bagged a bronze with a 16.59m effort. However, he thinks his performance could have been better had he been able to train more. In the ten days he spent in India after arriving from Jakarta, he had to attend numerous events organised by jubilant federations and sponsors leaving him with little time to train.
On the whole, Arpinder is hopeful for his future. With form and confidence on his side after his showing in Jakarta and Ostrava, he is aiming to make up for his Rio Olympics disappointment with a podium finish at the Tokyo Games in 2020.
Sports
As Arpinder Singh boarded the bus to the Games Village, with the Asian Games gold medal tucked in his bag, he knew that he can clear the mind of any doubts that allows to surface.
Sports
Star shot putter Tejinder Pal Singh Toor will be India's flag-bearer at the South Asian Games opening ceremony, to be held on Sunday in Nepal's capital city of Kathmandu.
Sports
Unusual as it may sound, but flashing a wide smile while getting clicked proved costly for several Indian track and field athletes, as their accreditations for the upcoming Asian Games were rejected by the organisers.