Anurag Thakur, the ambitious and practical new BCCI President, has his task cut out
Anurag Thakur is dynamic, ambitious and practical - a heady cocktail which could be just the brew to take BCCI to a new high.
'Uneasy lies the head that wears the crown' could be an apt summation of the occupational hazard dogging Board of Control for Cricket (BCCI) in India's presidents these past three years. No less than eight of them have been whizzed through its revolving door in the said period, with the latest being Anurag Thakur who at 41 is among the youngest to the post.
The eight in chronological order since 2013 -- N Srinivasan, Jagmohan Dalmiya (interim), N Srinivasan, Shivlal Yadav (interim), Sunil Gavaskar (Interim-IPL), Jagmohan Dalmiya, Shashank Manohar and now Anurag Thakur -- some elected and others selected, have steered the Board during a particularly turbulent time when charges of spot-fixing, conflict of interest, among others struck close to home.
The 34th president of the Board, Anurag Thakur who donned the mantle on Sunday at a Special Generalbody Meeting summoned after the previous president Shashank Manohar quit to focus on the ICC, has a particularly harrowing time ahead of him.
The Supreme Court hearing objections to the recommendations of the Lodha Committee is to sit next on 29 June and all indications are that it would soon order the restructuring of the Board. This might adversely affect Thakur's reign.
However, one notable sentiment coming through Thakur's career both in politics and cricket administration is the belief that he is unquestionably destiny's child. Additionally, he is a dynamic man of action not shy of setting in motion actions that would hasten his achieving of goals.
Son of former Himachal Pradesh chief minister Premkumar Dhumal (1998 to 2003 & again 2008 to 2012) Thakur was rushed into the Lok Sabha in 2008 from his father's constituency of Hamirpur. His father had quit the seat to take charge of the state and Thakur, also representing the BJP, won the ensuing by-election and made it to the lower house of parliament.
If that was a sudden and dramatic entry at a very young age into the center stage of national politics, his ingress into the national cricketing set-up was no less remarkable.
At the age of 25 when most cricket players could be expected to dream of a cricket career, Thakur did the unthinkable: he became president of the Himachal Pradesh Cricket Association (HPCA). He now nursed ambitions of becoming national selector for junior cricket but was told that he did not qualify for the post as he was not a first class cricketer.
The manner in which Thakur overcame this hurdle was quite revealing of the man. He hopped into Jammu on the morning when his state team was scheduled to play a Ranji Trophy match against Jammu and Kashmir and declared that he would lead the team instead of the regular skipper Rajiv Nayyar. He picked up two wickets for 18 runs with his off spin bowling and after his team lost the four-day match, announced his retirement from first class cricket. It was the first time that a president of a cricket association was also making his first class debut.
Importantly he had met the criterion of being an ex-first class cricketer and thus his demand for being made national junior selector could no longer be averted.
Thakur is fiercely passionate about the game and this sets him apart from many other administrators. The manner in which he lifted his state from being a cricketing nonentity to the forefront of Indian cricket is an indication of the ability he brings to the table. The spectacular Dharamsala cricket stadium, which is repeatedly showcased during IPL seasons, stands testimony of his commitment for his state and the game. Despite Dharamsala's limited lodging facilities which are a dampener for the hosting of major international cricket, Thakur has been successful in bagging a few major matches for the venue.
He has also proposed and in some cases been successful in hosting national camps for men and women, besides eyeing a permanent cricket academy at the venue. Besides Dharamsala, Thakur has also built good cricketing infrastructure across the state.
Of course his canvas would be much broader now. East Zone who bitterly opposed him at the previous elections where he defeated Sanjay Patel by a solitary vote in the race for BCCI secretary, on this occasion overwhelmingly endorsed his candidature as they were sure that he was the best candidate to take the Board forward.
The BJP Lok Sabha MP is well aware that he has to carry a team with him and the choice of West Zone's Ajay Shirke as secretary is a reflection of that.
Earlier, during the short second tenure of Manohar, the BCCI secretary's office had been shifted to New Delhi, immediately across Thakur's residence to facilitate work. This should come handy this time around too as Thakur has plenty of political and cricket administration work on his plate.
The most comforting aspect for Thakur however, would be that as president he does not have to grapple with the day-to-day issues of the Board. The secretary is the convenor of the many BCCI committees and sub-committees and could be expected to have his hands full. In this regard, Thakur as president could have an easier time than he did as secretary.
This would enable the ambitious BJP politician to focus only on policy and the big picture. The Supreme Court-appointed Lodha Committee recommendations hang like the sword of Damocles over his and the BCCI's head and in one of his first interviews on Sunday he stated that the Board would implement whatever is practical.
In short, Thakur is dynamic, ambitious and practical. Now that's a heady cocktail which could be just the brew to take BCCI to a new high.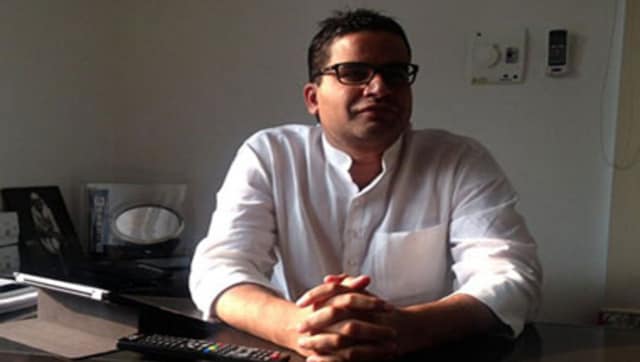 Politics
The newest twist in the tale came on Wednesday when Rahul Gandhi aide Archana Dalmia sent out a tweet giving Kishor a 'warm welcome into the Congress family' only to subsequently delete it
Sports
Thakur was accompanied by Minister of State for Sports, Nisith Pramanik, Sports Authority of India Director General Sandip Pradhan and Indian Olympic Association (IOA) officials, including President Narinder Batra and Secretary General Rajeev Mehta.
Sports
The meeting of the high-level committee was also attended by his deputy Nisith Pramanik and the officials of the sports ministry, Sports Authority of India (SAI) and Indian Olympic Association (IOA).