Anup Kumar retires: Intelligent, charismatic and humble, former captain was an ideal face for Indian kabaddi
Anup Kumar was at the forefront when kabaddi marched into the bold, big era of the Pro Kabaddi League in 2014. And was the best possible bridge between the players, owners, coaches, media and fans that the League and Indian kabaddi would have ever hoped for: a perfect blend of charisma and humility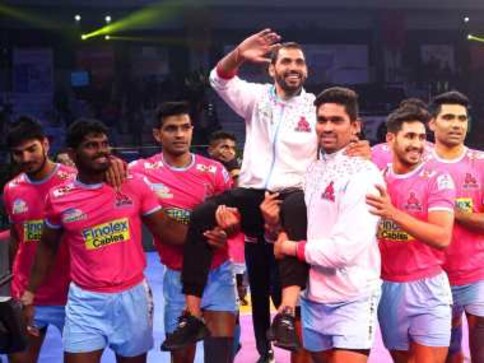 Over the last few seasons, the overbearing image of Anup Kumar has been that of him strutting at the mid-line, searching for any obvious chinks in the opposition defence while keeping an eye on his own team, telling them to get themselves organized for the next raid. It's been a while now since his most-talked about move, the toe touch, was executed with perfection on the kabaddi mat. It's been a while since Anup Kumar was the lead musician of his band, but he has always been the astute orchestrator.
That's what Anup will be most remembered for as he called time on his 15-year-career on Wednesday.
He was at the forefront when kabaddi marched into the bold, big era of the Pro Kabaddi League in 2014. And was the best possible bridge between the players, owners, coaches, media and fans that the League and Indian kabaddi would have ever hoped for: a perfect blend of charisma and humility.
"The day I took to playing kabaddi professionally, I had one dream, to represent my country and bring back a gold medal, I am one of the few lucky people who had the opportunity to accomplish the most important dream of my life," Anup, 35, said as he announced his retirement in Panchkula, that is hosting his team Jaipur Pink Panthers' home games. "Today, with the Pro Kabaddi League, the magnitude of the sport has grown leaps and bounds and I could not be happier than to watch and grow and be a part of this journey."
On Wednesday, he sat on the sidelines, at times lost in memories and reflection, at others enjoying the attention and affection showered upon him. The first bonafide superstar of kabaddi, he is possibly also the first in his sport to get such a heartfelt farewell.
The glitzy neon-lit, music-pumped setting of his retirement is far removed from the dusty fields where he first played the game, and where his son still plays kabaddi. During an interview at the 2016 World Cup in Ahmedabad, Anup recalls the first pull towards competitive kabaddi came when he would see kids from nearby villages win matches and bring back an assortment of items: towels, plates, vessels. A naughty kid who used to spend his afternoons chasing rabbits or stealing bulbs from cars, Anup was still diligent with helping out his mother – his father passed away when he was very young — with housework. Kabaddi was a hobby, one which was seen as a dead-end by his near and dear ones.
But the game is prevalent in that heartland around Gurugram, Haryana. After a brief flirtation with athletics — one which ended with Anup being thrown out of the sports hostel with his coach —he returned to kabaddi in 2001. No one saw him coming at the 2004 Senior Nationals in Kurukshetra because Anup had skipped the 'juniors' circuit. But the lanky youngsters' talent was unmistakable and he was drafted into the Indian side for the 2005 Aspire Challenge trophy in Doha, Qatar, which was a precursor to the Doha Asian Games in 2006. His first big tournament was the 2006 South Asian Games in Sri Lanka.
Anup was one of the leading Indian players when the team won the Asian Games gold medals in 2010 and in 2014. In 2016, he was handed over captaincy for the Kabaddi World Cup and India opened with a shocking defeat to South Korea.
"I think I fell short as a captain in the game against Korea," Anup said the morning after. "I made two big mistakes. As a captain, as a senior player I should not have made those mistakes," he says before pin-pointing the errors.
"But no one in the team tells me when I have made one. You have to admit to your mistakes. If I make a mistake and as a captain, don't take responsibility, it is not right. But if the other players see me own up to it, they will learn to be more open about it and work on fixing the problems." India did go on to win the World Cup eventually, their third in a row, Anup's first and that as a debutant and captain. But his honest analysis of the Korea game was a lesson in humility, a trait he is keen to pass on to the next generation.
Like a lot of ancient Indian games, kabaddi is steeped in tradition and rituals and respect for elders. "Respect is everything in kabaddi," he had said. And disrespect the ultimate insult. "Our game has to build and grow," he insisted. "Even if someone has played just for four days, you have to encourage them, not put them down."
It is this fundamental quality, respect for the other person, that has gone a long way in helping him cope with his new-found popularity and fame post-PKL.
"Earlier people knew I used to play kabaddi but one really cared that much," said Anup, who is an inspector at Haryana Police. "It was a normal life. Go for tournaments, some media would ask about it."
"When PKL came about, right at the start, talking on live television etc was a little difficult," he said. "But I didn't take time to adjust. I was happy to talk to people, interact with anyone. Before the match, after the match. People who I hardly spoke to, now they speak with me every week. Sometimes it becomes overwhelming. When there are too many people, everyone asking for pictures, in the mind you think it's too much but you can't react badly or disrespect them. To me it doesn't matter who the person across is, you treat them with dignity and humanity."
On the mat he was no different: head down, voice respectful, always an encouraging smile on the face. As U Mumba's leader and the MVP of the inaugural PKL season, Anup was the first to win widespread accolades and sobriquets like 'Captain Cool' and 'Bonus ka Badshah'. He led the most precocious group of players in U Mumba with a cool head, guiding them to three successive finals and a championship win in the second season in 2015.
But with age catching up, Anup had cut down his raiding duties and focused more on man management. Widely regarded as the smartest kabaddi brain in the country, he probably knew better than most when to call time on his career. "There's no special reason (for retiring)," he said on Wednesday. "But every player has to face this situation. I just thought that I should stop playing the game. Some of our youngsters are playing really well and it's their time now." In the hope that he has taught them well.
also read
Sports
Here is the complete list of players sold on Day 1 of the Pro Kabaddi League 2018 auctions including Rahul Chaudhari, Anup Kumar and Deepak Niwas Hooda.
Sports
Telugu Titans began their home leg with a thrilling draw against Pink Panthers in the Pro Kabaddi season two
Sports
Indian skipper Anup Kumar on Sunday informed he will go into international retirement after the ongoing Kabaddi World Cup.