Angelique Kerber debuts at World No 1, Stan Wawrinka consolidates third spot
U.S. Open champion Angelique Kerber officially became the oldest woman to debut at No. 1 in the WTA rankings, ending Serena Williams' record-tying run of 186 consecutive weeks in the top spot.
Monday's rankings are the first since February 2013 without Williams at No. 1.
The 28-year-old Kerber's rise from No. 2 was assured when Williams lost in the semifinals at Flushing Meadows.
Kerber went on to beat Karolina Pliskova in Saturday's final for her second Grand Slam title of the season. She defeated Williams at the Australian Open in January, then was the runner-up to the American at Wimbledon in July.
She is the first woman from Germany to be ranked No. 1 since Steffi Graf, who has been a mentor for Kerber. Graf and Williams share the mark for most weeks in a row atop the WTA.
"For sure, when I was growing up, Steffi was my idol," Kerber said, "and this is also special that she is German. She did a lot for German tennis, as well. And now, to be the next after her, to be a German No. 1 and win Grand Slams, this is, for me, really important."
Williams is now No. 2, followed by French Open champion Garbine Muguruza at No. 3, Agnieszka Radwanska at No. 4, Simona Halep at No. 5, and Pliskova at a career-best of No. 6. Pliskova was No. 11 before making it past the third round of a major for the first time and becoming the fourth woman to eliminate both Williams sisters during a Grand Slam tournament.
Roberta Vinci, the U.S. Open runner-up in 2015, dropped from No. 8 to No. 15 on Monday after losing to Kerber in the quarterfinals last week.
Victoria Azarenka went from No. 7 to No. 11; she skipped the U.S. Open because she is pregnant.
WTA Top 10
1. Angelique Kerber (GER) 8,730
2. Serena Williams (USA) 7,050
3. Garbine Muguruza (ESP) 5,830
4. Agnieszka Radwanska (POL) 5,815
5. Simona Halep (ROM) 4,801
6. Karolina Pliskova (CZE) 4,425
7. Venus Williams (USA) 3,815
8. Carla Suarez (ESP) 3,300
9. Madison Keys (USA) 3,286
10. Svetlana Kuznetsova (RUS) 3,250
Fresh from his US Open win, Stan Wawrinka consolidated his third spot in the latest ATP rankings released Monday, closing the gap on Andy Murray, who holds on to second.
Wawrinka shocked world number one Novak Djokovic in Sunday's US Open final, shaking off a first set loss to win 6-7, 6-4, 7-5, 6-3.
Despite his defeat, Djokovic still dominates the rankings ahead of Murray with Wawrinka next and Rafael Nadal moving up from fifth to fourth place, after losing in the fouth round to Frenchman Lucas Pouille.
Kei Nishikori of Japan dumped Murray out of the tournament at the quarter-final stage and leaps two places in the rankings to fifth while Roger Federer, who missed the Open, slides down three places to seventh.
ATP Top 10
1. Novak Djokovic (SRB) 14,040 pts
2. Andy Murray (GBR) 9,485
3. Stan Wawrinka (SUI) 6,260
4. Rafael Nadal (ESP) 4,940
5. Kei Nishikori (JPN) 4,875
6. Milos Raonic (CAN) 4,760
7. Roger Federer (SUI) 3,745
8. Gaël Monfils (FRA) 3,545
9. Tomas Berdych (CZE) 3,390
10. Dominic Thiem (AUT) 3,295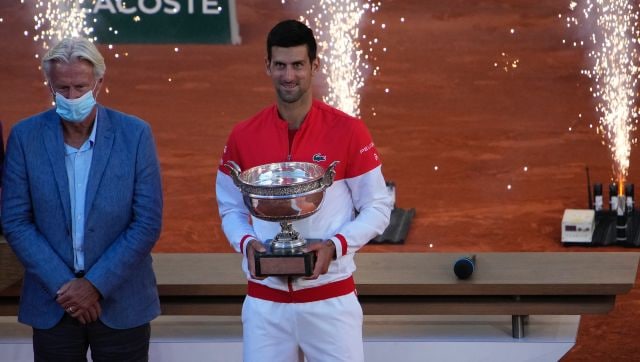 Sports
Some of the standout stats after Novak Djokovic won his second French Open title, 19th Grand Slam title at Roland Garros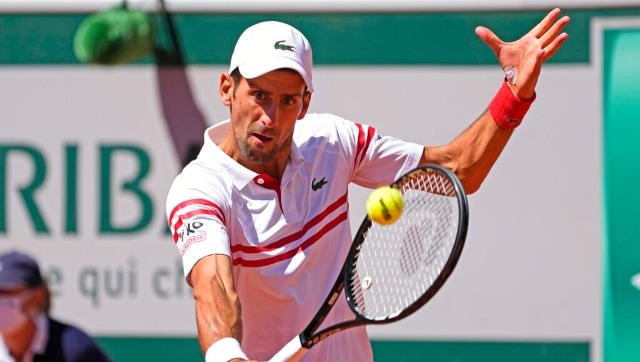 Sports
Here's how Twitter reacted to Novak Djokovic's impressive come-from-behind win over Stefanos Tsitsipas in the French Open 2021 final!
Sports
Nadal, chasing a 14th title in Paris and record-setting 21st Grand Slam, defeated Argentina's Diego Schwartzman 6-3, 4-6, 6-4, 6-0, shrugging off seeing his winning run of 36 consecutive sets at the tournament come to an end.