Andres Iniesta departs Barcelona with contentment, leaving behind imprints of his greatness at Camp Nou
With everything there is to achieve already accomplished, Andres Iniesta can go in search of newer experiences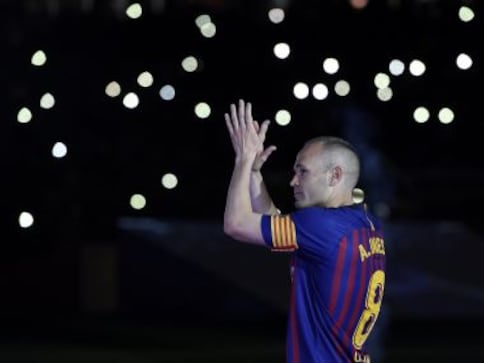 For the record, Andres Iniesta spent 82 minutes on the pitch on Sunday. In reality, he was there the whole night. Until the wee hours of Monday, Iniesta sat on the gentle grass of the Camp Nou pitch reminiscing the 22 years which had passed him by. In this time, he has done some great things and they are worth cherishing.
He took out his phone to capture the stadium in deathly silence. Dark, dimly lit Camp Nou, a contrast from the bright lights which sparked from Iniesta's feet there. He walked barefoot on Sunday night, with nobody around him. Nobody around to hustle him into finding space or thread a ball past the defence. Nobody around to hug him as he scored another vital goal. Iniesta was alone, somewhat sad, but at peace with what he has done.
Back in 2009, that was not the case. He was in a "dark place", injuries and anxieties threatening to take over. A sense of unease, he called it. Iniesta sought professional help, a taboo which most professional footballers will be averse to break still. But he knew he needed help. The passing away of his friend Dani Jarque, the captain of city rival Espanyol, had terrified him.
But in those hard times, Iniesta moulded himself into a different person. He fought back against his demons, his own body too. In the 2009 Champions League final, he had a hole in his thigh for company. Injuries followed him to the World Cup the following year. It was in this period, though, that he also scored the two most crucial goals of his life.
In the final minute of the Champions League semi-final at Stamford Bridge in April 2009, it was a slash of his right foot that demolished Chelsea's dreams. A year later, Iniesta struck the ball with aplomb once again to win the World Cup for Spain – a goal he dedicated to Jarque. Crucial goals have ever since been a hallmark of his career. Iniesta rises to the occasion whenever his team is in utmost need.
Looking back at those goals, though, one cannot help but notice that he looks discernibly different now. Iniesta is often called the thinking man's footballer. It is obvious that the thinking has taken its toll. He looks frazzled, his hair withered away, a sombre expression on his face representing a ledger of his exertions. The boyish look has not entirely left him, but it is overshadowed by the depredations of older age.
It is a wonder, really, that Iniesta has chosen to keep going on. China or Japan is touted to be his next destination. It remains difficult, though, to imagine him in a new place. Iniesta is great not only because of the genial workings of his mind, his excellence is amplified by his teammates as well.
One can be sure that the playmaker will still keep finding the right passes. This is an ability which has not left him; to some extent, one could say the same of his dribbling skills. However, in the absence of someone like Lionel Messi or Luis Suarez, it is unlikely that material shape will be given to his ideas frequently. One wonders whether a man of Iniesta's genius would be content with that.
He might be. For Iniesta has spoken of contentment, and also of his desire to not compete against Barcelona ever. "I don't want to fool anyone. In a few days I will turn 34. I have squeezed myself for this club and I think the moment has come to leave. I know myself and I understand that from now on everything was going to be more of a struggle and I have given everything to this club and I wouldn't feel happy if I felt that I couldn't give everything, as I have been able to up to now," he said in the press conference where he announced his departure.
With everything there is to achieve already accomplished, Iniesta can go in search of newer experiences. By playing in the Barcelona side managed by Pep Guardiola and winning the World Cup, the midfielder has already experienced the highest of highs in professional football. Now, his focus shifts to different objectives in life. Finally, he can give his mind a bit of a rest.
Perhaps, the new phase for Iniesta began in the late night camping on the Camp Nou pitch. A time not to merely recollect and reflect, but relax. What stood out from the images is the serenity which surrounded Iniesta. He can be calm now, safe in the knowledge that the best and the worst are over.
Although it was not fully lit in the early hours of Monday, Camp Nou was not a dark place for its favourite son. Instead, it had just about enough light for Iniesta to shine. The embers will glow for some time to come.
Football
Indians are among the leading buyers of the 2022 FIFA World Cup tickets despite the national team not qualifying for the tournament in Qatar.
Football
As per new LaLiga broadcasting rules, the winning bidders of its television rights must cover the league positively.
Football
After comments by Qatari officials this year, FIFA reaffirmed that LGBTQ rainbow flags would be allowed around stadiums.