Altibox Norway Chess: Viswanathan Anand ends modest campaign with draw against Magnus Carlsen
After the game, Anand said maybe he rushed a bit with his move 20.Ra6 and that he should probably have played with some more subtlety.
The strongest tournament of the year, Altibox Norway Chess, witnessed a spectacular finale on Friday evening. The battle for the title prize was mainly between the tournament leader, Levon Aronian and Hikaru Nakamura, who was just half-a-point behind him. However, the rest of the players were not at ease either. While the tail-enders wanted to improve their standing in the tournament, the ones in the middle of the table would have loved to finish a place or two above their current position. After all, there was a prize fund of €249,000 on the line. And at the end of nine gruelling rounds, it was Levon Aronian who emerged on top of the field that included eight out of the world's top ten players.
Talking about his tournament win, Aronian said he feels the general level of his games was good. This is his second major win this year. The last one came at the Grenke Chess Classic in Baden-Baden, Germany where he won with a round to spare. When asked if this run of form makes him think again in terms of winning the World Championship, Aronian said, "I'd never stopped thinking about winning the World Championship. The day I stop thinking about it would either be the day I quit playing chess or the day when I finally become the world champion." He further said that despite all of the disappointments he had faced in the past, he had taken them as temporary setbacks and moved forward with undeterred enthusiasm.
All players fought valiantly in the final round and two out of the five games ended with a decisive result. Fabiano Caruana, who had not won a single game at this event so far, was able to bring his countryman, Hikaru Nakamura, to his knees. Nakamura was the only player who had a chance to catch Aronian in the lead. But since that didn't happen, the Armenian superstar's draw against Wesley So was enough to seal his first place.
Indian legend Viswanathan Anand drew against world champion Magnus Carlsen and the game between Sergey Karjakin and Maxime Vachier-Lagrave also ended peacefully after 30 moves. Vladimir Kramnik played the best game of the day probably and beat Anish Giri in just 20 moves!
The five-time world champion, Anand, had white pieces against Carlsen. With a score of 3.5/8 each, both players had had quite a modest result in the tournament so far. A win would at least have brought one of them to a 50 percent score. Also, Carlsen, after hungrily hunting his first win of the tournament, had finally succeeded in the previous round. He must definitely have been in high spirits and could have been expected to try pressing for an advantage, even though he had black pieces. It was Anand, however, who got an edge out of the opening, but the game ended in a draw after 32 moves.
Anand once again deployed his apparently favorite opening of this tournament, the 'Italian', in his game against Carlsen. During the game, Anand thought he had an edge and even Carlsen agreed with this assessment. However, as the game progressed, both players were surprised by the amount of counter-play black had in the position. After the game, Anand said maybe he rushed a bit with his move 20.Ra6 and that he should probably have played with some more subtlety.
Nevertheless, he felt that black had a solid position. Further, he said that he found the position after black's 22.Nf7 a bit annoying because then Carlsen was able to at least swap a pair of knights, and even if he won a pawn somewhere, it wouldn't have been enough to win. And that's exactly what happened later. Carlsen sacrificed a pawn and was able to exchange not one but both pairs of knights.
In the resulting position, even though Anand had an extra pawn, he chose to repeat the position and hold a draw because of the activity of black's major pieces. Anand said that he was satisfied with his performance in the second half of the tournament, but overall, the result was slightly disappointing. Talking to Nigel Short, he said, "Obviously, one doesn't dream of (scoring) -1. But I had a bad start; and under the circumstances and in this kind of a tournament, it was a reasonable recovery. Plus-one in the last five games is fine. But I shouldn't keep starting with -2."
Carlsen, who attended a press conference with the official commentators for the first time after his loss in round four, said that although the first two rounds went okay for him, he wasn't feeling fresh in his head in his game against Nakamura in the third round. This trend continued in the subsequent rounds as well.
He felt the worst point of the tournament for him was during the fifth and the sixth rounds when he couldn't make anything of his whites. He further said that he not only played poorly but he also lacked motivation. And in the end it was the lack of confidence from the start along with some good play by his opponents that led to his downfall. Carlsen also explained his choice of number during the drawing of lots saying it wasn't because he wanted to play Wesley So in round one that he chose the number three. It was more because he wanted whites in the fifth and the sixth rounds.
Kicking off with an unusual Queen's Pawn opening, Kramnik, on the other hand, came back strongly after last round's defeat by beating Giri. Talking about the game, Giri said he thought Kramnik's 8.Nc3 was pretty dubious and he wanted to punish this. And given his advantage in space and the miserable position of Kramnik's dark-squared bishop, it really did look like things could end up badly for 'Big Vlad'. But by the 12th move, Giri admitted that he thought he was close to being completely lost. Giving his thoughts about the game, Kramnik said he felt that the position arising after black's fifth move, 5.c4, was very complicated and he never thought anyone would play it.
After the game, both players agreed that Giri made the most critical mistake of the game when he played 9.Bd6 instead of bringing his knight out to c6. Another crucial mistake from Giri was 15.g6 which allowed Kramnik to free his pieces at the cost of a pawn. Just three moves after this, Kramnik had a completely winning position and Giri had to resign in merely 20 moves.
In the other decisive game of the round, Fabiano Caruana was able to clinch his first win by beating his countryman Nakamura. Desperate for a win in order to catch Aronian in the lead, Nakamura went for the razor sharp Najdorf variation of the Sicilian Defence. As play proceeded, the game drifted into the waters of the poisoned pawn line where Caruana went for 8.Qd3, a line which he said he used to play when he was a kid.
Interestingly, he also pointed out that black has at least seven different ways to draw the game after white's 8.Qd3. Of course, Nakamura wasn't going to go for one of those given that he needed a win. As play proceeded, Caruana came up with a novelty on his 15th move and said it was fortunate that Nakamura wasn't aware of the move. On move 20, Nakamura was forced to exchange queens and placed his knight passively to hold his position together. But Caruana kept playing energetically and on move 39, Nakamura was forced to give up his rook for white's bishop to parry Caruana's mating threats. And although Nakamura limped on until the 59th move, the result was never really in doubt after Caruana had won the exchange.
In the final standings, Aronian, with a score of 6.0/9, finished as the title prize winner. Kramnik, with his fantastic win against Giri, made it to join Nakamura and share second place. Both of them scored 5.0/9. Caruana, Giri and Wesley So shared the fourth place with a score of 4.5/9. Anand, with a score of 4.0/9 secured the sixth spot along with Vachier-Lagrave and Carlsen. Karjakin finished at the bottom of the leaderboard with 3.5/9.
Aditya Pai is an editor for ChessBase India.
Sports
Five-time world champion Viswanathan Anand suffered his second defeat in the Altibox Norway chess tournament, losing to Anish Giri of Netherlands in the fourth round.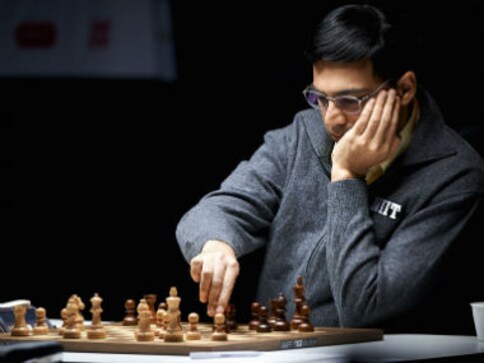 Sports
Anand suffered a lapse in concentration and misjudged the position that arose after he exchanged his queen-bishop pawn for Kramnik's queen-rook pawn.
Sports
Although Anand has fought hard and has even staged an excellent comeback in the last round with his win against Caruana, the tournament has been a difficult one for him.