Altibox Norway Chess: Viswanathan Anand draws Round 8 tie; Magnus Carlsen retains World No 1 spot
Reluctant to risk too much, Altibox Norway Chess leader Levon Aronian chose to force a draw against five-time world champions Viswanathan Anand after 32 moves.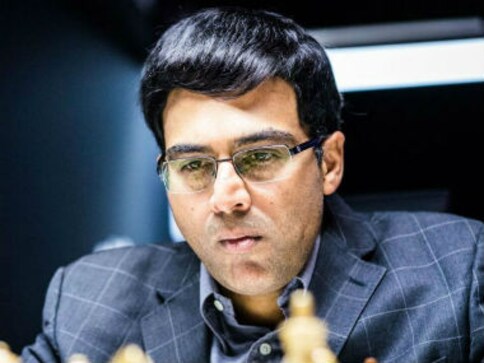 Another eventful round concluded in Stavanger on Thursday evening. Going into the ante-penultimate round, the players at the Altibox Norway Chess were hungry for victories. Not only were the tournament leaders trying to get home a win and improve their winning chances at the event, even the bottom-ranked players struggled hard to improve their tournament standing.
Had he won on Thursday, Levon Aronian would have needed only a draw with the black pieces the following evening. For Nakamura, a win would have brought him back into the lead with Aronian. Even Giri needed to win desperately in order to stay in contention for the title prize of the event. The same was the case with Vladimir Kramnik, but an added incentive for him was the rating gain he could make by winning. Kramnik has played consistently so far and if he manages to maintain his world number two spot, he would get a direct ticket into the Candidates tournament, which determines the challenger to the world champion. Among the tail-enders, Magnus Carlsen was probably the most desperate for a win. After his loss against Kramnik on Thursday, he was very close to losing his world number one spot. Fireworks were expected and the round delivered to these expectations.
Although three out of the five games were drawn, the players fought to the last breath to scrape out wins. Both games that ended decisively seemed to have helped the current world champion Carlsen one way or another. Firstly, he was one of the victors of the round. With his win against his former World Championship challenger, Sergey Karjakin, he was able to gather a few rating points to widen the rating gap between himself and Kramnik. More importantly, Kramnik too lost to Maxime Vachier-Lagrave and lost rating points. What's even more unfortunate for the Russian veteran is that he has slipped down to the fourth spot in live ratings after this round.
One of the most important games of the round was between Aronian and Viswanathan Anand. A win would catapult the Armenian star a clear point ahead of the rest of the field; and with just one round to go, any result other than a loss in the next round would have made him the title winner. Moreover, he had the white pieces. Given that Anand has been struggling in the tournament, there was no doubt that the Armenian would give it his all in this game. But despite his tournament situation, Anand is not an easy nut to crack, and Aronian seemed to appreciate this.
In a middle-game that arose out of a Queen's Pawn game, Aronian felt that he had an edge over the Indian, and decided to push it by deploying a slightly slow plan. Nevertheless, he was able to gain control of the queen-bishop file with his rook and had even planted it deep in into black's position on c6. He said after the game that he was looking for ways to break through on the black's queenside, but wasn't able to make it work somehow. Anand also played some really cunning moves in the game. On move 29, by bringing his king back to g8, the five-time world champion was inviting Aronian to penetrate into his position with his queen. Had Aronian gone for it, he would have ended up with his queen trapped in a corner of the board.
Aronian said after the game that he thought that his plan looked promising to him, though it seemed slow. It was unfortunate that it didn't lead anywhere. He also said that the position was such that he could easily have been in trouble had he not been accurate. After their game, Wesley So and Hikaru Nakamura also tried their hand at Anand's position and both concluded that it was difficult for Aronian to break through. And if he pushed too hard, he might end up in a slightly worse position. Reluctant to risk too much, Aronian chose to repeat the position and force a draw after 32 moves.
The game between Nakamura and So ended in a draw. This was also one of the more important games of the round because Nakamura had the chance to tie for first if he had won. The game began as a 'Queen's Gambit Declined' in which Wesley showed after the game that he had some sneaky traps up his sleeve had his compatriot slipped. Although that did not happen, Wesley was able to equalise the game pretty easily. In the endgame, Wesley's rook position was slightly passive. But Nakamura had a weak back rank which compensated for the rook's passivity. And when Naka tried to solve his back rank problem, Wesley was able to deliver perpetual checks and draw the game.
Another interesting draw was in the game between Anish Giri and Fabiano Caruana. Kicking off with a 'Queen's Gambit Accepted', Giri was able to drift the game into an endgame wherein he had a bishop against Caruana's knight and an extra pawn to the good. As the game progressed, Giri was able to win yet another pawn. But this gave his American opponent the opportunity to execute his plan and setup a firm blockade on the 'g' and the 'h' files with his king and knight. It didn't take much time for the Dutchman to realize that it wasn't possible to break through this fortress and the players agreed a draw after 67 moves.
Carlsen, as mentioned before, also won his game against Sergey Karjakin. This is his first win of the tournament and quite a welcome one since after this win he's no longer the lowest scorer of the event. More importantly, has secured his world number one spot at least for the time being. In a game that began with the Nimzo-Indian defense, things started heating up when the world champion sacrificed his c pawn to break through in the center. Karjakin said after the game that he still thought he should have been a bit better, even after the sacrifice, had he defended his king-knight pawn. But in the heat of the moment, he captured Carlsen's pawn on a2 which gave the world champion some play against his king. The game was still equal in the opinion of the computers, but Karjakin made a fatal error on his 41st move which allowed a tactic that instantly decided the game in Carlsen's favour.
The other win of the round was scored by Vachier-Lagrave, one of the lowest scorers in the tournament, against Kramnik, who was tied for third before this round. Starting off with an anti-Berlin, the game, in the words of Nigel Short, "turned chaotic" pretty soon. Maxime, after the game, even stated that he had forgotten his preparation at one point and played a move that he didn't intend to play. Nonetheless, he was able to keep things under control and had Kramnik wanted, he could have gone for a drawn rook endgame on move 26 by forcing a mass exchange of pieces. Kramnik, however, was playing for a win and did not go for the line. In the ensuing double rook endgame, the Russian's queenside pawns began to fall. To worsen the situation, Maxime's passers on the queen's wing also began to roll down dangerously. In the end, the Frenchman cherried it up with a neat tactic to force resignation.
With just one round to go, only Nakamura has a realistic chance to catch Aronian in the lead and tie for first. Giri also has an outside chance if he wins his game tomorrow and Aronian loses. But that seems unlikely. Anand will be playing Carlsen with the white pieces on Saturday. Given that both players are desperate to improve their tournament standing, it will be interesting to see how the game unfolds.
Aditya Pai is an editor for ChessBase India.
Sports
Viswanathan Anand finished joint second behind Wesley So in the blitz tournament organised ahead of the main event at Altibox Norway Chess.
Sports
Some hair-raising drama was witnessed in the final round of the Altibox Norway Chess 2018, where as many as four players were leading the tournament, with Viswanathan Anand at second.
Sports
Former world champion Viswanathan Anand played out a draw against USA's Hikaru Nakamura in the seventh round of the Altibox Norway Chess tournament to take his points tally to 3. Levon Aronian leads with 5 points