All England Open 2018: HS Prannoy squanders massive lead to lose quarter-final; Lin Dan gets past Lee Chong Wei
HS Prannoy allowed nerves to get the better of him and lapsed into unforced errors as he blew a 16-10 lead to eventually lose to China's Huang Yuxiang.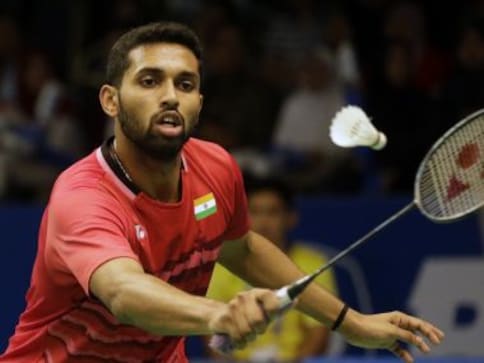 It was traumatic, indeed, heart-wrenching. Indian national champion HS Prannoy blew a gilt-edged opportunity of making his first All England semi-final when he squandered a massive mid-game lead in the decider of his seesaw 77-minute long quarter-final on Friday against China's unconsidered Huang Yuxiang, to go down at 22-20, 16-21, 21-23 at the Birmingham Arena.
The 25-year-old Prannoy, who has slipped to 16th in the Badminton World Federation (BWF) rankings, appeared to be totally in command when he streaked to a 10-3 lead in the decider, and maintained the good work until 16-10. But, with the winning post in sight, the Indian allowed nerves to get the better of him and lapsed into unforced errors, even as Huang showed sinews of steel and the willingness to take risks, as he steadily whittled down the lead to catch up at 19-all.
Prannoy, who appeared in control almost throughout the encounter after making up an initial 7-12 deficit in the opening game, failed to close out the match, and allowed Huang to join two other Chinese players in the men's singles semi-finals of the prestigious $1 million prize money World Tour competition.
While achieving the dubious distinction of being unable to deliver the coup de grace, the Kerala-born shuttler followed in the footsteps of his more illustrious colleague, Kidambi Srikanth. The third seed had bowed out at 20-22 in the decider of a pre-quarter-final against the same 25-year-old, 42nd-ranked Chinese player, who had been distinctly lucky to make the 32-player draw at this prestigious tournament.
The Chinese dominance at this All England was underscored by sixth-seeded Lin Dan and seventh-seeded Shi Yuqi also making the last-four stage, with two-time world champion and Rio Olympics gold medalist Chen Long being the sole Chinese player to miss out, as he suffered an unexpected 10-21, 17-21 loss to compatriot Shi at the quarter-final stage.
The most impressive singles triumph of the day was registered by five-time former world champion and two-time Olympic gold medalist Lin, who added one more notch to his belt in his long-standing rivalry with Malaysia's four-time All England champion, Lee Chong Wei, who was defending the title he had won at these championships last year. 'Super' Dan won their 40th career duel by a 21-16, 21-17 scoreline in 52 minutes, to take a thumping 28-12 lead in their rivalry.
Rarely, in recent times, has the left-handed Chinese legend, a six-time former All England champion himself, shown as much intensity as he did on Friday against the man who finally beat him in an Olympiad in 2016, with a wafer-thin 22-20 third-game triumph in their semi-final.
There was none of the languid, albeit graceful, court movement that one has seen from the 34-year-old in recent years. Lin played like a tiger that has just been released from his cage after a long confinement. He moved on the court like greased lightning, did not bother with his usual painstaking creation of rallies, but smashed at every opportunity he got to cut a rally short. The hapless Lee, one year his senior, simply wilted before that sustained onslaught, clearing the way for Lin to grapple with Huang in Saturday's semi-finals.
Shi, who has been improving steadily since he reached the All England final last year after beating his idol Lin in the semi-finals, was also full value for his success against the No 4 seed, Chen who has not, in the course of the past year, been the same player he was before the Rio Olympics. A leg injury that appears to have become chronic and affected his erstwhile fluid mobility on the court would seem to be the reason for the 29-year-old's meek capitulation at 10-21, 17-21 to his youthful fellow countryman.
The odd man out from among the dragon brigade in the semi-finals was the fifth-seeded South Korean returning machine, Son Wan Ho, ranked third in the world at the moment. The Korean, who is closing in on his 30th birthday, extracted full revenge from Japan's 23-year-old Kenta Nishimoto for his reverse at the quarter-final stage of the German Open last week. Son systematically wore down the young Japanese by a 21-18, 9-21, 21-14 margin, keeping Nishimoto on court for an hour and 18 minutes, to earn a semi-final meeting with Shi.
As for the women, there was no stopping the top seeded Chinese Taipei World No 1, Tai Tzu Ying, as she literally played at half pace to dismantle the challenge of Japan's Aya Ohori at 21-12, 21-10 in a couple of minutes over the half hour mark. The way the Taiwanese ace played, she appears to be thoroughly enjoying her game and the total domination she exerts over her opponents. That impish smile never leaves her face, win or lose a point.
Tai, who is currently into her 68th week as the World No 1, should not be unduly troubled in the semi-finals by China's Chen Yufei, who disposed of the shock quarter-finalist, Mia Blichfeldt of Denmark at 21-17, 21-12. Blichfeldt, it will be remembered, had beaten Canada's Michelle Li, who had unexpectedly shown former All England queen and No 3 seed, Ratchanok Intanon of Thailand, the exit door on the first day of the championships.
The other semi-final will feature second seeded Akane Yamaguchi against the No 4 seed, PV Sindhu. Yamaguchi played a fast, aggressive game, quite unlike her usual battles of attrition, to knock out two-time former world champion and Rio Olympics gold medalist Carolina Marin of Spain in straight games at 21-15, 21-18, while Sindhu gained sweet revenge for her 2017 World Championship final reverse at the hands of Nozomi Okuhara by handing the 23-year-old Japanese a 20-22, 21-18, 21-18 defeat in 84 minutes of outstanding-quality badminton.
Saturday's semi-finals start at 10 am UK time (3.30 pm IST), and are being telecast live by Star Sports. Sindhu's match is scheduled to start at 10.30 pm IST.
Badminton
The two young shuttlers found the going tough against Korean world number 20 pairing of Baek Na Ha and Lee So Hee, losing 10-21 10-21 in a 46-minute women's doubles contest at the Utilita arena.
Badminton
Both of last year's men's finalists, Viktor Axelsen and Lakshya Sen, lost on Thursday at the All England Open in Birmingham.
Badminton
It has been 22 years since India won the coveted title when Pullela Gopichand (2001) followed the legendary Prakash Padukone (1980) to achieve the honour.