All England Open 2018: HS Prannoy breaks Chou Tien Chen hoodoo; Saina Nehwal falls once again to Tai Tzu Ying
HS Prannoy turned the All England Badminton Championships' formbook upside-down by notching his first victory in four meetings over the eighth-seeded Chou Tien Chen.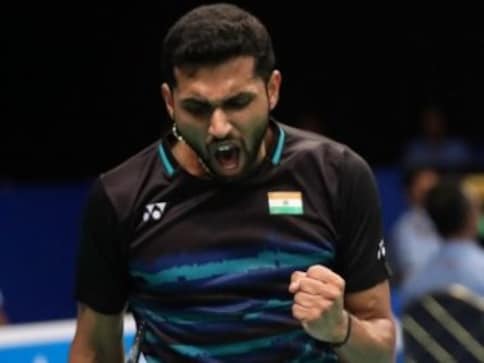 Indian national champion H S Prannoy turned the All England Badminton Championships' formbook upside-down by notching his first victory in four meetings over the eighth-seeded Chinese Taipei left-hander, Chou Tien Chen, in his opening round of the prestigious $1 million prize money competition at the Birmingham Arena on Wednesday.
With Prannoy's magnificent 9-21, 21-18, 21-18 fightback after the loss of the scrappy first game, he set up a second-round meeting with Indonesian Tommy Sugiarto. Prannoy's win made up for the first-round exits of compatriots Saina Nehwal and B Sai Praneeth, as well as some tepid, albeit winning, performances from serious title contenders Kidambi Srikanth and PV Sindhu.
Saina, as had been widely expected, slumped to her eighth successive defeat against the world's top player and All England defending champion, Tai Tzu Ying of Chinese Taipei, being unable to unravel the Tai puzzle in the course of a 38-minute long, 14-21, 18-21 loss. Praneeth, after a bright start, faded away progressively in the face of some stout defending by the No 5 seed, Son Wan Ho of South Korea, and capitulated at 21-13, 15-21, 11-21.
Third-seeded Srikanth was distinctly lucky to edge past France's 23rd-ranked Brice Leverdez, saving a match point in the deciding game of his 58-minute 7-21, 21-14, 22-20 battle against the redoubtable 31-year-old Frenchman. The Pullela Gopichand Academy trainee looked out of sorts for the greater part of the match before sealing his second-round spot against China's equally dangerous Huang Yuxiang, who was impressive while taming the doughty Englishman, Rajiv Ouseph, by a 21-13, 21-14 scoreline.
Sindhu, seeded No 4, huffed and puffed against Thailand's Pornpawee Chochuwong, and only asserted her supremacy in the deciding game for an unconvincing 20-22, 21-17, 21-9 triumph in a minute shy of the hour mark. The rangy 22 year old Indian had beaten the 20 year old Thai in their only other earlier encounter, but will have to up her game several notches on Thursday if she is to take down Chochuwong's fellow-countrywoman, Nitchaon Jindapol, who excelled in a 21-18, 21-14 demolition of Chinese-born American, Beiwen Zhang.
There was, however, some joy for fans of India's fast-improving doubles presence on the international circuit, with the youthful combo of Satwiksairaj Rankireddy and Chirag Shetty settling the pretensions of Japan's Takuro Hoki and Yugo Kobayashi by a 21-19, 21-18 verdict, to earn a second-round crack at the second-seeded Danish pairing of Mathias Boe and Carsten Mogensen.
The top Indian mixed doubles pairing of Pranaav Jerry Chopra and N Sikki Reddy also vaulted their opening hurdle, sidelining the German duo of Marvin Emil Seidel and Linda Efler fairly comfortably, at 21-19, 21-13. But they will be put on their mettle on Thursday when they cross swords with the No 2 seeds, Wang Yilyu and Huang Dongping of China, whose rise in the latter part of 2017 was little short of meteoric, as they left their compatriots Zheng Siwei and Huang Yaqiong gasping in their wake.
The three other Indian duos in the fray signally failed to look their part of being the country's national champions and pennant-bearers at Birmingham. Manu Attri and B Sumeet Reddy were unceremoniously turfed out by the none-too-strong English pairing of Marcus Ellis and Chris Langridge by a 20-22, 12-21 verdict, while Ashwini Ponnappa and Sikki Reddy looked completely off their stride when going down to the strong Japanese duo of Ayaka Takahashi and Miyaki Matsutomo, the No 2 seeds, by a 21-14, 21-13 scoreline.
Another of the three powerful Japanese pairs that make their country such a force in Uber Cup international team competition, Shiho Tanaka and Koharu Yonemoto, seeded fifth at this All England, pointed Poorvisha S Ram and Meghana Jakkampudi in the direction of the exit door with a 21-14, 21-11 decision that showed the Indians in a fairly indifferent light.
The talk of the day, for Indian supporters, was the timid showing of their top men's singles hope, Kidambi Srikanth. In the absence of the injured Danish world champion Viktor Axelsen (who withdrew on the eve of the tournament's start with a twisted ankle), Srikanth could, on paper at least, be considered one of the prime contenders to wrest the All England men's singles crown from the grasp of defending champion and No 2 seed, Lee Chong Wei of Malaysia.
Sadly, the third-seeded Indian opened his campaign in such a slipshod manner that he actually came within a single point of being eliminated from the championship. Srikanth teetered precariously on the edge of the cliff, trailing Leverdez 19-20 in the third and deciding game of their clash, which was also their first career meeting.
In his effervescent eagerness to finish the encounter by the short route, the 23rd-ranked veteran Frenchman rushed prematurely to the net behind a hard push to his rival's body, only to leap and claw vainly at the shuttle as the return cleared him by a good six inches. That reprieve was sufficient for the Indian to wrap up the match over the extra points.
But it was a desperately close thing, and Srikanth would hardly have been pleased with his performance which was characterised by a first game in which the Indian simply did not turn up on the court, and was only seen at somewhere near his top form in the first half of the second game.
Honestly, on this form and showing, Srikanth, who has only recently recovered from injuries to his left knee and ankle, looked terribly undercooked, and in nothing like the irresistible form he had displayed while winning four elite Superseries titles – in Korea, Indonesia, Denmark and France – plus a runner-up spot in Singapore, during the 2017 season.
For that matter, neither was Sindhu convincing, as she stumbled uncertainly through her lung-opener against Chochuwong, taking one minute less than Srikanth had done against Leverdez. From a coach's viewpoint, few players can be as maddening as Sindhu, who, despite her undoubted pedigree, goes through periods of self-doubt in the course of a match, even when she appears to be coasting.
Against the diminutive 20 year old Thai, the willowy Indian opened to a healthy 10-4 lead, and continued the good work till 14-9, after which she lapsed into errors galore, to allow her antagonist to level the scores at 14-all. She allowed Chochuwong to break free to 20-18, only to fight back to deuce, and then concede the opening game with two unforced errors.
The second stanza was similar to the opener, when Sindhu opened out a massive 14-6 lead, and expanded it to 18-10 before suffering her familiar end-game blues and allowing the youthful Thai girl to reduce the margin to 14-18, and then 17-20. It was only in the decider that the Indian ace broke free from 9-7 to show a clean pair of heels to Chochuwong, powering to 15-8, before settling the issue with some vigorous smashing and follow-up to the net.
Sindhu will not be able to take things easy against Nitchaon Jindapol, who is one of the most improved players on the circuit. The Thai, who has her 27th birthday on the last day of the ongoing month, has pulled herself up to the 12th rank on the Badminton World Federation (BWF) computer by dint of some sterling performances throughout 2017; and will not surrender easily to the Indian, against whom she has a 1-2 career head-to-head record.
With yet another Thai, grabbing the first day's headlines, albeit in a negative manner – the 2013 world champion, Ratchanok Intanon, seeded third at this All England, was forced to bite the dust against unconsidered Canadian, Michelle Li – the second-day spotlight will certainly be trained on Jindapol as she strives to take down Sindhu, ranked one spot below her fellow-countrywoman.
Thursday's play at the Birmingham Arena starts at 12 noon, UK time (5.30 pm, Indian time). Live coverage of the event is available on Star Sports 2 from 5.30 pm.
also read
Badminton
The win helped Lakshya Sen to enter the last four for the first time this season, having come close in Indonesia Masters, where he exited in the quarterfinals.
Badminton
BAI's 'Voluntary Age Rectification Scheme (VARS)' is meant for registered players who have existing BAI identification cards, but have incorrect date of birth or have discrepancies in the date of birth or age.
Sports
On Sunday, Prannoy ended the title drought with a three-game win over China's Weng Hong Yang in a pulsating men's singles finals at the Malaysia Masters Super 500 tournament