Aizawl FC's fairytale Federation Cup run shows their relegation will harm Indian football
Aizawl FC officials do not have any legal basis to appeal against I-League relegation. Like every other club, they knew before the start of the season that DSK had been granted immunity. They're simply appealing to overturn it on sentimental grounds, especially after their fairytale run in the Federation Cup
During a Federation Cup semi-final match in Aizawl, the capital of the state of Mizoram, the television camera panned to the dancing and partying locals in the crowd. One of them held a rebellious yet politely-worded banner, which was a typically Mizo way of making a point. It read,"Dear AIFF, please judge AFC by points and not money" – a pertinent reminder to the All India Football Federation (AIFF) that its primary duty is to uphold the principles of meritocracy and equality.
Aizawl FC (AFC) had initially been at the centre of a raging debate regarding the fairness of their relegation from the I-league. The newly-promoted team were relegated back to division two even though they finished the league campaign in eighth, one place above debutants DSK Shivajians. This was because, as part of AIFF's incentive scheme to entice private corporations into owning I-league clubs, the DSK Group-owned entity had been granted immunity from relegation for two years.
Then, the timing of AFC's fabulous fairytale run to the final of the Federation Cup coincided with news of AIFF's controversial proposal to revamp the country's football league structure. And so, in the collective push to protect the future of the country's long-serving "legacy clubs", the overachieving minnows also became a prominent symbol. A symbol that has a lot of emotion going for it right now.
Aizawl officials do not have any legal basis to appeal against relegation. Like every other club, they knew before the start of the season that DSK had been granted immunity.They're simply appealing to overturn it on sentimental grounds, following a wave of support after winning admirers across the country for their flamboyant and fearless style of football.
A modest club, comprising a squad of only young local players, and a few foreigners, AFC's consistently eye-pleasing football was truly the highlight of a domestic season short on romance. They were the underdogs who never played like one, often taking the game to their more established and superior opponents with quite some success.
If you take into account their entire domestic campaign (the I-league and the Federation Cup), Aizawl either defeated or drew against all top-flight clubs except East Bengal, which is no mean feat for a side playing against the big boys for the very first time. Barring the Federation Cup final, which was actually closer than the 0-5 score line indicates, the club from Mizoram weren't humiliated in any match either. Perhaps symbolically, Aizawl defeated DSK Shivajians both home and away.
It isn't the first time that the I-league has encountered such a farcical relegation scenario. In its 2015 season, Dempo FC, record three-time champions,dropped into the second division even though the club finished a place above debutants Bharat FC (who had taken the AIFF's injection of immunity). Two months later, Pune-based Bharat disbanded, doing what the AIFF President Praful Patel called "a great disservice to Indian football". By then, Dempo had slashed their budgets by half to embrace life in the second division and weren't in a state to return. It left the I-league a much poorer place.
The public sentiment wouldn't be as much in favour of Aizawl had DSK made good use of their immunity and developed anything resembling a playing philosophy. The club did rope in Derrick Pereira, an experienced coach, but instead of promoting players from its own famed academy, which is the best in the country, DSK went on a spending spree. Seasoned performers such as Subrata Pal, Mohammad Rafi and Pierre Douhou came in, most of whom Pereira had previously coached.On the pitch, they were dull, uninspiring and at times, downright pathetic. Only the introduction of mid-season signings, Spanish winger Juan Quero and Indian defender Sandesh Jhingan, stemmed the tide. Still, they finished last.
What did Indian football really gain from a season of DSK Shivajians? Nothing. What could it gain from another season of Aizawl FC in the top flight? Plenty. Is a club with access to great training facilities, seasoned players and endless funds really in need of more protection than a club that runs on a modest budget yet readily promotes youngsters and contributes players to the national team?
Stevie Grieve, who is Head Coach at the Baichung Bhutia Football Schools (BBFS) and is frequently seen on Indian television as a football pundit, calls it a ridiculous situation.
"DSK and Bharat had to build a team, a philosophy and a youth program," explains Grieve."DSK already have a brilliant academy and some quality players to choose from, but how many were used?
"Both clubs finished bottom and more deserving teams, which contribute to the development of Indian football, were relegated. An ex-champion side went down despite not finishing bottom for a team who eventually folded? It's a ridiculous situation."
While Aizawl played like a team for which every game mattered, DSK ambled along like a side which knew failure had no consequence. It made for a distorted league, one that simply wasn't fair to all the clubs participating in it.
From the AIFF's point of view, you could understand the motive behind the introduction of this policy. It was a well-meaning rule if not entirely a well-thought-out one. The AIFF cannot sustain grassroots development without financial backing from corporations. It's a not-for-profit organisation and not a business. Thus, it needed ways to make investment in the league a lucrative proposition for those with deep pockets.
Grieve, however, reckons such a move betrayed the principles of fair competition."If the AIFF brings in corporations, then that season, relegation should be cut off for every club," he says. "Why should one team have a clear advantage over everyone else?
"Why should Indian football suffer by losing a good club to the lower division just because another can buy its way into the league?"
In the bigger scheme of things, perhaps, all this will be insignificant anyway. If reports of AIFF's revamp proposals are to be believed, even the interests of the likes of giants Mohun Bagan, East Bengal and Bengaluru FC (the one corporate club actually doing good things for the country) aren't being safeguarded – so where does tiny Aizawl stand a chance?
In the I-league-only era, the smaller clubs suffered from uneven rules. In the Indian Super League (ISL) era, all I-league clubs appear to be suffering from the same fate.
Reports suggests league with the eight ISL clubs along with two other clubs which can stump up the necessary funds will form an elitist closed-group first division– that is, a league without relegation and promotion – from the 2017-18 season. The current I-league will become the second tier.
This immediately rules out clubs like Aizawl from ever playing in India's topmost division again. Unless the AIFF, by overturning their relegation, can gift us one last chance of sporting romance next season.
Sports
The 28-year-old is the club's sixth signing of the summer, and joins the side ahead of their AFC Cup playoff clash against Eagles FC.
Sports
Juanan joins Manolo Marquez's side after spending five years with their rivals Bengaluru FC.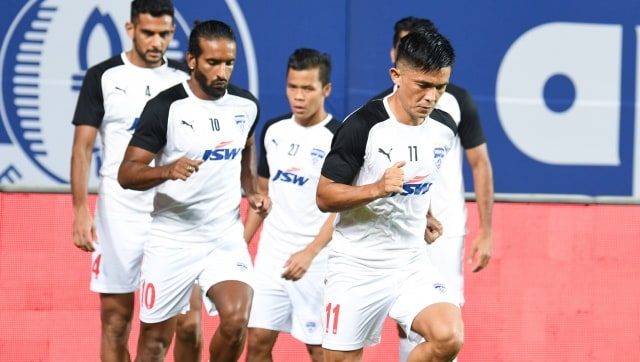 Sports
The AFC confirmed that the playoff and group stage (South) matches of the second-tier continental club competition will be held in the Maldives.