Agnieszka Radwanska calls time on her career, leaving a deep void in the tennis world that will be hard to fill
Agnieszka Radwanska had the unique ability to see things that nobody else saw, to manufacture possibilities where there seemed to be none.
It was the reaction that always got me. After Agnieszka Radwanska unfurled one of her patented magic shots that befuddled the opponent and bedazzled the spectators, she would often react with surprise – as though she herself couldn't believe what she had done was even possible.
Her lips would curl into a half-smile, her eyes would widen ever so slightly, and her shoulders would half-shrug, half-wave at the cascade of thunderous applause coming her way. It almost felt like she was asking the world, "Who, me?"
Modesty is rarely a quality associated with genius. But Radwanska had a way of doing things differently.
Yesterday, the 29-year-old announced her retirement from tennis, bringing an end to a successful career filled with shot-making of the highest order. After lighting up the pro courts for 13 years with her inimitable wand-work, the Pole will be leaving a deep void with her departure – a void that will be hard to fill.
"This was not an easy decision," she wrote in a heartfelt statement posted on her Twitter and Instagram handles. "I'm hanging the racquet up and say(ing) goodbye to the pro tour, but I'm not leaving tennis. Tennis is and always has been special in my life."
The cause of Radwanska's premature exit? A left foot injury that she had said last month was inoperable. "My left foot is so crushed from running that it does not work much longer. Everything swells, immediately there is inflammation. I can even wake up with cramps in the middle of the night. No injections help – neither cortisol nor plasma," she had explained.
The pain that Radwanska has been carrying the last few months is in sharp contrast to the joy she brought to the tennis world with her incredible array of tricks. Rarely did a Radwanska match go by without at least one shot of such pure genius that it brought the entire stadium to their feet.
The most striking thing about it was that it could be anything. A reflex forehand off a net-chord that somehow landed into the open court for a winner. A drop shot from 10 feet behind the baseline that crawled over the net and dropped dead. A sharply angled volley off her shoelaces that snaked into the corner. A no-look backhand overhead that left the opponent flat-footed.
Radwanska had the unique ability to see things that nobody else saw, to manufacture possibilities where there seemed to be none. And it wasn't just the spectacular winners that reinforced her tennis acumen; even the regulation groundstrokes that she hit mid-rally had a distinct craftiness to them.
Ninja. Hot Shot Queen. Magician. These are just a few of the nicknames that were bestowed upon Radwanska at various points of her career, and it was easy to see why. No other player on the women's tour gave the spectators as many can-you-believe-what-just-happened moments as Radwanska did; there's a reason she won the WTA Fan Favorite award six years in a row from 2011 to 2016.
Unlike her fellow trickshot exponents such as Gael Monfils and Nick Kyrgios though, Radwanska didn't do what she did just because she craved audience applause. Radwanska hit trick shots because she had to, not because she wanted to. Her slight frame and lack of power meant that she could never outhit her opponents from the baseline, and so she had to resort to other, less obvious means to remain competitive.
Radwanska is listed as 5'8" tall, and by most accounts weighs in at less than 60kg. That's not a combination designed to produce 120 mph serves or 80 mph groundstrokes, which is why the Pole spent a majority of her matches trying to stave off attacks from bigger and stronger opponents.
"I will never serve like a Serena, or even a Maria," she had said after winning one of the biggest titles of her career at the 2012 Miami Open. "I am different, and what I try to do is mix it up – everything – on the court. Also, with my game, I must be consistent. And, of course, running. Lots of running."
She certainly did her fair share of running. At the 2014 Australian Open, for instance, Radwanska produced a defensive masterclass that reduced her opponent Victoria Radwanska to fits of hair-pulling frustration. Not only did Radwanska pull out all the stops with her variations, but she also covered the court as her life depended on it. No matter where Azarenka struck the ball that day, Radwanska was always there, ready to send it back with a new spin.
Contrary to popular belief though, Radwanska never intended to remain a perennially defensive player. In the 2016 off-season, she tried putting on more muscle through strength training, and even switched her racquet to a heavier frame. But none of that worked; she ended up being even more disadvantaged on the court than she used to be, and so was forced to revert to her earlier physique.
"I lost a little of my timing and my feeling," she said while explaining why she had gone back on her decision to bulk up. "It didn't really work that good, and I was feeling really slow."
'Slow' was the exact opposite of what Radwanska embodied throughout her career. She was quick with everything – her court coverage, her racquet work, and most importantly, her problem-solving. Even though she was frequently muscled into sticky spots on the court, she was quick enough to come up with the right answers; in that split second where she teetered between nirvana and disaster, she managed to identify, and pull off, the one move that would take her to safety.
How did she do it? How could she so often come up with the one precise shot that would get her out of trouble? If the unreal happens once or twice, it can be considered a fluke; but if it happens all the time, there has to be a science behind it. According to Radwanska, her particular brand of wizardry was born purely out of a desire to be different.
"I think sometimes when you have this half a second to think what you are going to do with the shot, I think most of the players maybe will hit as strong as possible," she had said ahead of the 2016 WTA Finals. "I'm the one maybe just to want to do something else…just use my hands."
Radwanska has frequently tried to play down her artistry. She once attributed her trademark 'squat shots' from the baseline to…laziness. She said, "It's just something that I used to do, and I don't even know how. I think I was too lazy to go backwards, and I was just standing and doing those squats. There you go."
Maybe it was this unassuming demeanour that endeared her to the fans even more. Or maybe it was the reminder that the smart, tactical game that she employed still had a place in today's era of power-hitting.
Radwanska's style was a throwback to the guile and deception perfected by the likes of Martina Hingis in the past, but it was also a bridge to the future. She may not have had the physical strength to win Grand Slams with her methods, but she showed the world that when the power game reaches a point of homogeneity, the player with the foresight to think differently could well come out on top.
As modest and old-school as Radwanska was, she also put together several impressive accomplishments that would make any modern warrior proud. In 2012, she reached the Wimbledon final, pushing the great Serena Williams to the brink with her eclectic game, which worked particularly well on grass. In 2015, she won the season-ending WTA Finals, outwitting heavy hitters Garbine Muguruza and Petra Kvitova in the semi-final and final respectively. And she will always have that 2014 Australian Open quarter-final against Azarenka, a performance so enchanting that it still evokes tears of delight among fans.
"I hope that my tennis matches were the source of emotions and joy for you all," Radwanska said in her retirement statement. "I am truly grateful for having the best and most loyal fans in all of tennis."
There she went again with her "Who, me?" reaction. Of course, she was always going to have loyal fans; how could she not, when her tennis has provided everyone with so many bewitching memories?
Find latest and upcoming tech gadgets online on Tech2 Gadgets. Get technology news, gadgets reviews & ratings. Popular gadgets including laptop, tablet and mobile specifications, features, prices, comparison.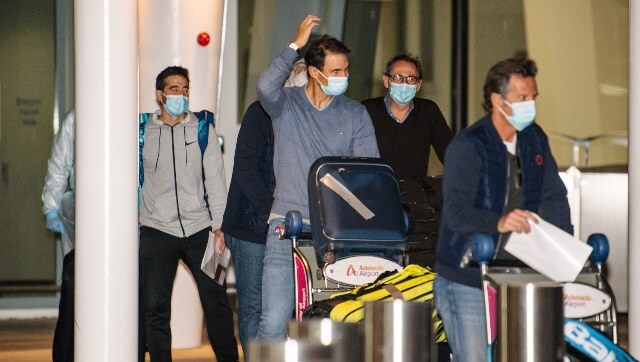 Sports
Two-time Australian Open champion Victoria Azarenka was reported by local media to be among a group of players set to be under the strictest quarantine for two weeks.
Sports
The fourth-seeded De Minaur led the eighth seed 2-0 in the first set when his Kazakh opponent retired due to a right ankle injury he suffered in his semi-final.
Sports
World number two Nadal broke Jimmy Connors' previous record of 789 straight weeks in the top 10 in November.