Aditi Ashok's astonishing rise, testament to her mental fortitude and training regime
Aditi's most formidable asset is her strong, focused mind. Her ability to absorb and handle pressure is amazing. Nothing ruffles her
Nothing typifies the surging power of women in Indian sport better than the astonishing rise of Aditi Ashok. The golfer is just 18 years of age, and plays a sport that is truly global and excruciatingly competitive. But she has already promised to not only tread the path of other outstanding Indian sportswomen like Anjali Bhagwat, Sania Mirza, Saina Nehwal, PV Sindhu,  Sakshi Malik, Karnam Malleswari, Mary Kom and Deepa Karmakar, but also stamp her own authority in no uncertain terms.
Aditi's most formidable asset is her strong, focused mind. A throwaway line from Anand Srinivasan, who looked after the junior golf programme at the Bangalore Golf Club, Aditi's home club, captures it wonderfully. "Aditi will end up training her mind trainer!" he exclaimed.
Those in the know inevitably draw attention to this aspect of the teenaged sensation, who made history on Sunday by becoming the first Indian to win the Ladies European Tour's Hero Indian Open at Gurugram's Gary Player-designed DLF Golf and Country Club.
"Typically, Indian women golfers get upset when they get a bogey or goof up a hole. This tellingly upsets their game. But Aditi is phenomenal. Nothing unravels her game. She can score a clutch of birdies and not get carried away or drop strokes and not get affected," said V Krishnaswamy, noted golf consultant, who extensively writes on the game from all over the golfing world.
"Her ability to absorb and handle pressure is amazing. Nothing ruffles her. It is the mindset of a champion. She is destined to go very far in the game," he added.
Aditi was just five years of age when her parents took her out for breakfast at a restaurant overlooking the busy Karnataka Golf Association's driving range. The child was fascinated by golfers driving at the range and wanted to try it out. Thus began her tryst with the sport.
Three years later, at the age of eight, she saw golfers compete in the 2007 Emaar-MGF Ladies Masters at KGA, and convinced her dad, Pandit Gudlamani Ashok and mother Maheswari that this was the life she wanted.
Her father, a BGC member, put her through to coach Bamby Randhawa and later Tarun Sardesai, before Kuala Lumpur's Steven Guiliano took over. Strength and fitness trainer Nicholas Cabaret of France came in relatively late.
Remarkably, her parents understood the demands on a rising talent and ring-fenced her right throughout her career. "Her parents struggled excessively to fund her golfing," said Srinivasan, who besides being a committee member and handling the junior golf programme of BGC, was also a junior selector for IGU.
"Ashok mortgaged his house. Many well-wishers gave them money when Aditi was literally a nobody. BGC itself constantly chipped in to fund their travel. They struggled for everything. But remarkably they cocooned her from all the problems. They kept her focused on the game," he added.
Srinivasan's grandfather SA Srinivasan was the former president of the Karnataka State Cricket Association (KSCA), and he is an excellent club golfer. He had represented the state in junior cricket as well, and knows a thing or two about sport. "A couple of years ago, she and I were in the same group in the Governor's Cup tournament. Barring Chikkarangappa, all the top Karnataka golfers took part in that event. The list reads like a who's who of Indian golf. Aditi played off the men's tee. At the time, she was not a big hitter but her short game was sensational. She became the only lady golfer to ever win the Governor's Cup," he said.
Of course, Aditi has since grown taller, stronger and a lot more powerful and is one of the biggest hitters in women's golf. Her short game continues to be exceptional. Apparently, she works on her chipping incredibly hard. Her training includes 60 chips from green-side rough and fairway. She has to hole out at least 20 of them, else she starts all over again.
While the chipping is brilliant, it is her putting that brings out the best in her mental make-up. "She reads the green very well and follows it up with a rock-steady head and body while putting. Her putting skills are mind-blowing and it can only get better as she goes along," said Krishnaswamy.
These skills were very evident at the Indian Open. The DLF Golf and Country Club is commonly described as a "great to look, tough to play" course. There are lots of rocks on the course, the greens are slopping towards hazards and undulating, the roughs are penal. In short it is a very unforgiving course.
But Aditi played aggressively and putted confidently to grab $60,000, her highest prize money since turning pro on 1 January this year. The move to turn pro at a young age saved her from having to put up with the women's tour in India for too long and thus widened her horizon at the earliest.
Sunday's Indian Open win guarantees her an LET card for 2017 and 2018. But Aditi has set her sights higher, at the ultimate in golf — entry into the tough, uncompromising world of LPGA, which essentially is the US Tour with tournaments sprinkled in Japan, China and Malaysia.
For that, she needs to get through five grueling rounds of the LPGA Q School in Florida later this month (28 November to 4 December).
Aditi, though, would seem to be in the right path. She is top of the list to earn Rookie of the Year award, number 9 in LET's Order of Merit and has two tournaments, in Qatar next and in Dubai after the Q school event to finish off what has been a truly memorable year.
From turning professional to being the first and only Indian woman golfer at the Olympics, to first LET title, the Q School success would be just the icing that she richly deserves atop her cake.
Sports
While many Ryder Cup players are enthusiastic about the chance to play as a team for a change, Koepka seemed to bemoan the fact that the structure is "so far from my normal routine."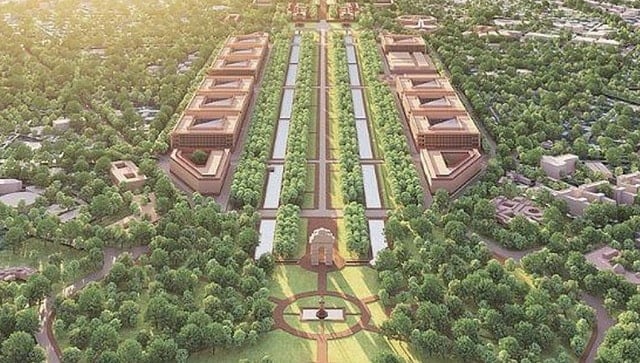 India
In this day and age where even private homes undergo renovation regularly, the Indian State continues to operate out of 90-year-old repurposed colonial homes retained after independence
India
In trying new faces, the BJP seems to be focused on building a generation of political successors who can take over after a period of astonishing growth the party has seen under Modi and Shah