Abu Dhabi Grand Prix: Renault's Nico Hulkenberg unharmed during crash with Romain Grosjean of Haas
Romain Grosjean asked his Haas team if Nico Hulkenberg was ok and, after being told he was, he added that he had nowhere to go when they crashed.
Abu Dhabi: Nico Hulkenberg climbed out unhurt after barrel-rolling his Renault car into the barriers in a horrifying blazing opening lap crash in Sunday's Abu Dhabi Grand Prix.
The German driver tangled with Frenchman Romain Grosjean's Haas as they fought for position going into the chicane, Hulkenberg resisting his rival's challenger for position. His car was catapulted into the air and rolled at high speed into the barriers where, on impact, flames bust from the rear of the car, which was left hanging upside down.
"Are you ok, Nico," the team asked him.
"I'm hanging here like a cow," he told the Renault team by radio, adding, "there's fire...There's fire...Get me out."
He was soon helped by marshals who had to manually roll the car off the barriers before assisting him in climbing out. Hulkenberg was able to walk away and talk to marshals and medical staff.
The scary crash from Hulkenberg on lap 1👇#F1 #AbuDhabiGP pic.twitter.com/1uy9P9u88K

— F1 Live (@F1Live2) November 25, 2018
Grosjean asked his Haas team if Hulkenberg was ok and, after being told he was, he added that he had nowhere to go when they crashed.
The race stewards quickly announced they were taking no action and treated the crash as a racing incident.
Find latest and upcoming tech gadgets online on Tech2 Gadgets. Get technology news, gadgets reviews & ratings. Popular gadgets including laptop, tablet and mobile specifications, features, prices, comparison.
Sports
Hamilton defied cramps in his right calf in the closing stages of the race to make history on Sunday.
Sports
British driver Lewis Hamilton won his 92nd career race to move one ahead of German great Michael Schumacher.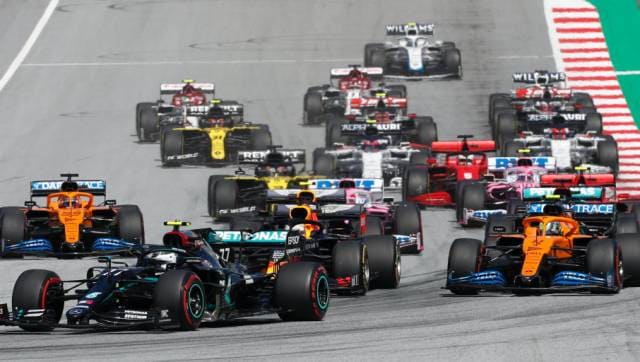 Sports
Planned for early April, the Grand Prix in Hanoi was set to be the third race of the season and the first ever held in the communist nation.