Abhinav Bindra calls himself a 'lallu' athlete, says hard work won him the Olympic gold medal
For Abhinav Bindra, joy came not from winning medals, but from having perfectly executed the skills that he has learnt, and meticulously perfected over the years.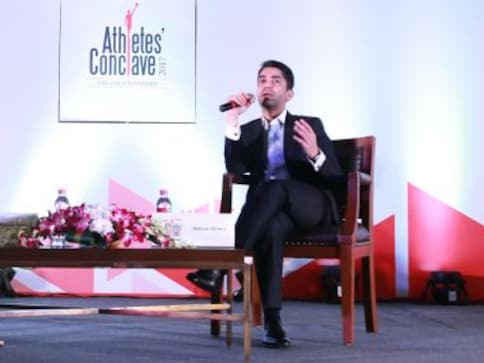 Mounted on the walls of a sizeable corner of his palatial mansion a few kilometres away from Chandigarh, lie Abhinav Bindra's greatest achievements: his medals, including the Beijing Olympics gold medal that, even a decade later, is an unparalleled coup for India in sports.
It is a medal that is worth more than its weight in gold — after all, it's an artefact which brings pride to an entire country.
But for Bindra, the man who won it in the first place, the medal is just a reminder of the panic and anxiety that he went through to achieve it.
Bindra is clearly not one to harbour nostalgia. After he finished fourth at Rio, he was quizzed by journalists whether he really wanted to retire. He responded by asking them if they wanted to buy his gun.
Over a year on from that day in Brazil, where he finished heartbreakingly one spot beyond a medal, he admits that he rarely sees the gold medal he won at Beijing in 2008. He also does not go to YouTube to relive the performance that ushered him into a club of which he is the sole member.
"The medal only reminds me of the pain and anxiety. And as for my medal-winning videos, I only watch them when I am at some event and the organisers play it on the big screen," Bindra says during a session at the GoSports Foundation Athlete Conclave 2017. The former shooter is an advisory board member for the foundation and was joined by veteran journalist Gaurav Kalra on the stage for Friday's session.
Kalra jokes that having retired, Bindra probably has never even touched or seen his gun or entered the shooting range he has in his house. Bindra laughs in response, but it is probably true. This is the same range that Bindra had revamped to look like the Rio shooting range ahead of the Olympics, complete with green walls and similar lighting to the original. It is not the only unconventional thing Bindra has done in his career in his quest to find that added edge: he got yak milk from China, removed his love handles, and climbed a pizza pole.
"It's in the past," Bindra says nonchalantly.
It is a detachment which came at 2004, when Bindra says he was at the peak of his career but crashed out from Athens without a medal. It was later discovered that the tile which he was standing on in his shooting position had come loose. In a sport where one mis-timed breath can be the difference between gold and an eighth-place finish, the effect of a wobbly tile can be devastating.
"At Athens I would have won a medal even if I had shot bad. Turns out, I shot really bad," Bindra recollects before adding, "That experience left me almost depressed. I was bitter and low. I gave up shooting for a while. But that experience most crucially taught me how to detach from the outcome. I became more process-oriented."
For Bindra, joy post-2004 came not from winning medals, but from having perfectly executed the skills that he has learnt, and meticulously perfected over the years, despite the pressure that a competition brings.
"I don't think I ever went into a competition feeling good. As an athlete, you need to enjoy suffering. Imagine your gold medal after four years of meticulous training depends on one shot — that's what anxiety looks like.
"Before Beijing Olympics, I forced myself not to sleep on the nights prior to events in order to prepare myself for this eventuality at the Olympics," he says.
"I didn't have talent, but I was willing to work hard," Bindra tells the roomful of Olympic and Paralympic aspirants. "You need to tell yourself that if a lallu (foolish) athlete like he can, why can't I?"
Inevitably, the question of him reconsidering his retirement comes up at the session. Bindra is categorical in his response. "Buddha ho gaya hoon. Mere bas ki baat nahin. (I've grown old. I'm not capable of it.)"
While that may be a matter of debate, one thing is certain: Abhinav Bindra is content having walked away.
Sports
The state Cabinet also gave its approval to the Operation and Management Agreement signed with the Airports Authority of India (AAI) for development, operation, and management of smaller airports in Aligarh, Azamgarh, Shravasti, Chitrakoot and Muirpur (Sonbhadra).
World
The suspect in the shooting, an Asian man in his 60s, was in custody and deputies recovered two handguns at the scene, Undersheriff Jeff Hallock said
World
Mass public shootings in which four or more people are killed have become more frequent, and deadly, in the last decade. And the tragedy in Buffalo is the latest in a recent trend of mass public shootings taking place in retail establishments