A tale of two halves: Roy Hodgson's bold move against Wales gives England a Euro 2016 blueprint
Manager Roy Hodgson deserves the credit for England's inspiring second-half display in a comeback win against Wales, one that was a far cry from the first.
"It's a game between brothers," England manager Roy Hodgson had said ahead of England's fraternal football showdown with Wales. But there is no brotherly love between the two. In fact, it's not even sibling rivalry, it is far more bitter than that. Wales consider England their biggest rivals, the way a younger brother itches to prove himself against the older one.
England, however, have bigger fish to fry. England have historically dominated Wales, at least on the football pitch. The Three Lions had only lost 14 times to the Dragons in 101 encounters before Thursday's game. Thus, a Wales victory, that too at the European Championships, would have been as big as England coming out smiling at the end of a penalty shootout.
Gareth Bale's comments before the match showed how badly he resented the idea of coming second-best to the English. Wales' miracle man had said that none of the English players would make the Welsh team, and that their neighbours always "big themselves up before they've done anything". And while the second bit might not be too far away from the truth, Thursday's result from Stade Bollaert-Delelis in Lens pointed out the fallacy in the world's most expensive player's first statement.
As it went down, it was not to be a historic win for Wales over their big brothers, even though it was Bale's long-range free-kick that had put England in trouble and Wales in front. But eventually, it was England's options on the bench, their squad depth, that proved to be better on the night.
England played two very distinct halves of football to come from being a goal down to win 2-1 to jump on to the driving seat in Group B. The first half saw England be canonically, and somewhat comically, England. Regulation one-on-one chance wasted, check. A lost-in-the-woods attack, check. A goalkeeping blunder, check. Down at half time with their future in the competition looking grim, check. A manager with his head in his hands, check.
If Raheem Sterling's miss off Adam Lallana's cross right in the face of the Welsh goal signalled bad omens for the English, Joe Hart's effort to keep out Bale's dipping free-kick only spelt misery.
And what's more, England's golden boy and Premier League's golden boot Harry Kane was not having the best of days, much like the opening match against Russia. The Tottenham Hotspur forward found little joy up front as most of England's moves going forward seemed like frenzied and fragmented passing giving way to a hopeful bunt into the box that hardly found its target, if it ever had one. Sterling, the miss-of-the-Euros aside, was woeful, making anyone who turned up to watch wonder what the Manchester City's never-in-form man was doing anywhere near a starting XI. Didn't Roy Hodgson learn anything from the Russian debacle?
Turns out he did, but only after the first 45 minutes.
In the second half, Hodgson, with ground quickly slipping beneath his feet, did something the English traditionally despise: He changed things, and he changed them radically. A raring-to-go, newly crowned Premier League champion Jamie Vardy was subbed in for Kane and Liverpool's will-score-when-not-injured striker Daniel Sturridge replaced Sterling. The change in personnel instantaneously reflected in England going forward. Yes, the frenzied passing was still there, but at the end of it were chances. While England had managed only six shots in the first half, they came up with an astonishing 14 in the second, two of which found the elusive net.
Vardy, who instantly brought a much-needed burst of energy up front, took up the centre-forward spot and Sturridge slotted himself around Sterling's field of play on the left. Ten minutes into the second half, the two combined (in a way, at least) to bring up England's equaliser. Sturridge sent a weighted ball in from the left, and Welsh captain Ashley Williams unintentionally headed it towards his own goal, towards Vardy. The Leicester City forward, onside by virtue of Williams' touch, made no mistake as he wrapped his legs around the stray ball and scored with his first shot. An equaliser was all England needed to lift their spirits up. What followed was a sustained period of attack by the English, as little brother dug deep to ward off a winner.
But Hodgson was not done yet. In another bold move, he brought on 18-year-old Manchester United prodigy Marcus Rashford and went on all-out attack mode. England, largely considered a defensive side, had now used five forwards in the game. Hodgson was up to something, and in his desperation following an insipid first half, he stumbled onto something that might just be exactly what England needed — a radical rush-forward approach instead of the solemn sit-back practice.
And it paid off. Sturridge, in the dying embers of the game, exchanged quick passes with Vardy and Delle Alli, as he ran into the Welsh box from the left and slotted in a low finish at the near post. The comeback was complete and both of Hodgson's half-time substitutes had borne fruits.
Hodgson's decision to not wait for a spell of second-half play to determine substitutions was not only bold, but also incredibly on the mark. Far too often, England have waited too long to bring about the right change and paid the price for it; they have often brought in the wrong change and paid just the same. Case in point being the Russia game, where bringing on Jack Wilshere and James Milner late in the game let England sit back and invite an equaliser.
Hodgson deserves credit for England's inspiring second-half display, one that was a far cry from the first. This was also the first time they had come from behind at half-time to win a game at a major competition. The unprecedented comeback also shows the character of the team. England never gave up, even when the Welsh forgot about attacking and parked the proverbial bus. Their relentless assault on the Welsh goal eventually cracked the packed defence.
Hodgson's move also provided a telling revelation, one that can serve as the Three Lions' blueprint for the Euros: Vardy and Sturridge need to be in their starting XI. The pair not only scored England's two goals, but also brought in a sense of purpose to their attack. Vardy was lively at the number nine position, where Kane has looked weary. Maybe a long and eventually unrewarding season has taken its toll on the Spurs forward. The Leicester striker, still flashing a smile from the Premier League win, looked like he was, pardon the obvious reference, having a party. Sturridge, besides being a proven goalscorer (which Sterling isn't), linked up well up front with Vardy pushing forward in attack. This has to be England's face going forward. Hodgson must drop Sterling and Kane and trust his instincts that made him go all in at half-time. All-in England is fun.
Winning the game with a 92nd minute winner will act like an adrenaline shot to England's Euro campaign. After a frustrating draw against Russia, England now go top of Group B. A draw against Wales would have not only put knockout qualification in jeopardy, but would have also hung a sword over Hodgson's head. Instead of being subjected to intense media scrutiny in case of a loss or a draw, he will now enjoy a bit of stardom and soak in some well-deserved plaudits as England look well on course to the round-of-16.
They face Slovakia in their last group clash, by no means an easy one. But, if England pick up from where they left off on Thursday night, Hodgson need not sweat.
Football
Today, on the occasion of Lionel Messi's 35th birthday, let's have a look at some of his adorable photos with his family
Football
Chelsea will now start the search for a permanent sporting director, with Granovskaia leaving the club after almost 20 years at Stamford Bridge.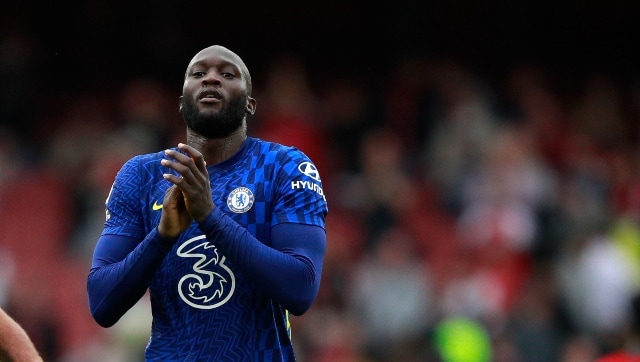 Sports
Lukaku ended this season as Chelsea's top scorer with 15 goals, but the former Manchester United and Everton player scored only eight times in the league.