24 Hours of Le Mans: A beginner's guide to one of the greatest and most prestigious races on Earth
For those who are new to Le Mans, we have simplified the entire race down for you to the basics (without getting caught up in the technical jargon). This will surely bring you up to speed so you can sit back and enjoy this Motorsport spectacle!
If Formula 1 is akin to a sprint, 24 Hours of Le Mans is a marathon that demands endurance of a different kind. Le Mans is called the greatest race on Earth, and it is easy to see why. It is a wonderful event with drivers and teams pushing themselves to the limit physically, mentally and yes, technologically.
For those who are new to Le Mans, we have simplified the entire race down for you to the basics (without getting caught up in the technical jargon). This will surely bring you up to speed so you can sit back and enjoy this Motorsport spectacle!
Why is Le Mans special?
If you love speed, you will love this race — as Le Mans is often touted as the 'fastest 24 hours in Motorsport.'
The cars at race at Le Mans are probably the most high-tech cars in the world. They are the cars of the future as manufacturers test new systems, run cutting--edge experiments and find new ways to make the cars more efficient (and hence allow lesser fuel stops).
Along with the Indy 500 and the Monaco Grand Prix, Le Mans forms the prestigious triple crown of Motorsport.
What racing series is Le Mans part of?
Le Mans is part of the World Endurance Championship (featuring as Round 3) and in fact it is the oldest endurance race in the world.
Importantly enough, there are double points on offer at Le Mans which is important with a view to the overall championship. It is interesting to note that the 2016 Le Mans winners (Porsche) won the championship despite not winning a single race after Le Mans.
What is the concept of the race?
Simply put, three-person teams take turns driving one car to reach the highest tally of number of laps over 24 hours straight. No single driver can run for more than 14 hours in total.
Where is the race held?
The circuit is called The Circuit de la Sarthe. It is located in Northern France between the towns of Le Mans (to the north) and Mulsanne (south).
The circuit is 8.47 miles long, following the public roads at the outskirts of the town and into the rolling French countryside. It is interesting to note that the original circuit has remained largely the same since World War 2. However, it been modified 12 times since inception largely from a safety point of view (to keep increasingly fast cars from reaching unsafe speeds).
What is the history behind the race?
Automobiles were rapidly developing and evolving in the early 20th century, and Le Mans began as a space to test automobiles and new technology over a sufficiently long period of time. The debut race in 1923 featured 33 cars from 17 brands (this included iconic car makers such as Bentley and Bugati). Drivers had to endure a violent four-hour hailstorm through their race!
Which are the most successful teams and drivers at Le Mans?
If number of wins is a measure of success, the most successful teams are:
Porsche (16 wins)
Audi (13 wins)
Ferrari (9 wins) (check class of wins)
Tom Kristensen, a Danish racer has the record for the most number of wins at Le Mans – he has won nine times including six consecutive victories from 2000 to 2005. Interestingly, these victories were across various teams.
Who will be racing this year at Le Mans?
Essentially, there are two categories of cars that go racing at Le Mans:
Tuned up sports cars / touring cars (LM GTE Pro and LM GTE Am)
One-of-a-kind, single seat protoypes (the LM P1 and LM P2 categories)
This year's entry list has 60 runners across these various categories.
Who is likely to win this year's Le Mans?
All eyes are on Toyota, who are the title favourites with seemingly the best package. Porsche are likely to be the challengers.
Unfortunately, we will not see our favourite Porsche vs Audi battle as Audi will not feature in this year's race as they have closed down their endurance racing project.
I am a Formula 1 fan, will I know any of the Le Mans drivers?
F1 driver Nico Hulkenberg won the Le Mans on his debut with Porsche in 2015. This year, much-loved driver Rubens Barichello, the most experienced driver in Formula 1, also debuts at Le Mans. Karun Chandhok, a former F1 driver who is now a well-known F1 pundit, races at Le Mans for the fifth time. Other former F1 drivers will also race in Le Mans – Jean-Eric Vergne, Nelson Piquet Jr, Bruno Senna and others.
Interestingly enough, Dr. Helmut Marko (who sits on the Red Bull Racing pit wall) has also had an illustrious career at Le Mans including jointly holding the record for the most distance covered at le Mans for many years. (can you include this stat?)
Where do I tune in to watch the Le Mans?
The best way to watch Le Mans live is streaming via YouTube.
To know more about the differences between Le Mans and Formula One as well as get perspectives from drivers on what it means at race (and win) at Le Mans, click here
Find latest and upcoming tech gadgets online on Tech2 Gadgets. Get technology news, gadgets reviews & ratings. Popular gadgets including laptop, tablet and mobile specifications, features, prices, comparison.
Sports
Hamilton clocked a best lap of 1min 33.279sec to beat Bottas by seven-tenths with Carlos Sainz third for McLaren, eight-tenths off the pace.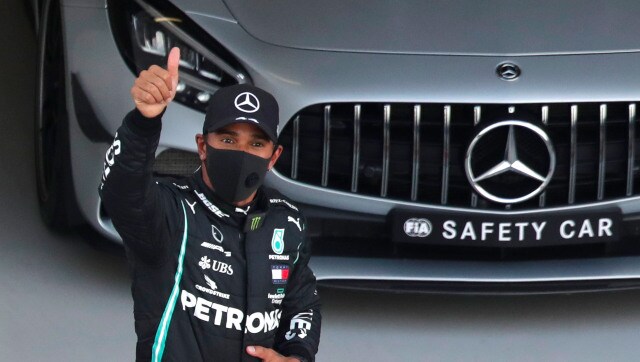 Sports
Hamilton's Mercedes teammate, Valtteri Bottas, was beaten into third by Verstappen's fast run at the end of the session and was .652 off Hamilton's time.
Sports
During the race, on team radio, Hamilton had described the penalties as ridiculous, a term he repeated afterwards and during an interview with Sky Sports.