2018 in the rearview mirror: Reliving Jose Mourinho's year, from ego tussle with Paul Pogba to kicking a wall
At times in 2018, watching Jose Mourinho on the sidelines was more entertaining than watching his side Manchester United play. Here's a look at the year that was for the Portuguese manager.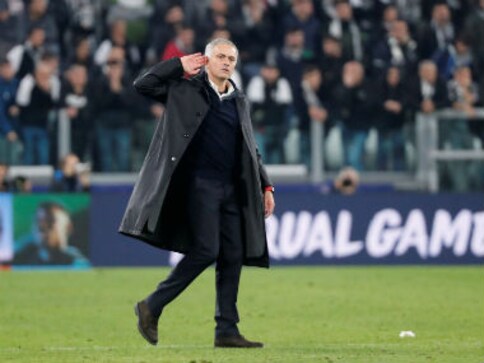 Somewhere in the middle of Manchester United's lacklustre run in 2018, people started to notice that, at times, watching Jose Mourinho was more entertaining than watching his team play football.
For, in 2018, the man with a penchant for rubbing people the wrong way seemed to get into a scrap with everything: star players, rival coaches, the media, and even a wall!
As 2018 winds down, here's a list of what Mourinho has done so far this season:
Fought a brick wall
Jose vs. a brick wall pic.twitter.com/YCo0sCjDii

— ESPN FC (@ESPNFC) December 5, 2018
'No water? Are we saving for January?'
Jose Mourinho walks into the post-match press conference and says, "No water? Are we saving money for January (transfer window)?" This is quality from Jose

— Devils of United (@DevilsOfUnited) December 8,

2018
Gave stats for his 'lovers'
Jose Mourinho's message to his lovers.
[by @samuelluckhurst]pic.twitter.com/OkL5J3a90A

— Man Utd Channel (@ManUtdChannel) November 29, 2018
Smashed a crate of bottles
Jose Mourinho's reaction to Fellaini's goal pic.twitter.com/GiStI4cvgs

— Troll Sports (@TroIISports) November 27, 2018
Tried to punch Chelsea's Marco Ianni
Scenes at Stamford Bridge!

Jose Mourinho says he has accepted an apology from @ChelseaFC

assistant coach Marco Ianni, who sparked chaos in the dugout following Ross Barkley's last-minute equaliser!

https://t.co/kP8eN2ANKB pic.twitter.com/DUcdl5fa5a

— Sky Sports Premier League (@SkySportsPL) October 20, 2018
Abused camera in Portuguese
BREAKING: José Mourinho has been charged following Manchester United's game against Newcastle United on 6 October 2018. pic.twitter.com/r6rQosYa2w

— Sky Sports News (@SkySportsNews) October 16, 2018
Vouched for Paul Scholes' freedom of speech
Is Jose Mourinho affected by Paul Scholes' comments?

Not in the slightest, apparently. pic.twitter.com/2n3vuqAI2e

— BBC Sport (@BBCSport) October 3, 2018
Accused a reporter from The Sun of bugging his cellphone
Earlier today, Jose Mourinho says The Sun's Neil Custis has bugged his phone. Cue awkward shuffling on his seat from Custis and a press officer hastily trying to

move things along pic.twitter.com/a1RN8EH10w

— The Sun Apologies (@SunApology) October 1,

2018
Got into a scrap with Paul Pogba
The full extended version of José Mourinho and Paul Pogba today in training [via @MUnitedFrance]

— RedMancunian (@RedMancunian) September 26, 2018
Threw shade at Chris Smalling over his haircut
Jose Mourinho is not a fan of Chris Smalling's new look pic.twitter.com/xxkIfpuH8G

— ESPN FC (@ESPNFC) September 15, 2018
Took a dive
Jose Mourinho's arrival for England vs. Spain couldn't have gone much worse… pic.twitter.com/AOBSPbrbR0

— ESPN FC

(@ESPNFC) September 10, 2018
Chanted 'respect, respect, respect'
Even by Jose Mourinho's standards, this was quite something. pic.twitter.com/AK9QbyAKfq

— ESPN FC (@ESPNFC) August 27, 2018
Got sent off to the stands for protesting a decision in 0-0 home draw against Burnley
Jose Mourinho was sent to the stands during Man Utd's 0-0 draw with Burnley today. He wasn't impressed, clearly...
https://t.co/9QAkhUIuVZ pic.twitter.com/ADw7mJGKr0

— AS English (@English_AS) October 29, 2016
Got sent off to the stands again! This time, for angrily kicking away a bottle after Paul Pogba was shown yellow in match against West Ham United
Jose Mourinho sent to the stands... AGAIN pic.twitter.com/bJNncQAa3P

— NairaBET (@NairaBET) November 27, 2016
Reminded journalists and fans how his former teams had knocked out Manchester United at Old Trafford before. Right after United crashed out of the Champions League in the Last-16 at the hands of Sevilla
Manchester United fans are not happy with Jose Mourinho's post match comments after sevilla defeat!

He literally just talked trash about the club he's managing#MUFC #manutd #MUNSEV pic.twitter.com/iZW3bPEjtv

— EPL World (@worldofepl) March 14, 2018
Taunted Juventus fans
Jose Mourinho has got the Juventus fans and players rattled at full time!

He's enjoyed that one A LOT! pic.twitter.com/Gcmuyd3sDo

— Football on BT Sport (@btsportfootball) November 7, 2018
Find latest and upcoming tech gadgets online on Tech2 Gadgets. Get technology news, gadgets reviews & ratings. Popular gadgets including laptop, tablet and mobile specifications, features, prices, comparison.
Sports
Son has scored nine goals in eight games this season and has also provided four assists, teaming up with Harry Kane to devastating effect.
Sports
Spurs squandered a 3-0 lead in the final 10 with the Hammers on Sunday. That led some observers to say it had been a 'Spursy' display, a tag used to describe Tottenham's habit of contriving to make a mess of a promising position late on.
Sports
Tottenham Hotspur boss Jose Mourinho said that Gareth Bale will "probably" play against West Ham in the Premier League on Sunday, in what would be his first appearance for the Spurs after rejoining the club on loan from Real Madrid.