2018 in the rearview mirror: Reliving Jose Mourinho's year, from ego tussle with Paul Pogba to kicking a wall
At times in 2018, watching Jose Mourinho on the sidelines was more entertaining than watching his side Manchester United play. Here's a look at the year that was for the Portuguese manager.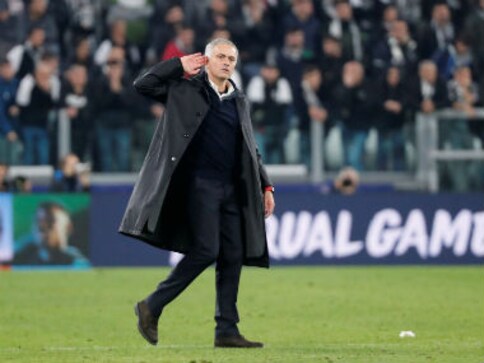 Somewhere in the middle of Manchester United's lacklustre run in 2018, people started to notice that, at times, watching Jose Mourinho was more entertaining than watching his team play football.
For, in 2018, the man with a penchant for rubbing people the wrong way seemed to get into a scrap with everything: star players, rival coaches, the media, and even a wall!
As 2018 winds down, here's a list of what Mourinho has done so far this season:
Fought a brick wall
'No water? Are we saving for January?'
Gave stats for his 'lovers'
Smashed a crate of bottles
Tried to punch Chelsea's Marco Ianni
Abused camera in Portuguese
Vouched for Paul Scholes' freedom of speech
Accused a reporter from The Sun of bugging his cellphone
Got into a scrap with Paul Pogba
Threw shade at Chris Smalling over his haircut
Took a dive
Chanted 'respect, respect, respect'
Got sent off to the stands for protesting a decision in 0-0 home draw against Burnley
Got sent off to the stands again! This time, for angrily kicking away a bottle after Paul Pogba was shown yellow in match against West Ham United
Reminded journalists and fans how his former teams had knocked out Manchester United at Old Trafford before. Right after United crashed out of the Champions League in the Last-16 at the hands of Sevilla
Taunted Juventus fans
World
The nine-member jury reached its verdict after less than two hours of deliberation following a three-week trial. It represents a major vindication for Musk, who spent about eight hours on the witness stand defending his motives for the August 2018 tweets at the centre of the trial
World
On 6 February 2018, SpaceX launched their triple-barreled Falcon Heavy rocket into space for the first time, fusing the serious and humorous aspects of space travel
Football
Anthony Martial and Fred scored the goals for Manchester United as they set up a meeting with Newcastle at Wembley on 26 February.