2018 in the rearview mirror: From coach Roger Federer to Mo Salah making visually impaired fan's day, most heartwarming moments
As 2018 winds down, here's a list of the most heartwarming stories from sports from the year:
2018 was not short of headline-making stories.
Yet, somewhere in the din smaller instances of athletes and teams showing their humane side was lost.
As 2018 winds down, here's a list of the most heartwarming stories from sports from the year:
Virgil van Dijk consoles referee
Captain @VirgilvDijk; leading by example pic.twitter.com/HrH2UhfeOk

— OnsOranje (@OnsOranje) November 20, 2018
Leicester City's emotional homecoming after owner Vichai Srivaddhanaprabha's passing away
Simply amazing. pic.twitter.com/eDsnrRSq1G — Leicester City (@LCFC) November 3, 2018
Young fan hands a note to Vichai Srivaddhanaprabha's son as football returns to King Power Stadium
'Forever in our hearts'

On an emotional day in #Leicester,

players marched with 10,000 fans to the stadium, tears flowed around the King Power, and the late #VichaiSrivaddhanaprabha's son #Aiyawatt laid a wreath in honour of his father. #LeiBur
Read: https://t.co/czgVT6yRPi pic.twitter.com/8wrWvNeVT9

— Firstpost Sports (@FirstpostSports) November 10, 2018
New Zealand player's family performs Haka for him
AN EMOTIONAL HAKA Is this your #LaureusSportingMoment of the Month? Vote now https://t.co/ogvHicu0DJ pic.twitter.com/o2yJI7nFk5 — Laureus (@LaureusSport) November 7, 2018
Topless taekwondo star from Tonga turns cross-country skiier
Miracle?
Former taekwondo Olympian from Tonga @PitaTaufatofua qualified for @PyeongChang2018 proving hard training ⛷️ pays off!#LIVE emotions -> https://t.co/bIuIKzxt8R@fiscrosscountry @WorldTaekwondo1 pic.twitter.com/b3g9Zt4ynf

— Olympic Channel (@olympicchannel) January 21, 2018
Alonso gets a donut sendoff from Formula 1
What a way to send him off... #GraciasFernando pic.twitter.com/IXyKIwmAno — Formula 1 (@F1) November 26, 2018
Visually impaired Liverpool fan gets to meet players, including Mo Salah, after video of him celebrating goal goes viral
"To Michael, your support is an inspiration. Mo Salah" ❤️@MoSalah invited @MikeKearney1 for a special visit to Melwood after a video of him celebrating our decisive #UCL winner against @sscnapoli went viral... pic.twitter.com/zHo67eBdfK

— Liverpool FC (@LFC) December 20, 2018
When Mo Salah made a young fan's day
"Thank you Mo" ❤  The moment @MoSalah made this young fan's day. pic.twitter.com/8vO8XlyqVK — Liverpool FC (@LFC) December 12, 2018
When LeBron James made a return to Cleveland as a Laker

LeBron James receives a warm welcoming back in Cleveland!

WATCH the action on ESPN pic.twitter.com/qUV7x0BNmF

— NBA (@NBA) November 22, 2018
Hamilton and Vettel exchange helmets as a symbol of mutual respect
They battled fiercely all season on track... ⚔️ But off the circuit, there's ultimate respect between Lewis and Seb pic.twitter.com/UVhM6ehF2G — Formula 1 (@F1) November 26, 2018
When a high school volleyball team lost all of their kits in the California fire, their state semi-final opponents surprised them with jerseys, food and even donations!
Making state semifinals would normally be a big deal, but some of these high school volleyball players lost everything in the California fires. So their opponents surprised them with brand-new jerseys, kneepads, food and thousands of dollars in donations. https://t.co/0IEGUSDYSp pic.twitter.com/7ykxHTxXLK

— CNN (@CNN) November 20, 2018
Donovan Mitchell brightens a young fan's day after spotting the kid wearing his high school jersey
Donovan Mitchell spots a young fan wearing his high school jersey & invites him onto the court pregame! #ThisIsWhyWePlay pic.twitter.com/EQksiRwpSC — NBA (@NBA) November 18, 2018
When no one turned up for a six-year-old's birthday party, Phoenix Suns invited him to a game against the LA Lakers
How about we celebrate with thousands at our place! Tickets to Wednesday's #SunsVSLakers game are all yours Teddy! Talk soon! https://t.co/YL3zjDX9JW

— Phoenix Suns (@Suns) October 22, 2018
Meet the high-fiving grandmom
- I think all sports events need such a grandmother pic.twitter.com/aw3lZ6ITWU — Köksal Akın (@Koksalakn) December 11, 2018
Alastair Cook gets a gift from media on his Test retirement
There was a gift for Alastair Cook at the press conference #ThankYouChef pic.twitter.com/UV6fFcM1JL

— ESPNcricinfo (@ESPNcricinfo) September 10, 2018
James Anderson got emotional while talking about Alastair Cook's departure
"He's my best friend. I am going to miss him" An emotional Jimmy Anderson struggles to keep the tears back when paying tribute to Alastair Cook. Watch #ENGvIND reaction on Sky Sports Cricket or follow: https://t.co/monTXhlnfq pic.twitter.com/gjFLRhq96t — Sky Sports Cricket (@SkyCricket) September 11, 2018
Everyone loves N'Golo Kante
It's official; everyone loves N'Golo Kanté.

( via @lequipe) pic.twitter.com/TwSjsfaUZ2

— Squawka News (@SquawkaNews) September 9, 2018
Ahead of her US Open final against Serena Williams, Naomi Osaka has a message for the American
Naomi Osaka's message to Serena before they face each other in the US Open final? "I love you." pic.twitter.com/B7m8FzJWjm — espnW (@espnW) September 7, 2018
Serena Williams asks fans to stop booing and celebrate Naomi Osaka's US Open victory
.@serenawilliams instructs crowd to stop booing and celebrate @Naomi_Osaka_'s moment of winning her first grand slam. #USOpen pic.twitter.com/LOAyB42OmQ

— Jeff Eisenband (@JeffEisenband) September 8, 2018
Naomi Osaka talks about feeling like a fan again after hugging her idol Serena Williams post her US Open win
"When I step on the court, I'm not a Serena fan - I'm just a tennis player playing another tennis player. But when I hugged her at the net, I felt like a little kid again." ❤ @Naomi_Osaka_ lets us into her heart...#USOpen pic.twitter.com/GlCigEQUiv — US Open Tennis (@usopen) September 9, 2018
When a stray dog became the 'assistant manager' of a football club in Paraguay
And here's Tesapara watching on from the stands after being sent off from the technical area ❌ [@club2demayo] pic.twitter.com/vpkwXbQFO5

— Matias Grez (@matias_grez) September 5, 2018
Novak Djokovic consoles Juan Martin del Potro after beating him in the US Open final
From one champion to another. These are the moments we love to see...#USOpen pic.twitter.com/MfmZbWV0B1 — US Open Tennis (@usopen) September 9, 2018
Roger Federer coaches Zverev at Laver Cup
More coaching gold from @RogerFederer #LaverCup pic.twitter.com/qG0IBvDQBZ

— Laver Cup (@LaverCup) September 23, 2018
And here's Federer advising Novak Djokovic as well at the Laver Cup
Match commentary tonight provided to you courtesy of #TeamEurope2018's @DjokerNole and @RogerFederer. #LaverCup pic.twitter.com/TyElaPKz8r — Laver Cup (@LaverCup) September 23, 2018
Find latest and upcoming tech gadgets online on Tech2 Gadgets. Get technology news, gadgets reviews & ratings. Popular gadgets including laptop, tablet and mobile specifications, features, prices, comparison.
Sports
The two night races, both to be held at the Losail circuit on 28 March and 4 April, will be followed up by the Portuguese MotoGP at the Algarve International circuit on 18 April.
Sports
Dr Sokolovas has headed the Department of Physiology and Sport Science of the USA Swimming Federation for eight years and has also taken care of US swimmers, water polo players, and triathletes.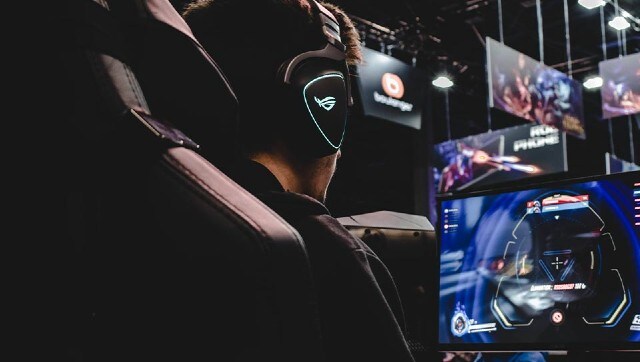 Sports
Given the demand for personalisation options, the game developers add skins into the game at intervals, this allows players greater freedom in terms of choosing their own experience as well as expressing their sense of style to the game.