2018 in the rearview mirror: From Belgium winning Hockey World Cup to ball tampering scandal, the biggest stories
Cricketers weeping, underdogs winning, a Ballon d'Or winner not called Ronaldo or Messi. 2018 was a year rich with sporting headlines. Here are the ones that stood out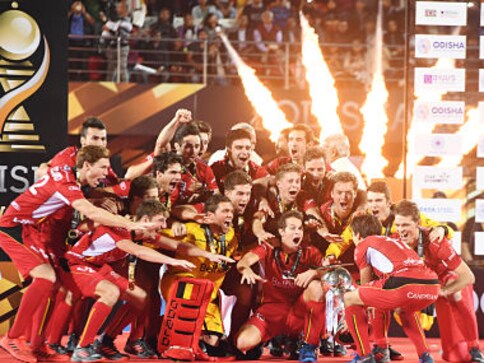 Cricketers weeping, underdogs winning, a Ballon d'Or winner not called Ronaldo or Messi. 2018 was a year rich with sporting headlines. North and South Korea walked together at the Winter Olympics and the Asian Games opening ceremonies. At the Hockey World Cup, Belgium arose to claim their first crown. At the FIFA World Cup, Germany slipped to crash out in the group stage, while France took home the title.
Here's a list of what made the biggest splash in sports in 2018:
North and South Korea marched under a unified flag at Winter Olympics
The best thing about the 2018 Winter Olympics: Both Koreas participating under a unified flag. Refreshing imagery in an age of turbulent confrontational diplomacy. pic.twitter.com/XhUfeQ0KYa

— Nathaniel Falzon (@NathanielFalzon) February 13, 2018
North Korea and South Korea marched under one flag at the Asian Games
The two Koreas march under unified peninsula flag during the opening ceremony for the #18thAsianGames in Jakarta (Video: CCTV) pic.twitter.com/IsJvSA9fVG

— Global Times (@globaltimesnews) August 18, 2018
The ball-tampering controversy was probably the biggest story to rock the sport of cricket in 2018. In the aftermath, Steve Smith stepped down as captain and was handed a one-year ban. His deputy David Warner was given the same ban while Cameron Bancroft was handed a nine-month ban.
That JR Smith error in Game 1 of the NBA Finals which saw the Golden State Warriors tie the Cleveland Cavaliers to force overtime. Despite LeBron James scoring 51, the Warriors won Game 1. And then they won the Championship
When LeBron James took his talents to Los Angeles after Cavaliers lost NBA Final

TIMELAPSE: LeBron James banner comes down in Cleveland. https://t.co/2x9uOp3kdT pic.twitter.com/p8WPYVyS2w

— KTVU (@KTVU) July 3, 2018
The Dubs became a dynasty
The Dubs are back-to-back NBA Champions, let's take a look back at this year's playoff run pic.twitter.com/Klgk8H31qc

— Golden State Warriors (@warriors) June 17, 2018
Geraint Thomas won the Tour de France, despite no one giving him a chance when the gruelling race began
"Just dream big"

Tour de France champion Geraint Thomas ends his inspiring message to kids at his boyhood cycling club in Cardiff with this mic drop https://t.co/TpnVu0983L #TDF2018 pic.twitter.com/GygVO3ikkw

— ITV News (@itvnews) July 29, 2018
Luka Modric broke Cristiano Ronaldo and Lionel Messi's 10-year streak of winning Ballon d'Or
What a year for Luka Modric. 2018 Ballon d'Or winner pic.twitter.com/zOoZjR4HfX

— The Soccer Life (@TheSoccerLifee) December 4, 2018
A 360-degree delivery spun out of control and became a controversy
Was the umpire right to call Dead Ball to this delivery? ⬇️

MCC Laws Department clarifies ➡️ https://t.co/6prmC4cp7Xpic.twitter.com/Rl70RjxzBW

— Lord's Cricket Ground (@HomeOfCricket) November 8,

2018
Usain Bolt tried his hands at football in Australia
Usain Bolt has just scored his first goal in professional football!

— Troll Football Media (@Troll__Footbal) October 12, 2018
It was a car crash that made hearts stop! Sophia Floersch had a scary crash at Macau during a Formula 3 race. She's now recovering well and hopes to race again
☘️@BillBurr
Crash From another angle Bill.
276-Kmh / 172-MPH
She'll be back racing in a few months,@SophiaFloersch pic.twitter.com/jntSQCq57g

— TT⚡ROAD WARRIORS (@Lockk999) December 21, 2018
Ireland's women's hockey team made history by making it to the final of the Hockey World Cup despite being the second-lowest ranked team in the tournament
@irishhockey Incredible #FIHShootout at the @Vitality_UK #HWC2018 in London!
IRL v ESP @irishhockey
Watch here https://t.co/Ng8PUTqYpA pic.twitter.com/2Zi9lMn6oj

— International Hockey Federation (@FIH_Hockey) August 4, 2018
The Copa Libertadores final got postponed after River Plate fans attacked Boca Juniors team bus. The second leg was eventually played at Real Madrid's Santiago Bernabeu
These shocking scenes saw the Copa Libertadores final between River Plate and Boca Juniors postponed ... pic.twitter.com/DWa0rD9r9h

— ESPN FC (@ESPNFC) November 25, 2018
Former USA Gymnastics doctor Larry Nassar was sentenced to 40 to 175 years in prison for sexually assaulting over 150 women
"I've just signed your death warrant… You do not deserve to walk outside of a prison ever again." Judge Rosemarie Aquilina says to former USA Gymnastics doctor Larry Nassar during his sentencing pic.twitter.com/1fLoO3MC3X

— TODAY (@TODAYshow) January 25, 2018
You can follow the entire timeline of the sentencing here
Belgium won the Men's Hockey World Cup, the first time the team had won a world-level event
Amazing scenes in Brussels today! Wow what a turn out! 1st ever Belgium team to be crowned World Champions! #Hockey #HWC2018

@BELRedLions @hockeybe @MonarchieBe @Telenet pic.twitter.com/qRiDCHVs8h

— International Hockey Federation (@FIH_Hockey) December 18, 2018
Japan's Tomokazu Harimoto won ITTF World Tour Grand Finals, at the age of 15!
15 YEARS, 172 DAYS THE YOUNGEST EVER #ITTFGRANDFINALS MEN'S SINGLES CHAMPION IS TOMOKAZU HARIMOTO!!! pic.twitter.com/XWMpt61ovV

— ITTF World (@ittfworld) December 16, 2018
Jose Mourinho's reign as Manchester United manager ended while Ole Gunnar Solskjaer was appointed as the caretaker manager
"Bye guys."

This was the moment Jose Mourinho departed from the Lowry Hotel after being sacked as Manchester United manager. pic.twitter.com/dCTdqMEEM5

— Man United News (@ManUtdMEN) December 18, 2018
Eliud Kipchoge smashed the world marathon record by 78 seconds after a 2hour 01minute 39second finish at the Berlin Marathon
Kenya's Eliud Kipchoge sets marathon world record in Berlin https://t.co/RiXTWxcOpD via @ReutersTV pic.twitter.com/BOCPwUwtTM

— Reuters Top News (@Reuters) September 17, 2018
Lee Chong Wei beat cancer and set his sights on a return to badminton
I am slowly but surely recovering, and will continue to train to play in the court once again. Thanks to all the media for coming. Thanks to @BA_Malaysia for their support. And my family for their love & care on my decision to play for my country pic.twitter.com/aTRoBgxKYJ

— Dato' Lee Chong Wei (@LeeChongWei) November 8, 2018
Top-flight football came to Jammu and Kashmir
A new dawn arrives for football in Jammu and Kashmir as @realkashmirfc welcome
Churchill Brothers in what will be the state's first-ever @ILeagueOfficial fixture.

Stay tuned for updates from Srinagar's resplendent TRC Turf Stadium.#RKFCCB #HeroILeague #ILeagueIConquer pic.twitter.com/MT2Ace9Pce

— Firstpost Sports (@FirstpostSports) November 6, 2018
France celebrated winning the FIFA World Cup in some style
This is just *beautiful

*Unless you're part of the Coalition Against Singing, Dancing, Tattoos, Different Hairstyles and Social Media Use in Footballpic.twitter.com/VJOxaRFfTV

— Melissa Reddy (@MelissaReddy_) September 10, 2018
Defending champions Germany crashed out of the FIFA World Cup in the group stage itself
Retweeted FIFA World Cup (@FIFAWorldCup):#KOR #KOR #KOR

When Son Heungmin capped off a famous win for Korea Republic against reigning #WorldCup champions Germany!

TV listings https://t.co/bkgqkfVcUs
Highlights https://t.co/w81OLnuG4X pic.twitter.com/paGRXQ2sif

— FERNANDO SCHWARTZ #másfuerteqnunca (@fersch_4) June 28, 2018
That gutsy Nike ad feat. Colin Kaepernick was released. It led to protests and anger, including some Americans burning their gear
Believe in something. Even if it means sacrificing everything. #JustDoIt pic.twitter.com/x5TnU7Z51i

— Colin Kaepernick (@Kaepernick7) September 5, 2018
Naomi Osaka beat Serena Williams to clinch the US Open title
Forever a #USOpen champion...

Happy Birthday @Naomi_Osaka_! pic.twitter.com/kuJRBuFWmw

— US Open Tennis (@usopen) October 16, 2018
However, Osaka's big day was marred by a controversy over on-court coaching as the favourite Serena Williams clasheed with chair umpire Carlos Ramos. Later, during the trophy ceremony, Osaka teared up as the partisan American crowd booed
Serena Williams calls umpire a 'liar' and 'thief' as Naomi Osaka wins US Open final – video https://t.co/6qNIE5XkjY

— The Guardian (@guardian) September 9, 2018
Meanwhile, in the men's singles event, Novak Djokovic claimed his second Grand Slam of the season
This stadium.
This crowd.
This feeling.

Soak in the moment with @DjokerNole...#USOpen pic.twitter.com/gKNYq9cji3

— US Open Tennis (@usopen) September 10, 2018
For all the talk of Golden State Warriors cementing their legacy with a third NBA title in four years, the franchise found out how easily it could all unravel with the team's superstars Kevin Durant and Draymond Green getting into an argument in the clash against the LA Clippers. The trigger for the confrontation was innocuous enough: With both teams tied at 106 and just five seconds left on the clock, Green plucked a rebound out of the air despite Durant furtively gesticulating to give him the ball. Green drove to the Clippers basket but could not even get a shot off, leading the game to go into overtime. While walking off the court, Durant confronted Green for not passing the ball to him, which led to the duo bickering.
It has been reported that Green called Durant a b***h and asked him to leave the team when his the free agency option becomes available to him next season. This reportedly led the Warriors to give Green a one-game suspension. Since then on, things have escalated. Durant, of course, was repeatedly asked about his relationship with Green.
Kevin Durant & Draymond Green get into a heated exchange after Draymond failed to get a shot off at the end of regulation during the Warriors loss to the Clippers. pic.twitter.com/uYROz4bld1

— Ballislife.com (@Ballislife) November 13, 2018
Cristiano Ronaldo was accused of rape. Juventus defended the superstar by absurdly giving testimony for his 'professionalism'
Juventus have chosen obfuscation and distraction rather than denial re Ronaldo rape investigation. The idea that an athlete's "professionalism and dedication" is a relevant consideration in a sexual assault case is absolutely toxic pic.twitter.com/AElHFnMcBE

— elliot ross (@FutbolsaCountry) October 4, 2018
Sports
Barcelona were held to a goalless draw by Benfica at the Camp Nou in Xavi's second game as coach, but remain above the Portuguese side in Group E.
Sports
Carrick was taking charge for the final time as caretaker manager with new interim boss Ralf Rangnick watching from the stands and announced after the match he will leave the club rather than return to his coaching role.
Sports
Manchester United's caretaker manager Michael Carrick said he was not surprised Cristiano Ronaldo delivered again in their 2-0 win over Villarreal in the Champions League