'Itni besharmi nahi dekhi jati': Policing desire in a Mumbai public park
Mumbai boasts of famous lover haunts like Marine Drive, Bandra Bandstand, Nariman Point, Juhu Chowpatty beach and Versova's Rocky beach. Even though you'll see police patrolling these areas, they rarely trouble the oblivious lovers (apparently, hotels are the new Mumbai police specialty). But public parks, patrolled by private security guards, are another matter.
It's a lazy Sunday afternoon and Shireen and Shakil have found a perfect spot in an otherwise crowded Walawalkar Park in Lokhandwala. Twenty two-year-old Shakil works at a furniture shop while Shireen is a second year college student. The young couple do not have enough money to sit at a Barista or a Cafe Coffee Day and chilling at a public park is just 'convenient.' After 2 years of clandestine meetings, Shakil and Shireen know a lot of the romantic haunts in the city which are perfect for an non-expensive, impromptu rendezvous. But they need to hurry because time is precious when you are romancing each other in a public park.
"We don't meet too often. It's often just a few phone calls and text messages mostly. This is our only time," Shakil says sheepishly. That was our cue to leave the couple alone. Questions could wait. But the minute, we moved on to speak to other couples, a deafening whistle brought their afternoon tryst to an untimely halt. An old man dressed in a green uniform with the words 'SECURITY' stitched on his shirt, stick in one hand and a whistle dangling from his neck, emerged from a cluster of bushes. Time to get the hell out.
In this great city, no park is safe for lovers.
Mumbai boasts of famous lover haunts like Marine Drive, Bandra Bandstand, Nariman Point, Juhu Chowpatty beach and Versova's Rocky beach. Even though you'll see police patrolling these areas, they rarely trouble the oblivious lovers (apparently, hotels are the new Mumbai police specialty). But public parks, patrolled by private security guards, are another matter.
They won't give you a second look if you've arrived with a family or if you are the fitness junkie with a pair of earphones plugged in for a good run. The minute you walk in with someone who suspiciously looks like your bae... you are on the radar!
Meet Sheikh Abid, the 69-year-old guard who has been entrusted with the important task of keeping the park 'nuisance-free.'
"This is a family place. There are so many kids playing. Young families come here. What will they think?" says a frowning Abid, the self-styled nemesis of many like Shakil and Shireen who are looking for a little intimacy. "Baat karni hai to karo, ye kiss-viss kya hai? Har cheez ke liye jagah aur samay hota hai." (You want to talk, that's fine. What's with kissing business. Everything has a time and a place)," says Abid who is a second generation Mumbaikar hailing from Hazaribagh district in Jharkhand.
Another guard at the Diamond Garden in Matunga, 20-year-old Aman Tiwari, concurs: "It is a family place. Couples with their children and sometimes even elderly people come here. How can you allow such open indecency?"
Families, however, hardly complain about the couples. They do restrain their children from wandering off into dark corners of the park but don't seem to mind the canoodling couples. "It's none of our business. We are here with our family. What they do is their business," says a father playing with his kid.
But the guards claim they know better about what the public needs.  "Why will they complain? We know they feel awkward. Sabko sharam ati hai. Humara kaam hi hai ye, hum jaante hain. (They'll be ashamed to bring such topics up and also this is our job, no one has to tell us. We know.)" Tiwari insists.
****
It's no coincidence that a majority of these overzealous security guards hired by private firms to patrol the parks are migrants to the city.  Being a security guard was not Abid's first choice, but the 69-year-old frankly admits that he shunned books and education, leaving few career choices open to him. "Kaun kaam dega anpadh ko? (Who'll employ an uneducated man?)," he asks.
Trying to make ends meet, these newcomers and their children pick up odd jobs to make a living.  Coming from places like UP, Bihar and Jharkhand, they suffer close to a culture shock in their new home.
A security guard at a public park in Dadar, Shiraj, says it is difficult discussing such matters with me, as I am like his daughter, perhaps because I too come from a small town (in this case, Ranchi). "Aapko kya batayen? Itni besharmi nahi dekhi jati. Ye sab aapke shahar mein hota hai kya? (What should I tell you. This is height of indecency. Does it happen in your home town?)," he asks.
Twenty-year-old Tiwari moved to Mumbai 7 years ago leaving his family in Rae Bareilly. He is the third child amongst four siblings. Two elder sisters have been married off and the younger one is being readied for a marriage. The BA graduate could not get a job in his home state Uttar Pradesh. "UP sad chuka hai. Degree ke bawjood wahan kaam nahi milta. Mere pitaji sadharan aadmi the aur ghoos dene ke liye paise the nahi. (UP has become rotten. I had a legitimate degree but I did not get any work. My family could not afford to bribe anyone.)"
Tiwari earns a meagre Rs 7,000, which is higher than what most of the others make. Half of the salary goes back home.
He claims he never had a girlfriend and does not want one. "Seedha shaadi hoga madam aur ma baap hi dhoondege. Behno ki bhi waise hi shaadi hui. Apni marzi kya hai, ma baap ko jo pasand wahi humari pasand. (I will go straight for a marriage and it will be a decision of my parents. My sisters were not asked whether they liked the guy or not and they are happy. What is choice? Parents' choice is our choice)," he declares.
There is little difference in the worldview of 20-year-old Aman and 69-year-old Sheikh Abid or 54-year-old Shiraj
Alok is merely 17-year-old and has recently shifted to Mumbai from Purnia, a small town in Bihar. He can barely make ends meet with a monthly salary of Rs 4,000. He has just started working as a security guard in a park in Juhu and is learning the tricks of the job and he likes the sense of authority that goes with it. The powerlessness of a migrant finds compensation in the petty authority of moral policing. A job where they get to play god over these 'indecent' couples and young boys and girls gives them a desired sense of power.
****
The guards who run amok in public parks are emboldened by the state's own law enforcement officials who have often been open in their endorsement of moral policing.
"That is why I'm asking whether on one hand couples should be allowed to kiss in public and on the road, should they be allowed to indulge in obscene things? We have to strike a balance. On the one hand you want to have a promiscuous culture and on the other hand you want a safe and secure environment for the people," Police Commissioner of Mumbai, Satyapal Singh told NDTV back in 2013.
The law emboldens the private guards further. The vaguely worded Bombay Police Act has been used by Mumbai police many times to harass couples. In September 2014, 24-year-old Runcil Rebello and his girlfriend, Cheryl Godinho (25), were sitting outside the Oberoi Mall in Goregoan (East) and Godinho's arm was around Rebello's waist. A group of four policemen from Dindoshi police station detained the couple saying they had been behaving 'indecently'.
The couple was charged under Section 110 of the Bombay Police Act which states, "Behaving indecently in public. No person shall willfully and indecently expose his person ill any street or public place or within sight of, and in such manner as to be seen from any street or public place, whether from within any house or building or not, or use indecent language or behave indecently or riotously, or in a disorderly manner in a street or place of public resort or in any office station or station house."
The act doesn't define what 'indecent behaviour in public' is, leaving young couples at the mercy of the local constable's -- or guard's -- interpretation. Public indecency was also invoked in the recent Madh island raids where policemen forcibly entered private hotel rooms to arrest couples.
In January 2013, in the aftermath of the brutal Delhi gangrape, Mumbai police decided moral policing was the answer to the battle against sexual violence. A new directive required that couples found loitering around in the 'lonely' areas of the city be admonished by cops, and in some cases, even fined. The police was quick to amend the rule, but said that the police will "intensify patrolling" at these spots instead. But as the recent raids show, the moral policing agenda remains very much in place.
It is this environment that empowers and directs the misplaced authority of the lowly security guard in a public park. He may not know the exact letter of the law, but he knows that he can police the bodies of young people with impunity even in the most modern of Indian cities.
"Would we allow our brothers and sisters to do this? No! Haath-pair tod dete. (We would have broken their limbs)," says an angry Alok, in that moment arrogating to himself the moral rage and authority of our great patriarchical state.
Find latest and upcoming tech gadgets online on Tech2 Gadgets. Get technology news, gadgets reviews & ratings. Popular gadgets including laptop, tablet and mobile specifications, features, prices, comparison.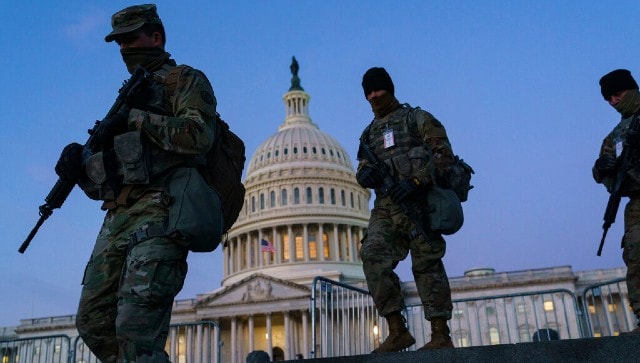 World
An Army official and a US intelligence official, speaking on the condition of anonymity, however, did not say what fringe group the National Guard members belonged to or what unit they served in
World
The massive undertaking underscores fears that some of the very people assigned to protect Washington over the next several days could present a threat to the incoming president and other VIPs in attendance
World
Biden has resisted calls to move the celebration indoors for the sake of safety. His inauguration committee had already been planning a scaled-back celebration with virtual components because of the coronavirus