In the late '90s while Ashish was still in IIT-Mumbai, he attended a lecture by Infosys co-founder Nandan Nilekani. That day, the desire to become an entrepreneur firmly took hold of him. About a decade later, Ashish and his B-school classmate, Rajiv Srivatsa, faced several challenges while trying to decorate their new homes in Bangalore. That's when the two stumbled upon their big idea - creating an online furniture business. Despite all of Ashish's friends, mentors and colleagues telling him that he had lost his mind attempting to pursue the idea, he persisted and today, Urban Ladder is one of the leading furniture brands in the country. With Ikea now launched in India, Ashish sees the iconic Swedish brand as inspiration first, and then, competition.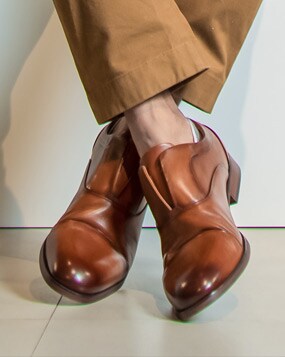 What's next for you?
Winning many design awards and creating products that become popular and appreciated globally.
The highlight of your entrepreneurial career?
Building a great team and doing some incredible work with that great team.
Advice to budding entrepreneurs?
The only real thing that is undervalued today is patience. Patience is incredibly valuable, yet underrated, in everything one does. Be patient, put in the hard work and follow your dream.
What is the key to success?
Personally, for me, hard work and focus are the two essential pillars of success.
mantra to live by?
Better to burn out than fade away - Kurt Cobain.
What does self-made mean to you?
Self-made is somebody who takes charge of his/her own life, is willing to bet against the odds, doesn't stand on the shoulder of someone else and is without any sense of entitlement. A self-made individual creates his/her own mark and space in the world.
Where do you feel most inspired?
I feel most inspired when I am interacting with customers. You hear good things, bad things and tough feedback - all of that is learning.