You vote for Modi, I will vote for Priya Dutt: Salman Khan tells Gujarat
Salman Khan stopped short of endorsing Narendra Modi, who he called a 'good man' and added that he hopes the best man becomes prime minister.
Call him India's most politically incorrect star or just the most bindaas. Either way, Bollywood's favourite bad boy Salman Khan left Bharatiya Janata Party's prime ministerial candidate stumped when he joined the latter at a kite festival in Ahmedabad only to say that the Gujarat chief minister was the best man for Gujarat, but that he would vote for Congress MLA Baba Siddique and Congress MP Priya Dutt in his own constituency, Bandra, in Mumbai.
After Khan and Modi flew kites for a short while, the excitement among the gathered media was palpable: Would Khan, who has been seen campaigning for South Mumbai Congress MP Milind Deora and has had a famous patch-up with Shah Rukh Khan at Congress MLA Baba Siddique's party -- endorse Modi now?
He started to cheers: "Everyone is happy, khush khush." More cheers followed. "There is colour in the sky."
He spoke about the development in Gujarat briefly. Coming to the state after a gap of about four years, he had seen a great deal of development, he said.
The crowds gathered are salivating now, rich praise was about to be heaped on Modi by no less than the Dabangg star.
But Salman didn't bite that bullet. "I am from Mumbai, how can I decide who is the best man for the country?"
Only God can decide the best man for the country, apparently. And he was standing next to a "good man", he added, a show of his ample grace and understanding of social niceties.
But the questions were persistent. Does he think Modi could become PM? "Jo Modi saab ke taqdeer mein ho, woh Modi saab ko mile," Salman sent up a prayer. (May he get whatever is in his destiny.)
And then, Salman Khan's political fineprint: "You vote for Modisaab. I am from Mumbai, I live in Bandra. I will vote for Baba Siddique and Priya Dutt." Siddique is a three-time MLA in Mumbai's suburb of Bandra, home to a galaxy of stars. Dutt, of course, is carrying forward Sunil Dutt's  political legacy, elected first in a bypoll after her father's demise and then re-elected in 2009.  
To his credit, Modi's grin disappeared for barely a couple of seconds.
The star followed that up with what may be the briefest ever sermon on development: "Every desk ka hona chahiye development. Everybody is pareshaan. I am pareshaan. I would be glad if everybody loves their chief minister as much as you do." The cheers never subsided.
His father, Bollywood scriptwriter Salim Khan, and Modi talk often, he continued. "I like him very much, I have met him for the first time, I hope we meet more, we get along, He is a great man, he is doing a lot for the state and I wish Modi saab all the very best in life."
Find latest and upcoming tech gadgets online on Tech2 Gadgets. Get technology news, gadgets reviews & ratings. Popular gadgets including laptop, tablet and mobile specifications, features, prices, comparison.
Entertainment
Akhil Bhartiya Akhara Parishad president says the body has disassociated itself with Radhe Maa, claiming she's "neither a saint nor an ascetic."
World
The New Zealand prime minister on Saturday won a second term in office in an election landslide of historic proportions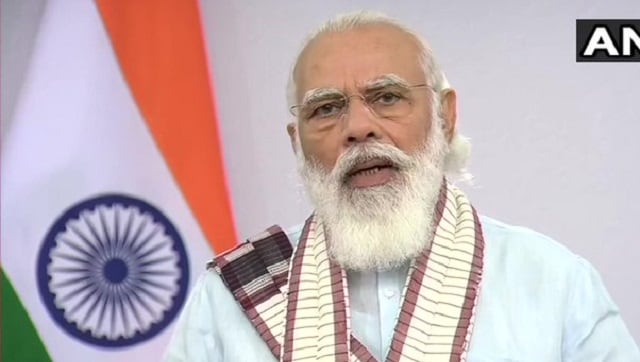 India
Acknowledging that the country has come a long way in the fight against the pandemic since the 'Janata Curfew' in March, Modi said that India has been more successful in saving the lives of its citizens than more prosperous countries.