Yogi Adityanath's Ayodhya narrative betrays BJP's desire to capitalise on Hindutva sentiments
The burden of expectation from believers of the Ram temple movement and BJP sympathisers is huge and the onus is on Yogi Adityanath to take action.
In the immediate aftermath of the burning of Sabarmati Express in Godhra, where 59 karsewaks lost their lives, one of the first steps taken by the then Atal Bihari Vajpayee government was to turn Ayodhya into a no-go area.
The news of communal backlash had started trickling in. The political leadership in the Vajyapee government was faced with one of the most difficult challenges of its tenure. The people who had died in the unfortunate incident were returning back from Ayodhya after performing kar sewa and there was a possibility that a violent situation might flare up there.
At the time of the incident, on 27 February, 2002, a VHP and Ramjanambhoomi Nyas sponsored pooja was going on in the city and it was to continue till 15 March, when 'Shilapujan' for the Ram Temple was to be performed. Thousands of devotees and VHP sympathisers from across the country were expected to reach there to be a part of that event, one of the biggest since 6 December, 1992.
A few days prior, the BJP had badly lost the elections in Uttar Pradesh but, since it was a fractured verdict, Rajnath Singh was asked to continue as the chief minister – till the governor explored possibilities of formation of a government or decided to recommend President's Rule. It was thus a testing time for Vajpayee, Advani and Rajnath.
Oblivious to the Centre and Uttar Pradesh government's decision to restrict all modes of transport, including private cars and boat services along river Saryu to Ayodhya, this writer – then working for a national daily – landed at Lucknow railway station from Delhi by Shatabdi Express on 28 February.
It was next to impossible to reach Ayodhya. One had to travel some distance by state transport bus, then by motorcycle, then getting smuggled in a tempo carrying seasonal vegetables and then, finally, the last few kilometres on foot. During the journey and the subsequent three-week stay in Faizabad/Ayodhya, one realised that there was palpable anger among the people against Advani, the 'charioteer' of the Ayodhya movement, for his 'betrayal' to the Ram Mandir cause.
They were in no mood to forget and forgive. People living near the area still had some sympathy for Kalyan Singh, for whatever he had done in his command and capacity for Ayodhya, but he was no longer relevant for the BJP. People had reflected so in the 2002 elections, by bringing BJP down to 88 seats from 156 in the Uttar Pradesh Assembly.
Back then, a young Yogi Adityanath was a second-term Member of Parliament from Gorakhpur. Now, 15 years later, he is the Uttar Pradesh chief minister reigning over a brute majority in the State Assembly. The BJP government at the Centre enjoys its own majority.
Therefore, the reasoning used by the party since 1992 to deflect the Ram Temple issue, that it needs a majority government at the Centre and in the state to make a move, is no longer valid. The burden of expectations from believers of the temple movement and BJP sympathisers is huge. The onus is now on Yogi, to make some moves in that direction.
Though various factors combined to hand BJP unprecedented victories in the 2014 Lok Sabha and 2017 Assembly elections, one of the principle reasons behind its success was the fact that both these elections had ultimately boiled down to the 'Hindu-Muslim' equation.
Thus, neither the BJP nor a saffron-clad chief minister can afford to be seen as lackadaisical in their approach towards the age-old emotive issue for a large number of Hindus in Uttar Pradesh and the rest of India.
However, the leadership in the current Narendra Modi government and BJP's organisational structure, as well as in the Uttar Pradesh government, is well aware that they can't move an inch on the Ram Temple issue till it is sub-judice and the Supreme Court delivers its verdict.
But that reasoning wouldn't suffice for most of the Hindus demanding the construction of the temple. The government's plan to build a theme park and a grand museum in Ayodhya and various other measures taken by Yogi for the development of the temple town is all part of BJP's attempt to be seen as doing something 'positive', taking some steps towards finding a solution to the issue.
Yogi has since 'de-hyphenated' Ayodhya from Faizabad and sent a message across that he is sincere in his belief, action and work. He is right in questioning why successive governments in Uttar Pradesh have ignored the development of Ayodhya.
Ayodhya, one of the oldest cultural cities of India, is in a dilapidated state. It appears to be frozen in medieval times and modern-day development is all but alien to it. The Saryu river bank, which is admired for its scenic view, has not been developed and maintained properly. There is no place to stay overnight nearby and one has to travel to Faizabad to find decent accommodation.
Yogi has shown initiative to turn Ayodhya into a major pilgrim-tourism city. The govt's plan to establish a 100-meter tall Ram statue on the banks of Saryu could be seen as a step in that direction.
Yogi has turned Diwali of 2017 into a mega event for Ayodhya. In his own words, he would be trying to recreate the kind of festive scene when Lord Rama had returned to Ayodhya after serving 14 years of Vanwas.
Ayodhya and the banks of Saryu are already lit with coloured lights. The record-breaking feat of lighting 1.71 lakh diyas on Saryu's banks is bound to be a visual extravaganza.
Meanwhile, Yogi would be hoping that these lights would brighten BJP's fortunes in 2019. If he succeeds in his endeavour, he would surely reserve a place of prominence in BJP's history.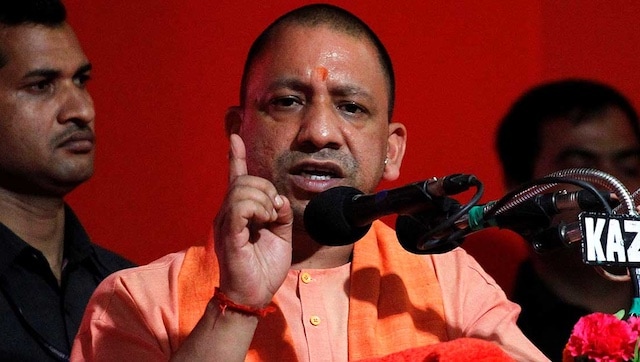 Politics
"Terms like 'unity in diversity' are used for our country. The country belongs to all. No remarks should be made that harm the country," said JDU president Lalan Singh
India
Prime Minister Narendra Modi tweeted that Giri had played a huge role in bringing together "many streams of the Sant Samaj"
India
Uttar Pradesh Chief Minister Yogi Adityanath has ordered strict compliance with COVID-19 instructions issued by the state government