Yogi Adityanath rebuffs Hindutva elements with Taj Mahal visit, seeks to shed 'communal' tag
The chief minister wants to let everyone know that he has a mind of his own and is not afraid of speaking it.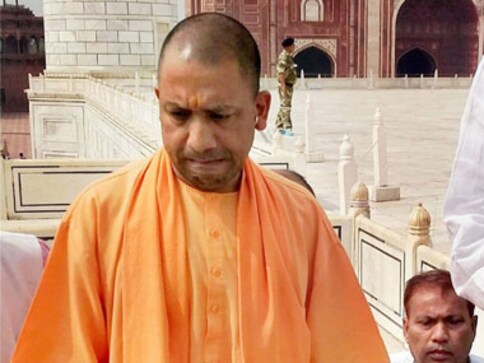 Watching the live broadcast of gloves and mask-clad Uttar Pradesh Chief Minister Yogi Adityanath sweeping the parking area near Taj Mahal in Agra, a colleague remarked "Yogi has lost his game. In trying to make an image makeover he has finished himself."
But then instant impulsive verdicts may be often misleading.
Yogi's act of using a broom to clean the area outside Taj Mahal was part of the Swachh Bharat Abhiyan. His visit to the historical monument, allowing foreigners and his countrymen to take selfies with him, spending some time at the graves of Shahjahan and Mumtaz Mahal and later holding a meeting with officials reviewing the progress of projects that the government had undertaken was as chief minister of the state. One should not forget that the government is spending Rs 157 crore for the development of Taj Mahal and its surrounding areas.
But Yogi's visit to Taj Mahal meant much more than just visiting a tourist spot. The fact that he chose to go there in less than 10 days of his party MLA Sangeet Som calling Taj "a blot on Indian culture…built by traitors" and "guaranteeing to script fresh history" is a clear indicator that Yogi wants to send a strong message to all concerned that as chief minister of the state he doesn't subscribe to the views of rouge fringe elements, as also reiteration of his opinion that Taj remains "pride of India…a monument built by blood and sweat of Indians".
It was more than evident that he wanted to settle the debate even within the Hindutva brigade about Taj to settle once and for all. Likes of Som and Vinay Katiar should take a cue from what he is suggesting.
The chief minister of India's most populous state knows that he is under constant scrutiny. What he does or does not do on contentious issues is closely watched by his political rivals, secularists-liberalists, his own supporters, media and party leadership. The matters can range from issues of statecraft to the organisation or to even elements connected with the Hindutva brigade. How he reacts to these situations and what he says both present a challenge and opportunity to the chief minister depending on how he handles them.
For Yogi, a visit to the Taj wasn't enough to convey his message. Hours after visiting the Taj, Yogi drove to GIC ground in Agra to hold a public rally to announce a slew of welfare and developmental measures that the state was undertaking. The chief minister spoke his mind to let everyone within and outside the state know what he thinks about the Taj, the purpose of his visit and on the issues that the people living in the vicinity of the grand monument are facing.
He wears saffron robes, continues to be the mahant of Gorakhnath but then he is also the chief minister and the message he gave today in Agra was that he can in no way be considered as a communal person. He has his eyes and ears open and sees issues from the perspective of an administrator, not as leader of the Hindu Yuva Vahini (which he used to head prior to becoming the chief minister).
The chief minister wants to let everyone know that he has a mind of his own and is not afraid of speaking it. Last week, on Diwali he was in Ayodhya and Chitrakoot. Yogi is acutely aware that the Ramjanambhoomi-Babri mosque dispute is pending before Supreme Court and there is no possibility of a grand Ram temple constructed in near future. However, in his own way, he tried to portray his sincerity to the Ram temple issue (albeit without uttering a word about it) which meant Ayodhya was on priority for the BJP governments at the Centre and in the state.
In Agra he took a dig at his critics, "They have a problem when I go to Ayodhya, they have a problem when I come to Agra." The chief minister even wondered why anyone should have a problem whether he visits Ayodhya, Mathura, Chitrakoot or Agra. His argument was these were places associated with social and cultural traditions of the state and all such places should be developed. Incidentally, Yogi is the first chief minister from BJP ranks who visited Taj while serving in office.
Interestingly, the Yogi government has printed and published the 2018 calendar three months in advance. One is not sure whether the government genuinely wanted to be first in the block, or to be ahead of time or it had a message to convey. But its timing, coming around the time when the chief minister was to visit Ayodhya, the state tourism department dropping Taj out of its booklet and the controversy stirred by Som, the calendar definitely had loaded messages to convey. If the February page has Ayodhya, the June page has Varanasi's Sarnath Stupa, then July month page has Agra. It then has Lalitpur's Jain temple, Pilibhit's Gurdwara Nanakmatta Sahib and so on.
also read
World
The footage, which has been widely shared, captures scenes from the Kensington neighborhood, where individuals are seen in a state of unconsciousness due to drug use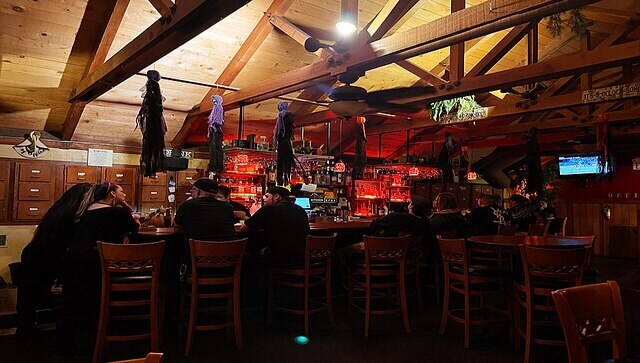 World
Child welfare advocates are worried that these measures represent a coordinated push to scale back hard-won protections for minors
Politics
The desire for such a 'nuclear umbrella' against a potential invasion by China – which is already provided to Japan and South Korea by the United States (US) – has reportedly received support from defence experts in Taiwan