World appreciates AAP govt but Centre scuttles our efforts of development: Kejriwal
Delhi Chief Minister Arvind Kejriwal on Wednesday slammed the union government, saying it is 'scuttling the Delhi government's effort of development'.
New Delhi: Delhi Chief Minister Arvind Kejriwal on Wednesday slammed the union government, saying it is "scuttling the Delhi government's effort of development".
"The world is appreciating the AAP government, whereas the central government is trying its best to scuttle our efforts. But still we are moving ahead and working for the people of Delhi," Kejriwal said during the annual national council meeting here.
"We promised cheapest electricity and we have delivered on it. We are supplying uninterrupted power supply in Delhi," he said, adding "While our opponents said we won't be able to supply uninterrupted power that too on cheapest rates."
"We are also providing 20,000 litres of water to each family for free. And in fact Delhi is saving huge amount of water," the Aam Aadmi Party (AAP) chief said.
He also said his party leaders read their manifestos everyday and work accordingly to fulfil the promises AAP made to the people of Delhi while the opposition parties in power hardly remember their promises.
"We read our manifesto everyday and work on it, while they hardly remember what they promised," Kejriwal said.
Accusing the Bharatiya Janata Party-led National Democratic Alliance for not fulfilling its promises, Kejriwal said, "Center has done nothing, they say we will do this by 2023, because they know they won't stay in power by then."
Lauding its government's effort to fulfill the manifesto promises, the chief minister said: "We made Mohalla Clinics which are modern clinics at your doorstep with free medicines and tests. We made them in Rs.20 lakhs.
"Even the US says, they need to learn from Delhi's Mohalla Clinics. And by now we have made 100 of them, the number will be 1,000 by year-end," he added.
On giving compensation to farmers, Kejriwal said, "We gave historic compensation to farmers, the highest in the country."
"The work we have done in one year, no government has done in 10-15 years," he said, adding, "This is happening because there is a honest government in Delhi. We are saving money in each project be it flyovers, ITIs."
Criticising the union government, Kejriwal said, "Look what they are doing. Centre made a flyover in Bihar for Rs 3,000 crores whose estimate was Rs 509 crores which was inaugurated by Modi ji(Prime Minister Narendra Modi)."
"Our government waived off water bills worth Rs 2,500 crores. Pipeline was laid in 263 new colonies last year," Kejriwal said, highlighting the work of his government in last one year.
Kejriwal also said that his government is working hard to improve the government schools in the national capital with focus on cleanliness. He further added his government has made app for maintenance of schools, clean toilets, Clean drinking water
.
Kejriwal said 8,000 new classrooms will be added by July this year. Even the private sector won't be that efficient, the way public works department is constructing.
also read
India
The complaint stated that the comments made by Arvind Kejriwal and Mallikarjun Kharge were intentional to convey that the central government have "deliberately not invited" Droupadi Murmu because of her caste
India
The technology involves injecting helium gas into a pipeline and then conducting drilling at multiple locations. If there is a leak in the pipeline, the gas will escape and rise to the surface, allowing technicians to precisely pinpoint the location of the leak.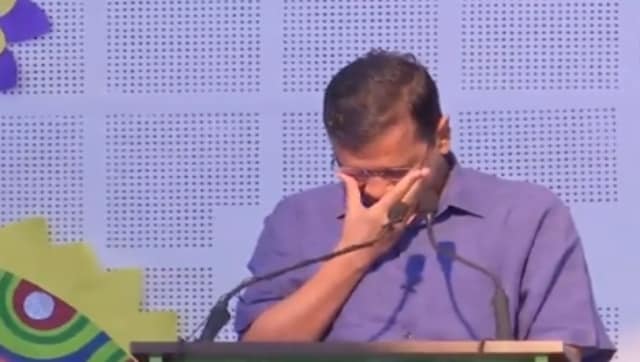 India
Delhi Chief Minister Arvind Kejriwal on Wednesday got emotional as he spoke about the contributions of jailed AAP leader and former minister Manish Sisodia during the inauguration of a new school building in the national capital