With JD(U) exit, BJP is past the point of no return
Any further dithering in naming Narendra Modi as the BJP's candidate will only mean that its loss of JD(U) as an alliance partner - and the likely loss of its foothold in Bihar - will have been in vain.
Right up until the JD(U)'s divorce with the BJP was formally announced in Patna on Sunday, BJP leaders kept trotting out the official party line: that it was quite unnecessary for Nitish Kumar to take the alliance to the edge over the matter of appointing Gujarat Chief Minister Narendra Modi as the party's prime ministerial candidate  for the 2014 election because, in fact, Modi had not been named the candidate. Even the RSS mouthpiece Organiser  chimed in with much the same argument in an editorial in its latest edition.
That statement is, of course, factually correct. At its recent Goa conclave, the party nominated Modi to head the campaign committee, which is notionally distinct from naming him its party candidate. But like the word-play over Ashwathama's death, that is also somewhat misleading. Everything about the news of Modi's elevation as campaign committee chairman signalled that the party had indeed hitched its fortunes to the Gujarat leader, and saw him as its best bet in its efforts to return to power.
Party cadres who rejoiced on the streets in various cities after the Goa conclave concluded evidently got the coded message. So did party patriarch LK Advani, who threw a hissy fit over Modi's meteoric rise but was told to put a lid on it.
In announcing the formal break from the BJP on Sunday, Nitish Kumar pointed out that the atmospherics in the BJP in recent days suggested that the party had virtually made up its mind to nominate Modi as its candidate. It was this, he added, that had compelled his party to part ways now rather than wait until the announcement was made formally.
Athough Nitish Kumar has been giving notice of his opposition to Modi's nomination for much of the past year, BJP leaders have pointed out that his political aversion to Modi appears to be of recent vintage, and is laced with a measure of hypocrisy. Appearing on a television talk show, BJP spokesperson Nirmala Seetharaman fished out a speech by Nitish Kumar from 2003 - nearly two years after the Gujarat riots of 2002 - in which he appeared to suggest that Modi's  services in the cause of development ought not to be confined to Gujarat, but needed to be taken across the country. These and other statements clearly establish that Nitish Kumar's opposition to Modi is not rooted in ideological differences, but rather more in opportunistic politics.
Nitish Kumar is clearly hoping that the blood price that he eventually paid - in walking away from the BJP on the issue of Modi's nomination - even if it meant putting his government in Bihar in jeopardy will compensate for any loss of goodwill arising from his 17-year alliance with the BJP.  His political opponent in the State, Lalu Prasad Yadav, keeps invoking this alliance in order to embarrass Nitish Kumar.
The BJP for now is looking to harness the sympathy of the electorate in Bihar by claiming that it was Nitish Kumar who walked away from an alliance that it had been keen to preserve. But the rupture is certain to extract a high political price from both the BJP and the JD(U) in Bihar whenever the next Lok Sabha elections are held.
For the BJP, the exit of the JD(U) from the NDA alliance reflects another political dilemma. It has already lost one alliance partner in a crucial State even before it has formally named Modi as its candidate. In that sense, the BJP's calculation that Modi will be a vote-multiplier and bring in many more seats has already gone a little awry: if anything, the NDA's numerical strength stands diminished following the JD(U)'s exit. If Modi's nomination is to mean anything to the BJP at all, and give him a reasonable shot at the top job, he has to win big, and make up for the net deficit he has already contributed to the NDA. Of course, it's probably true that that contingency had already been discounted when the party decided to nominate Modi, but it is nevertheless an arithmetic reality it has to confront.
All of this commits the BJP to only one course of action: to go all-in and bet the house on Modi. The BJP is past the point of no return on that road, and any further dithering will only mean that its loss of JD(U) as an alliance partner - and the likely loss of its foothold in Bihar  - will have been in vain. A delay will also confuse its party cadres, who were energised by Modi's recent elevation. In that eventuality, the party could end up falling between two stools.
Whether the BJP's political instincts are correct or not, the party believes it has a winning ticket in Modi. It may now be time to demonstrate that it is ready to back its conviction with decisive action.
Politics
Modi came down hard on the chief minister, accusing her of instigating people against central forces on election duty in the state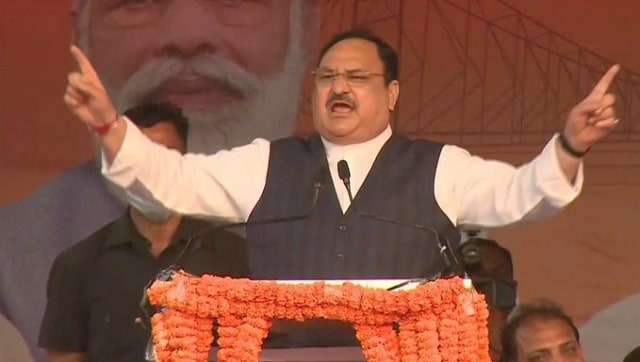 Politics
On Tuesday, another 31 seats will go to the polls in West Bengal that has a total of 294 seats in the Assembly
Politics
The West Bengal chief minister addressed back-to-back rallies in Hooghly, Howrah and South 24 Parganas districts, where constituencies are set to go to polls on 6 April