Will the Modi-Shah dominance prevail over BJP in moments of adversity?
BJP under Modi-Shah has abandoned romanticism and become unapologetic about the raison d'être of its existence: acquire political power.
To say that Prime Minister Narendra Modi has a centralised working style when it comes to his government and party would be a cliché. Yet, the consistency with which this charge has been levelled against him, has neither cut into his mass popularity nor forced him to consider altering working style and pursue consensual politics. Modi is not the first Indian to occupy high office and display such traits. While similarities between Modi and Indira Gandhi are routinely drawn, even Rajiv Gandhi displayed desire to concentrate power in an-all powerful prime minister's office and a small coterie of friends, derogatorily referred as 'babalog'. That is, till charges of corruption derailed his government midway into its tenure. Even PV Narasimha Rao, concentrated power in his hand once he dubiously secured majority in Lok Sabha. If he had the wherewithal, even Atal Bihari Vajpayee would have commandeered both party and government with an iron hand. In fact, he attempted this by installing Bangaru Laxman as party president.
For more than thirty years since its inception that Bharatiya Janata Party (BJP) was noted for collegial functioning where key decisions were harmoniously taken by consensus after charcha or discussion among the top brass. While the party always had a clear 'leader' who towered over others, he was more like one among equals and not the big boss. The party was always distinctive for its 'collective' at the top that functioned as high command. But not any longer. Ever since Modi became prime minister and Amit Shah took over the baton of party president from Rajnath Singh in July 2014, the BJP has witnessed the emergence of the duo as all-powerful.
Crucial decisions are taken by the two in a manner that few are privy to and thereafter communicated to other leaders and tasks allocated. In place of decisions emerging through a consensual process, diktats are issued. Close working ties between Modi and Shah has witnessed the emergence of a new relationship between government and ruling party. In India, ruling party and government often worked at cross purposes as during the UPA regime and even during the Vajpayee era. During Indira Gandhi's period and even during Rajiv's tenure, the government became the party. In contrast, Modi has ensured that the party maintains its distinct identity, albeit different from the past and under his complete sway.
This has resulted in consternation down the line but few give vent to thoughts given complete dominance of the duo. Fear of marginalisation has ensured silence. In November 2015, after the electoral rout in Bihar, the four elders with little at stake, LK Advani, Murli Manohar Joshi, Yashwant Sinha and Shanta Kumar issued a statement criticising the leadership. The quartet did not have anything to lose and the so-called rebellion fizzled out.
But the points they made need to be recalled as they argued:
No lesson was learnt from the defeat
Those who would have appropriated credit if the BJP won, shrugged off responsibility
Principal reason for defeat was the way the BJP was emasculated since 2014
BJP forced to kow-tow to a handful
Consensual character of the BJP had been destroyed
Few observers of the party over the past three decades or less would dispute any of the points. No heads will roll if the coming polls result in a setback. Besides this, respect for elders, an integral part of Indian – read Hindu – culture exists more in absence. Moreover, when did the party ever witness a senior leader like Advani questioning party strategy in Parliament as he did during the Winter Session?
But if one scans the balance sheet of the BJP in the Modi-Shah era, one cannot escape the conclusion that the party has become more focussed on acquiring power - and retaining it – than ever in its history. The manner in which the party attempted to acquire power in Arunachal Pradesh and Uttarakhand last year, and eventually succeeded in Arunachal Pradesh, may have evoked criticism from the opposition and constitutionalists, but the party demonstrated unprecedented hunger for political power just as the Congress did previously by destabilising state governments run by other parties.
Unethical though at one level, such strategies have not been frowned by the Rashtriya Swayamsevak Sangh (RSS) – which usually looks at political issues from a moral perspective – because as Sanjeev Kelkar, author of the noted book, Lost Years of the RSS argues, the BJP under the Modi-Shah duo has "an acute sense of giving parivar as much help as possible from the Central Government and seek their cooperation always as was never the case."
Indisputably, while the Modi-Shah combine has become ruthless while dealing with political adversaries and rebels, it has displayed a desire to accommodate expectations of the RSS leadership. The bonhomie that exists between Modi and sarsanghchalak Mohan Bhagwat, in fact, is a complete contrast to the hostility between Vajpayee and KS Sudarshan, the RSS chief for most of the Vajpayee era.
Modi has ensured that the RSS top brass feels that it has stakes in the government's stability. This has led to its decision to 'restrain' affiliated organisations and direct these to be mild in criticism and opposition to certain government policies, for instance, the latest criticism of the Union Budget by the Bharatiya Mazdoor Sangh. By making the RSS a stakeholder in his government, Modi has contained demands on contentious issues like Ayodhya, abrogation of Article 370, Uniform Civil Code, cow slaughter etc. In fact, use of such tactic, Modi has ensured that the accelerator on these controversial issues remains in his control. Till the BJP included Hindutva-centric issues in its manifesto for Uttar Pradesh, motor mouths in the Parivar remained silent. Even now, the extent of milking these issues remains in the hand of party leaders.
BJP under Modi-Shah has abandoned romanticism and become unapologetic about the raison d'être of its existence: acquire political power. No political party in India, save a few, is run on democratic lines and are mostly proprietorships. The Modi-Shah duo remains unchallenged because success remains on their side. It remains to be seen if this dominance remains during moments of adversity.
(The writer is a Delhi-based writer and journalist. He authored Narendra Modi: The Man, The Times and Sikhs: The Untold Agony of 1984. Twitter handle: @NilanjanUdwin)
Politics
The Centre has increased the powers of the BSF by increasing its jurisdiction in poll-bound Punjab by up to 50 km from the international border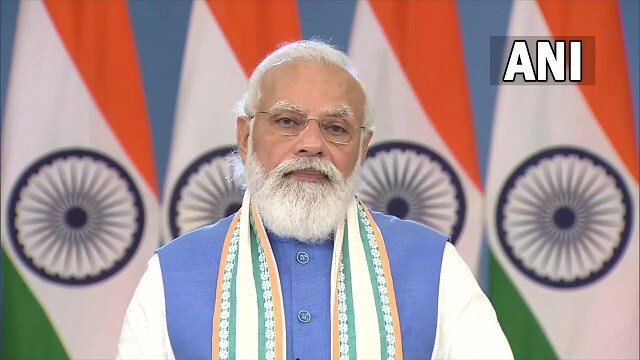 Politics
Since his days as Gujarat Chief Minister, Modi repeatedly said that, with the same laws, same rules, same officers, same people, same files, he has shown things can happen
India
Here are 10 of the best quotes from Prime Minister Narendra Modi's address to the nation on 22 October today