Will NaMo wave peak before RaGa's fortunes sink further?
In 2004, the BJP lost unexpectedly. In 2009, the Indian electorate played safe after UPA's high growth years. 2014 is NaMo's to lose, but is he peaking too soon?
By Percy Mistry
Here we go again! The 2004 elections surprised everyone (the BJP most) when India discovered that it wasn't shining after all. 2009 was not as big a surprise. India's growth in 2005-2008 was stellar, despite endemic corruption and creeping policy paralysis.
In the midst of the worst global econo-financial meltdown in eighty years, Indians voted for safe continuity. But they got something different from 2009 to 2013 – self-inflicted economic implosion, resulting from capricious mismanagement of the Indian macroeconomy by the PMO, ministry of finance (MoF) and the Reserve Bank of India (RBI), accompanied by runaway, scam-after-scam, corruption!
What does 2014 hold in store? Will there be even more confusion about the legitimacy, width and depth of the fractured mandate granted by a more heterogeneous, divided, and much younger, electorate? Will the assumption be borne out that Indian voters have very different voting intentions based on degree of techno-savviness, urbanisation, age, ethnicity, language, religion, income and social class, generational expectations, etc.? Or will they vote en bloc despite their differences to eject/reject a rudderless, visionless, incompetent, weak, corrupt, and tired government?
Will 2014 provide more clarity about achieving what the country, at minimum, desperately needs:
(a) firm, decisive leadership imbued with clear strategic vision and the tactical skill to achieve it;
(b) unified command without split power centres – administrative and political -- that divide, misplace and diffuse accountability and responsibility for governance and performance;
(c) less bureaucratic government but more clean governance that reduces the endemic corruption now encoded in the DNA of dysfunctional, self-enriching politicians;
(d) reform of a rotten, toxic political system that has mutated to suit the venal desires of central and state polities, while impoverishing and crippling the country;
(e) transition to compliance with the rule-of-law in public and corporate life – of a kind that eschews crony capitalism and privileged political connections as the only basis for preferential access to business and other opportunities; and
(f) discarding the absurd, corrosive VVIP culture that has evolved over time, resulting in a total disconnect between the electorate and the elected, by disallowing egregiously overdone privileged treatment to public personae?
Will imminent state elections (in Delhi, Chhattisgarh, Madhya Pradesh, Mizoram and Rajasthan) be precursors to the outcome of May 2014; when most state election outcomes have not so far been reliable predictors of national elections?
All these questions are pertinent, but difficult if not impossible to answer definitively at this time. Still, let's try.
If the pollsters are right (the record is mixed) a Narendra Modi (NaMo) wave, (some think a tsunami) is building. That is an odd reason for the Congress party to make the outrageous (possibly unconstitutional) suggestion to curb freedom of speech by banning opinion polls. By doing that Congress is signalling that it has given up the ghost of winning and will be a sore loser.
But a week is a long time in politics. Momentum that peaks in November 2013 risks dissipating by May 2014. NaMo and his team may find that the wave they are surfing crests too soon. It would be devastating (for them and India?) if they falter at the finish after a gruelling marathon.
The corollary of the NaMo wave is "The Total Eclipse of the Son"!  Deservedly so! What does the Congress party think it is doing, unleashing an immature, amateurish novice - with that confused, diffident look on his face that says, "I'd really rather be doing something else" - loose on an unsuspecting but expectant electorate?
Consider Rahul Gandhi's (RaGa's) record. He rarely attends Parliament. He says nothing about policy. He eschews media exposure lest India discovers he is made of straw. He avoids acquiring administrative or ministerial experience. He trashes Cabinet decision-making, humiliates the PM, his mother, and all the grizzled old men in the UPA leadership, publicly on the silly ordinance allowing criminals in politics to keep sitting in legislatures.
He was right (opportunistically) in reading the tea leaves too late. But does that excuse throwing an infantile tantrum at a press conference; thus discomfiting the amiably ineffectual sycophant Ajay Maken, along with the entire Cabinet, while embarrassing the PM minutes before his meeting with the US President? And, the other day, he embarrassed the J&K state government by offering to intervene in its relationships with panchayats whose leaders complained at one of his rallies. What does he think he is? A self-appointed Ombudsman or Instant Fixer of all political complaints and trivia? Does he really understand how a democracy works or is he just too impatient and impulsive to be bothered with it?
After those serial faux pas, from which he has shown a surprising inability to learn anything, it is amazing RaGa is being unleashed by his mother and the Congress leadership on the Indian electorate without more polish, instruction and grooming. Among the Congress Party members of RaGa's generation, Jyotiraditya Scindia and Sachin Pilot seem far more qualified than him to run for the highest office in the land. But they do not have the right surname. Will India again vote for a surname that is becoming positively toxic? Or will it vote for a team that might be able to repair the damage done?
In properly functioning democracies, politicians and diapers both need to be changed. And for much the same reason!  In that context, it is difficult to judge whether any scion of as powerful a political dynasty anywhere in the world has indulged in such incomprehensible emanations in critical campaign speeches as RaGa has. Focusing (quite pathetically) on his tragic family history to evoke electoral sympathy, what he has said is not just wrong historically; it is foolish, counter-productive and irrelevant. He has outdone (unwittingly?) NaMo  in sharpening communal divides rather than healing them.
Whatever else the Nehru-Gandhi (N-G) dynasty thinks it has done for India, it has certainly led India up the garden path through its insufferably long tenure (with interruptions) by making profoundly wrong choices at every critical juncture. Pity RaGa has missed that obvious point in his confused ruminations!
A recent example: The Food Security Bill (FSB), coming after the flawed NREGA scheme (credited with winning the 2009 elections, and crippling India by giving the UPA a disastrous second term), simply highlights that unfortunate reality. In true N-G tradition, 'the family' seems willing to bankrupt India, and compromise its economic future for decades, for expedient electoral reasons.
In his rallies RaGa has made much of his mother staggering out of her sickbed to get the FSB passed. It would have been better for India, and particularly for its poor, had she not. Ostensibly her saintly effort was made for the poor but, in reality, probably to avert a bleak, cruel future in Opposition when she might be brought to the brink of suffering Lalu Praasad's fate.
What was insufferable about the FSB was that stalwarts like the PM, FM and others – not to mention a supine Opposition, including NaMo – went along with an execrable FSB to avoid being painted 'anti-poor'. The political dialectic in India has become so shallow that this nonsensical concern dominated all.
No one thought it better to say out loud that what was really anti-poor was to go ahead with a FSB that would widen the fiscal deficit, and possibly the current account deficit in a bad monsoon. No one thought it appropriate to emphasise that, under those circumstances, the RBI's job in reducing inflation (the cruellest, most 'anti-poor' tax of all) would be made much more difficult.
Nobody thought it relevant to observe that, in the midst of trying to unwind – with incredible difficulty – the intolerable fiscal burden of energy, fuel, fertiliser and other unnecessary, mistargeted subsidies, the government has, in contrary and paradoxical fashion, introduced yet another entirely unnecessary mistargeted food subsidy that will be even more politically difficult to unwind in the decades to come. Not only that, seeking pure populist electoral gain, UPA-2 extended that food subsidy to 70 percent of the population when only 20-25% needed it. That could have been done by enhancing payments under NREGA!
One wonders if these economically and fiscally suicidal price subsidy schemes - which everyone recognises do not reach even half their targets because public distribution systems leak like sieves - are propagated because political parties in government find it a convenient way to fund themselves indirectly from the treasury through such leakage. PDS leakage must be organised with political plumbing if it is so widespread and endemic. This is certainly an issue that requires further examination given the intrinsic illegality that it implies for indirect party funding from the exchequer.
In defending and highlighting this absurd track-record, RaGa's pathetic campaign raises the question of whether he is the kind of 'leader' India wants or needs to guide its destiny. India is at a very difficult juncture on its economic trajectory. It needs to make a sharp, decisive right-turn to revive and sustain durable growth. Does RaGa know right from left, or right from wrong? Does he have any idea of what to do or how to do it? Or is he just GaGa?
His campaign so far has been conducted in a manic, but unconvincingly aggressive, style and shrill tone, drenched with sugary sentiment. Any voter with a modicum of intelligence would have to be sceptical about who and what he is. In trying to prove that he is equal to NaMo in toughness and resolve, he is coming across as a Chinese (or half-Italian?) robotic toy imitation whose battery isn't working as it should. It is plain he has no idea of the meaning of what he is saying or doing; or about the consequences and implications of his utterances. If this is the real Rahul Gandhi, then NaMo faces no contest in 2014.
The man who cut his teeth as a 'chai-wallah' on the railways stands head and shoulders above The Boy as an accomplished politician and proven state Chief Minister. The Boy was born with a silver spoon in his mouth. He has no relevant ministerial experience or domain knowledge. But he has developed the unfortunate habit of shooting himself in the foot when his foot is still in his mouth!
Is that what India needs in 2014? The Boy has a burdensome family legacy to bear. So far he has not shown he is up to the task. If the Congress/UPA has to give itself any chance of distinguishing itself in the 2014 elections, it has to revise its strategy of pitting RaGa (no biblical David) directly against NaMo who has definitely become, by default, the Indian political equivalent of Goliath for those elections.
(Percy Mistry is a former World Bank economist and author of a widely acclaimed report on making Mumbai an international financial centre)
Subscribe to Moneycontrol Pro at ₹499 for the first year. Use code PRO499. Limited period offer. *T&C apply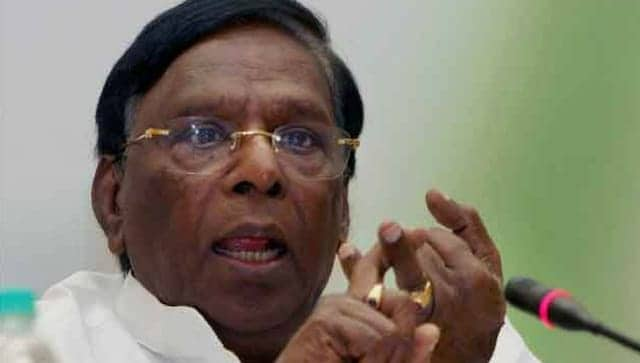 Politics
The collapse of the V Narayanasamy-led government in Puducherry led to a war of words over Rahul Gandhi's leadership of the Congress party and the BJP's 'corrupt politics'
Politics
Joshi, BJP's election in-charge for Kerala, challenged Rahul to clarify his position on the Sabarimala issue, claiming that the Congress' national and state leadership have taken two different stands on the matter
India
Why did Greta decide to throw in her celebrity behind a cause directly at war with what she represents?