Why no-nonsense Sushma Swaraj is PM Modi's best performing minister
Sushma Swaraj would be a tough competitor if Prime Minister Narendra Modi were to announce a trophy for his best minister during the first six months of his tenure.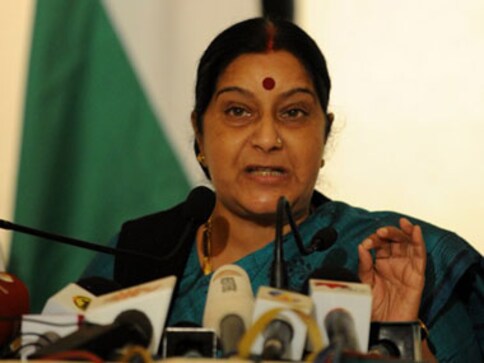 Sushma Swaraj would be a tough competitor if Prime Minister Narendra Modi were to announce a trophy for his best minister during the first six months of his tenure.
Swaraj has emerged as no-nonsense, hard-working, result-oriented External Affairs Minister who has been a go-getter in several humanitarian crisis situations impacting her ministry like the resolved hostage crisis of Indian nurses in Iraq or the ongoing hostage crisis involving 39 Indian construction workers who were snatched by Islamic State (IS) in Iraq in June this year.
One would have imagined Finance Minister Arun Jaitley to top the list of best performing minister in the Modi government but for a considerable part of the Modi government's first six months in office he was sadly bogged down with serious health issues. Though an able minister, Jaitley cannot be in the list of best performing ministers for the above-mentioned reason.
Manohar Parrikar took over as the defence minister only on 9 November, just about a fortnight before the Modi government was to complete six months in office. Till then Jaitley was having the additional charge of defence. Thus, Parrikar rules himself out because of this technical hitch while adjudging the best performing minister in the Modi government.
Rajnath Singh has had ups and downs, both politically and administratively when one talks of his home ministry. In any case, he is overshadowed by the larger-than-life persona of go-getter National Security Advisor Ajit Doval who has an over-arching presence in the Indian intelligence establishment.
It is common knowledge that Doval has a powerful say in the Indian intelligence craft, not a surprise if one considers the fact that Doval, a former chief of the Intelligence Bureau, has spent all his professional life in the service of IB.
Sushma Swaraj, on the other hand, has been much like the tortoise in the hare-and-tortoise fable who has been working smartly, diligently and silently.
Let us not get into the long list of foreign dignitaries she has met during the first six months in office at home or abroad because it is her job. But in the seventh month in office, Swaraj has continued with the good work she has been doing.
What Swaraj did earlier this week was absolutely commendable. It was like a whiff of fresh air in governance where features like red tape, passing the buck and inordinate delays in decision-making are known to be norms rather than exceptions.
Now let us cut to the bone about Swaraj's most recent achievement: her role in rushing driking water supplies to Maldives when it was needed most urgently as the SAARC neighbour had its sole water desalination plant knocked down because of fire.
On December 4 late night Swaraj received an SOS from the Maldivian government asking for Indian help for urgent supply of drinking water because their sole desalination plant had been rendered dysfunctional because of fire. The situation was grim for Maldives as the plant would require at least a week, if not more, for the necessary repairs.
Swaraj literally burnt midnight oil, as expounded by Ministry of External Affairs spokesperson Syed Akbaruddin in his media briefing on 5 December, and got the necessary approvals not only from the Prime Minister but also all other relevant ministries and departments to do the needful.
Within hours of her receiving the distress call from Maldivian government, Swaraj ensured that the first Indian flight carrying 40 tonnes of drinking water was airborne and headed to Male, the capital of Maldives.
A total of five sorties were made by India on the first day itself – 5 December. This totaled to 200 tonnes of drinking water. As many sorties were made the next day, meaning that the parched Maldivians had received 400 tonnes of drinking water by 6 December.
Besides, two Indian naval ships INS Sukanya and INS Deepak were dispatched to Maldives, carrying two Reverse Osmosis (RO) plants each with each plant having a capacity of producing 20 tonnes of drinking water a day.
So by 6 December the Maldivian water crisis was tamed single-handedly by India. In contrast, China's first shipment of drinking water is expected to reach Maldives only on Sunday, 7 December!
How many times does one see India coming up trumps over formidable rival and competitor China which has huge strategic footprints in Maldives?
One must bring into this conversation the strong pitching of China by several SAARC members at the recent SAARC summit in Kathmandu. Members like Pakistan, Sri Lanka and even Maldives had strongly advocated that China be admitted as a full-fledged member of SAARC.
If India has turned the tables on China and everyone else in Maldives over the water diplomacy, the credit for it must go to Sushma Swaraj.
Lastly, here is a disclaimer. Those who may feel that it is a plug piece of eulogy for Sushma Swaraj, would be advised to read what this writer had to say about her with regard to her statement on Chinese troops withdrawal from Ladakh in the last week of September here.
Moreover, this writer had dared to correct the External Affairs Minister during her maiden press conference on 8 September on the occasion of Modi government's 100 days in office when she had stated that India's Look East policy was started by the Vajpayee government. The full transcript of her first formal interaction with the journalists can be read here.
India
Last month, during his visit to Himachal Pradesh for campaigning for assembly polls, PM Modi stopped his convoy to give way to an ambulance in Chambi. He was returning from the venue of a rally in Kangra district of the state
Politics
Australia's former Prime Minister Morrison on Wednesday unsuccessfully argued against being censured by Parliament for secretly amassing multiple ministerial powers
India
Addressing a rally in Rajkot in poll-bound Gujarat in support of BJP candidates, the prime minister compared his performance with former PM Manmohan Singh's tenure of ten years