Why Mamata's readiness to ban potato exports scares food processors
Chief Minister Mamata Banerjee's readiness to ban the movement of potatoes out of the state every time prices rise has had a chilling effect.
Abundance has brought misery to the potato growers of West Bengal who were in a state of anxiety when this correspondent visited them last week in Bardhman and Hooghly districts. Trucks, tractors and improvised trolleys laden with tubers in orange, yellow, blue and green plastic woven sacks were parked on roadsides in queues, at places 2 km long, outside cold storages as farmers scrambled to move their produce from fields to safety. Some snarls were so gnarled that the prospect of spending a night on the road seemed imminent. In daytime on an arterial stretch traffic cops were stationed to ensure VIP movement was not affected by the tumult spilling over from the fields.
Distress was visible on a group of women in Andur village of Bardhman's Memari-1 block, about four hours from Kolkata. "How do I feed my kids?" asked Sutapa Das, 34, tear drops streaming down her cheeks. She is a mother of two children, one of them in high school. Her husband had cultivated four bighas (2.5 bighas is an acre here) on lease in addition to the one he owns, with a loan of Rs 1.5 lakh contracted at a 'low' interest rate of three percent a month (a rate which banks charge credit card users). The trader-lender had refused delivery of the produce and Sutapa's husband had returned after vainly trying to find space in a local cold storage for three days. "There are no buyers even at Rs 80 a bag" (of 50 kg or Rs 1.60 a kg)," Das said. To break even potatoes must sell for Rs 4 a kg. The price around this time last year was Rs 8.60 a kg.
Goaded by expectations of a repeat, farmers had rushed in like fetishists to a lingerie sale. Potato seed was selling for Rs 40-60 a kg at the start of the sowing season at end-October last year, Arif Mohammad who looks agricultural extension for branded wafer seller, PepsiCo India said. The normal price is around Rs 30 a kg. More acreage and favourable weather had resulted in production of eleven million tonnes.
The state is unable to export the surplus, because others have also reported good harvests too. In Gujarat's Banaskantha district 52,000 hectares were planted with potato this year compared to 45,000 ha last year, said Ramjibhai H Patel, head of the potato research station at Deesa, a town on the banks of the river Banas, where potatoes have been grown since colonial times. Farmers were clamouring for refrigerated space but with 145 cold storages in Deesa alone, the situation was not as dire.
In West Bengal, farm sizes are very small, as small as half an acre, the result of a successful land redistribution programme in the late 1970s. Unwilling to deal with large number of farmers, suppliers to McDonald's like McCain, a Canadian company, has opted for contract farming in Gujarat where farms are bigger.
PepsiCo has a processing plant at Howrah which requires 350 tons of potatoes a day but it cannot buy directly from farmers, due to a ban under the agricultural produce marketing act (unlike in Gujarat). Mindful of sensitivities it uses politically inoffensive terms like 'collaborative farming' and 'contact farming'.
PepsiCo operates through 128 aggregators in six districts of the state, some of whom are cooperative societies and others traders licensed under the APMC Act. "I sold in the open market for fifteen years. For the past eight years I have been farming on a contract basis," said Sheikh Rakib Ali, 55, an ex-armyman of Bardhman district's Jona village. PepsiCo offers a fixed price at the time of sowing. This time it was paying Rs 8 a kg.
Kandakur Nasirul Haque, 45, of Kabirpur village was also glad that he opted for contract farming. ITC, Parle and a local wafer brand called N'Joy also source potatoes from this area. Not all of them guarantee prices at the beginning of the crop cycle. The companies have agreements with aggregators, who in turn buy from farmers on the basis of an oral understanding.
Contract farming has other advantages apart from pre-fixed prices and guaranteed purchases. PepsiCo arranges finance through banks and a team of over hundred field staff, engaged by buyers, provides agronomic advice so that processed varieties like Atlantic can be grown as per protocol. At the time of our visit, a crowd had gathered in a field in Memori-1 block. It was watching a four-wheel drive small tractor in action. The demonstration had been facilitated by PepsiCo. The tractor had been developed by VST Tillers Tractors, a Bengaluru-based joint venture of Mitsubishi Heavy Industries. The 'toy' tractor was quite deft. It could harvest a bigha of potatoes in one hour at a running cost of Rs 220, much less than the Rs 1,700 it would cost manually.
Sandip Paul, 36, a dealer based in Nadia district said he had sold 80 machines last year and was expecting to sell 150 this year.
Though West Bengal has known contract farming since 2004, it is yet to catch on. "Contract farmers are in decimals," Arif Mohammad said. Even in Gujarat, their share was less than ten percent. In West Bengal, the level of corporate engagement seemed less deep than in Gujarat. This could be attributed to corporate philosophy or political circumstance, which forces companies to keep an arm length distance.
The distress of potato farmers indicates that the government must me more active in promoting corporate farming to insure them from market volatility. But Simplot Food India, a subsidiary of a family-owned US multinational which plans to introduce proprietary potato products in addition to supplying to MacDonald's has opted out of West Bengal. It is putting up a processing plant in Gujarat.
Chief Minister Mamata Banerjee's readiness to ban the movement of potatoes out of the state every time prices rise has had a chilling effect.
"West Bengal has to make sure what they want politically," said Simplot Food India, director, Nikhil Tandon, when the writer met him at a farm in Banaskantha's Iqbalgarh village in the first week of February. "The ban on potato exports from the state does not help processors," he said.
Not many corporate are keen on making the investment in field staff, logistics and managerial time which contract farming entails. For Simplot 'traceability' is the winning argument. It wishes to have control on the chemicals that go into the potatoes it uses and not risk a consumer blowback over food and environmental safety issues.
Contract farming will not eliminate farm distress. But it can help along with crop insurance, timely market information and infrastructures like rural roads. Above all it requires governments that are keen to solve problems and not create them.
(Vivian Fernandes is a senior journalist. He is consulting editor to www.smartindianagriculture.in a website supported by the crop sciences industry to promote technology in agriculture. The views here are personal.)
Politics
Chief Minister Mamata Banerjee is expected to allot portfolios to the ministers during a cabinet meeting later in the day
India
India on Wednesday saw a record single-day rise of 3,60,960 coronavirus cases, while the toll crossed two lakh following 3,293 fresh fatalities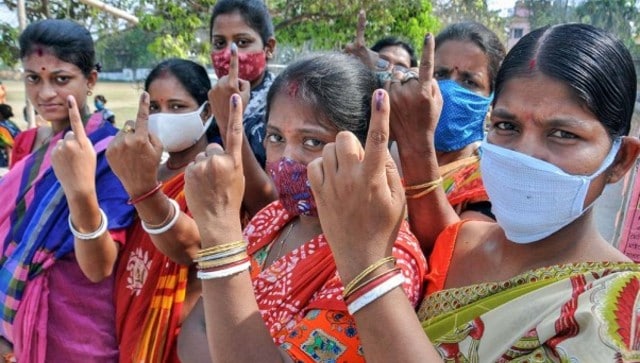 Politics
At least 292 observers have been appointed and 256 companies of central forces deployed at 108 counting centres spread across 23 districts of the state