Why Gopal Gandhi's open letter to Modi is wrong-headed and odious
When a Gandhi grandson tells us that 69 percent of India did not vote for Modi, it is time to pause and ask: why is this point relevant only to a Modi mandate and no other elected leader in India?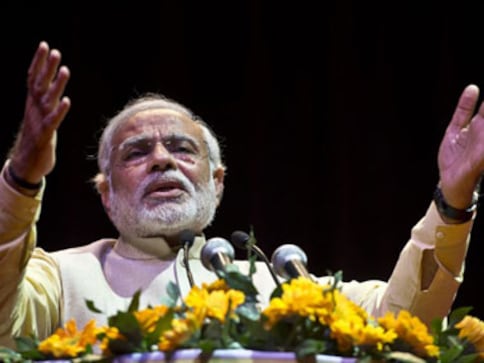 I am appalled at the odious open letter written by Gopalkrishna Gandhi in The Hindu today  (19 May) to Narendra Modi, giving him not only unsolicited advice, but effectively telling him he does not have a mandate to govern. The best thing Modi can do is lie low and be a genial and over-compromising non-achiever who keeps detractors happy.
After beginning his letter saying he did not want to see Modi as PM, Gopal Gandhi asserts startlingly that "while many millions are ecstatic that you will become prime minister, many more millions may, in fact, be disturbed, greatly disturbed by it."
Now, how did Gandhi come to this conclusion that "many more millions" may be disturbed by a Modi prime ministership? From the fact that the BJP's vote share is 31 percent. So Gandhi glibly concludes that "69 per cent of the voters did not see you as their rakhvala. They also disagreed on what, actually, constitutes our desh."
Let's be clear. In a first-past-the-post electoral system and in a fractured society like ours, mandates will be won on the basis of a minority of votes. This is the case not only with Modi's mandate, but everybody's in recent decades – and it is true in the states as well.
But can a 31 percent vote be interpreted as a 69 percent rejection rate? This is bunkum. All it means is that for the balance 69 percent, Modi – for local and other reasons – may not have been a first choice. It does not imply any kind of rejection – unless we are talking only about the minorities, where, admittedly, Modi has some work to do.
The only way to get a minimum 50 percent mandate is to have a French style system of having one or more eliminating rounds before the final vote. This would knock out the parties with the lowest shares in progressive stages – leaving only the two finalists seeking 50-percent plus and victory. The other way is to have a two-party system, or a German-style proportional representation system where parties getting less than 5 percent are knocked out. In this election, a German-style system of proportional representation would have left only the BJP and Congress as worthy of parliamentary representation. No other party touched 5 percent at the national level.
But taking the Gopal Gandhi logic of 69 percent rejecting Modi to its logical conclusion, it would still mean that Modi was the politician India objected to the least.  The Congress, with 19.3 percent of the vote, was rejected by over 80 percent of the electorate, the BSP by 96 percent of the electorate. If you consider the point that everyone, from Mulayam Singh to Nitish Kumar to Mamata Banerjee to J Jayalalithaa was also a contender for the PM's job, one can well say over 95 percent of India rejected them. Only 69 percent "rejected" Modi. (Actually, the figure is 61.8 percent, since the NDA got 38.2 percent of the vote, and all NDA parties accepted Modi as their PM nominee).
You may object that it is not fair to pit parties which are primarily present in some states against national parties in terms of vote share, but look at how they fared in their own states:  Mamata Banerjee won 39.3 percent of the vote in West Bengal. Should we say 61 percent of West Bengal rejected her?
In the Uttar Pradesh Assembly elections of 2012, the Samajwadi Party got all of 29.13 percent of the vote. Should we now ask them to resign, since, by Gopal Gandhi's logic, 71 percent of the state rejected Akhilesh Yadav?
Clearly, Gopal Gandhi was wearing his prejudice on his sleeve rather than anything else when he told Modi that "69 per cent of the voters did not see you as their rakhvala." There is no basis to assert this.
Worse was his gratuitous advice to Modi on what he needed to do to redeem himself in the eyes of his detractors. The sum total of his advice is: let the opposition parties decide key posts that will come up for deliberation early in a Modi administration.
To "redeem the trust of those who have not supported you", Gopal Gandhi advises Modi to do the following: "When you reconstitute the Minorities Commission, ask the Opposition to give you all the names and accept them without change. And do the same for the panels on Scheduled Castes and Tribes, and Linguistic Minorities. And when it comes to choosing the next Chief Information Commissioner, the next CAG, CVC, go sportingly by the recommendation of the non-government members on the selection committee, as long as it is not partisan. You are strong and can afford such risks."
So if the opposition plants mischief in these posts, Modi is supposed to just take it lying down? Gopal Gandhi is essentially saying that till he voluntarily rejects the powers he has been conferred with, Modi will have no legitimacy. Gandhi did not give this advice to any previous government in Delhi – only to Modi.
And why would Modi want to be such a doormat? Because, says Gandhi, many of the things he has stood for "strikes fear, not trust." I don't think anybody will disagree with Gandhi's idea that the fears of minorities need to be addressed, and addressed fairly soon, but surely he is going overboard when he thinks that the idea of a uniform civil code is "old and hackneyed". It is one thing to address this issue sensitively, quite another to think this essentially egalitarian idea is "hackneyed."
The only thing old and hackneyed is the idea that Modi is about to unleash a wave of Hindutva where Trishul-wielding militants will be Talibanising and terrorising India. Unfortunately, this is an idea that can be dispelled only over the tenure of Modi's prime ministership. The proof of the pudding will be in the eating. Meanwhile, anyone, including Gopal Gandhi, is free to continue with his scare-mongering tactics.
(You can read the full Gopalkrishna Gandhi article here)
Politics
Australia's former Prime Minister Morrison on Wednesday unsuccessfully argued against being censured by Parliament for secretly amassing multiple ministerial powers
India
Addressing a rally in Rajkot in poll-bound Gujarat in support of BJP candidates, the prime minister compared his performance with former PM Manmohan Singh's tenure of ten years
India
On 25 November, Ravindra Jadeja conducted a road show to campaign for his spouse Rivaba.