Why ex-IB chief Ajit Doval is the best NSA India could ever get
Significantly, I understand that Doval will have a free hand in navigating India's national security which has been moribund for years.
When I first met him in his Lutyen's Delhi office days after Rajiv Gandhi's assassination in Sriperumbudur, Tamil Nadu, on 21 May, 1991, Ajit Doval was a Deputy Director of the Intelligence Bureau, in-charge of operations.
The office building, an imposing white palatial property, still continues to be the operations hub for the IB, though I should refrain from giving its exact address for obvious security reasons.
As I sat opposite Doval, with a huge table between us, he noticed that I was taking stock of his room. He asked me: "Do you see anything odd here in this room?"
My unspoken reactions were naturally that of a perplexed young man whose mind had been completely read inside out by his host.
"Not really," I sputtered, gingerly.
Doval puffed from a cigar (he is a chimney, when it comes to smoking!) and then said: "OK, I will tell you what it is."
I leaned forward to the extent the obstructing table would allow as Doval took a deep breath. It was a signal, as I would know during my thousands of interactions with Doval all these years, that he was about to be unplugged.
"Have you noticed that there are no wires in this room?" Doval said. It was obvious that he was not asking me, but telling me.
And even before I could ask why, the real gems started coming from him. "Wires are a source of worry, the most obvious tools for our enemies who would do anything to bug or eavesdrop us. Without wires they can do nothing. That's why this room is completely without any wires."
Today it may sound a bit odd and out of place; not 23 years ago. Those were the Doordarshan times, the MTNL times, the DESU times (the last one, only a hardcore Delhiite like me would relate to). Those were the days when having a phone connection (landline, of course) itself used to be a status symbol.
But forget about the economic outlook of the nation at that time, this was my first lesson in counter-terrorism.
Now cut to 30 May, 2014, the day when Doval, a former chief of the Intelligence Bureau (IB), was appointed as National Security Advisor (NSA) to Prime Minister Narendra Modi. He retired as the IB chief in January 2005. Incidentally, though he is known to be close to the BJP and BJP patriarch LK Advani, he was appointed as the IB chief during the UPA 1.
Doval's appointment should send jitters to Pakistan, particularly the likes of Dawood Ibrahim, Hafiz Saeed and Sayeed Salahuddin.
This crucial appointment may well be a sneak peek into Modi's upcoming plans for Pakistan, particularly the terror apparatus that has been flourishing there for decades.
The Pakistanis are not dumb either and have already played their chess moves with regard to their strategic assets named above. That is why Dawood Ibrahim went underground immediately after Modi swept to power and days before he was sworn in as India's 15th Prime Minister.
One can look forward to more Pakistan-centric news dominating the Indian media in the near future. No, this won't be about the usual sugar-coated diplomatic charade. Most likely, it would pertain to the 'breaking news' category.
Well, how and why, I should not pre-judge or predict. But those who know something about the intelligence-craft would find my statement pregnant.
Most likely, Pakistani military establishment must be on the same page and must be aware of my hints.
Interestingly, Doval's appointment preceded Jamait-ud-Dawa chief Hafiz Saeed, founder of India's biggest blood-sucker Lashkar-e-Toiba, going ballistic hours before and declaring "jihad" against India in front of a crowd of about ten thousand people he led in the heart of Pakistan.
Saeed's shenanigans have not gone unnoticed by Doval.
Having known Doval from close quarters for such a long time and having interacted closely with top intelligence honchos of India in the past quarter century, I can say one thing with a very high degree of confidence. Doval is the best NSA India could have ever got.
No, it is not because that he has been a hardcore operations man of the IB for decades. No, it is not because that as a master of disguises he melted into whichever theater he deployed in – the northeast or Punjab or Pakistan – he came up with astounding results.
Of course, all this is true. But that alone is not his USP.
Doval was the man who dared to sneak deep into Pakistan at the risk of his life and remained in that country incognito for years, delivering virtually real time intelligence on Pakistan's Kahuta nuclear plant.
But then his capability is over and above all this. He is a shrewd man of action who thinks and a thinking man who acts. This is a deadly combination. He has the capability of thinking out of the box and planning daredevil operations with surgical precision.
This is what Modi needs from him. Inevitably, Pakistan would figure highest on Doval's mind.
Here is a clue. One would do well to keep a watch on major India-baiters based in Pakistan – Dawood, Hafiz Saeed and Salahuddin.
Significantly, I understand that Doval will have a free hand in navigating India's national security which has been moribund for years.
These are the interesting times. These are the action times. Or shall we say, these are the Ajit Doval times?
India
The prime minister said vaccination is among the few ways to defeat coronavirus and urged eligible citizens to register for it
India
Interacting with students virtually in his annual Pariksha Pe Charcha programme, the prime minister advised students to not run away from any subject even if they find it difficult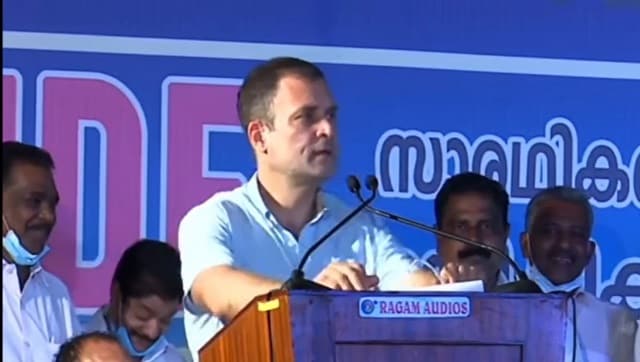 India
In his letter to the prime minister, the Congress leader also demanded an immediate moratorium on COVID-19 vaccine exports