Why does Narendra Modi follow trolls on Twitter, asks author Swati Chaturvedi
The book also lists out a few handles, which regularly troll anyone who critiques Modi, with rape and death threats and says that Modi follows these handles.
It's something that will eventually catch up with you. From disparaging and vituperative remarks to disgusting sexual innuendos, rape and death threats, hateful memes and an unapologetic and arrogant attitude, trolling is a routine affair these days. There is hardly any originality in it anymore.
But when the ruling government of a democracy carefully constructs, contrives and calibrates a social media culture where dissent towards a leader or an ideology or even a party is reciprocated in the worst possible manner, it is a matter of extreme worry and it becomes obligatory to initiate a dialogue and debate and especially when it becomes part of our daily existence.
This very evil has been questioned in the new book I am a Troll by journalist Swati Chaturvedi. Published by Juggernaut, I am a Troll happened because Swati, a journalist with over 20 years of experience, questioned the existence of a social media troll. "After some really vapid experiences online, I had questions and I wanted answers. Who are these people? Where do they come from? Why do they do what they do? Do they act as individuals or is it an organised whole?" Swati told Firstpost.
Swati and her book shot to power soon after its release over the touchy and explosive information it contained about Bharatiya Janata Party, its social media tactics and how the party is actually fuelling and inciting hate online. Entailing an investigation conducted over the span of two years and several interviews, Swati said her book is about a rapidly swelling right-wing militancy on social media and how bigotry and fanaticism is the only response to dissent.
Backed by facts, interviews and research, Swati, who was done many investigative reports in the past, said that this was her biggest and by far the most dangerous piece she had to do. "We were very scared that someone might know, that somehow the story would leak and it would all be over. Every investigation has a luck factor," said Swati, "And for me that was Sadhvi Khosla."
Sadhvi is a former volunteer at the BJP social media cell. Khosla was part of Prime Minister Narendra Modi's social media 'dream' team in the run up to the 2014 General Election. Sadhvi told Swati (in the book) that after Aamir Khan's remarks on intolerance last November, BJP's social media cell made it their one-point agenda to attack the actor and forced Snapdeal to dump him as their brand ambassador.
She quit the BJP social media cell as a volunteer at the end of 2015. Khosla, who runs a knowledge process outsourcing (KPO) company in Gurugram, was in the US in 2014 when she got the call from Modi's social media team and told Chaturvedi that she was ecstatic at the offer and believed that Modi, "her idol, the man she wanted to see as the Prime Minister of India", would bring in all the positive change and development that he promised.
In a couple of months, Khosla came to realise that everything was not as it seemed. Khosla told Chaturvedi that the BJP IT cell head Arvind Gupta, who ran the "biggest ever social media operation in the country", told Khosla that the "goal was to attack and expose the UPA government and the Gandhi family. Volunteers were told to attack certain mainstream journalists — the book explicitly mentions the names of NDTV's Barkha Dutt and Rajdeep Sardesai (then of CNN-IBN) — and malign a few politicians on social media. The trolls were ordered to attack any unflattering mention of Modi.
BJP has a persecution complex — every time someone says something unflattering, the next minute you see yourself being attacked by misplaced patriots and nationalists," she said.
Khosla admitted that she herself was forced to send messages trolling and abusing minorities, Gandhi family, liberals and journalists. She told the author that WhatsApp messages threatening rape against Barkha were sent out at the behest of Gupta, whose word was the last word as he was directly in touch with Modi. An IIT alumunus, Gupta joined BJP in 2010 and was part of the core team that was credited hugely for the massive mandate that Modi received in 2014.
"It was a never-ending drip feed of hate and bigotry against the minorities, the Gandhi family, journalists on the hit list, liberals, anyone perceived as anti-Modi," she is quoted in the book as saying. Usually in investigative pieces, where journalists need to keep their sources airtight, the veracity of information is often questioned and catechised. Swati was no exception.
Gupta, too, rejected the claims made by Khosla and said that she was a supporter of the Congress party. Her claims are unsubstantiated, Gupta had said. He said the BJP had published social media guidelines on its website and never "encouraged trolling". He said the social media cell of the BJP is being headed by another person since July 2015.
Swati told Firstpost that Gupta's allegations are totally false. "Sadhvi Khosla is not part of the Indian National Congress. She is a KPO owner and this is merely to slander her because she has spoken against the establishment."
Why does Narendra Modi follow the trolls, asks the author
Narendra Modi is one of the very few Indian politicians who realised the power of social media and forayed into it way before anyone else in the country. In fact, the historic 2014 mandate that made Modi's dream of 272+ possible is often credited to the impeccable, efficient and a coherent social media campaign that was run by Modi's dream team.
In the chapter titled The BJP Connection, Swati lends a bit to the history of BJP and RSS ideologies to corroborate why would a ruling party need to fall back on such petty tricks to keep detractors away. Speaking to National General Secretary of BJP Ram Madhav, Swati, in the chapter, notes that it was Madhav, who was one of the first in the party to spearhead the use of social media:
"Madhav went from shakha to shakha training them after convincing a reluctant RSS that it (social media) was a powerful communication tool and not mere 'fashion'."
Given the history of the organisation (RSS has been banned thrice since Mahatma Gandhi's assassination in 1948) a sense of insecurity runs in the organisation."
"BJP has a persecution complex — every time someone says something unflattering, the next minute you see yourself being attacked by misplaced patriots and nationalists," she said.
Interestingly, after the Aamir-Snapdeal episode, Madhav had asked the actor to "not only preach to an autorickshaw driver about the country's prestige but also to his wife".
As a sidenote, here are a few other instances when Madhav, a senior party leader, made a few other dubious remarks:
Read them here, here, here and here.
"The world that BJP has built on social media is bigoted. But they don't see it that way. It is a way of life for them — they think they are like you and me and they don't even feel that they are part of this system which is honing a culture of hatred and fanaticism. As a citizen, I am worried. I am worried as a woman. They make the society in which you and I live, scary. Instead of doing anything productive, they are inciting communalism," Swati told Firstpost.
The book also lists a few handles that regularly troll or issue rape and death threats to anyone who critiques Modi, adding that the prime minister's Twitter handle follows these users. "No leader in the world — Barack Obama, Theresa May, Angela Merkel — name anyone, nobody follows internet trolls. What does it say about Modi? Why does my prime minister follow those who dish out rape and death threats to women and men alike, as if it is no big deal. One one hand, Modi speaks of beti bachao beti padhao and on the other hand, there is this."
The author also questioned the media's role at a time like this. "What have we become? Journalists are either cheerleaders or they are megaphones," Swati said during the telephonic interview. At a time when freedom of speech and expression is curbed and given away freely at the same time (depends on what you are saying), the media requires to be fearless.
What now?
When asked whether she expected this reaction to the book, Swati says that she feels successful. "I am not an activist, I am a journalist. And even though this was the most difficult investigation, it's done. I am not scared about the backlash. I have done my job."
Do you have any expectations from concerned authorities, now that there is some evidence to nail a few perpetrators of online violence? Seeming quite determined, Swati says, "I have absolutely no expectations. It's up to authorities or others to take it forward if they want to. I will merely move on to my next story."
India
The 80-year-old died at the civil hospital ten days after being admitted following a decline in her condition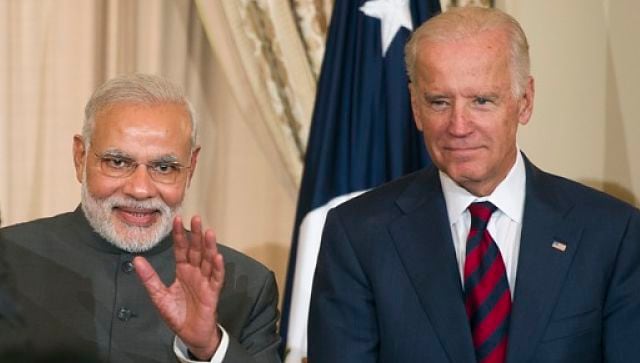 World
The two leaders spoke a day after the US agreed to deploy resources like therapeutics, ventilators, and to identify raw materials to be sent manufacture of Covishield vaccine
World
During several leaders' talks, phone-dialling beeps intruded, while there were several times when stray voices talked over leaders