Why BJP refusing Bhopal to Advani is a warning to Shivraj
In rejecting Advani's request the party (read Modi) has also handed a message to Madhya Pradesh Chief Minister Shivraj Singh Chouhan who invited Advani to contest from Bhopal
The last word has not been heard on whether BJP patriarch LK Advani will finally contest the Lok Sabha elections or not. A stern message was delivered to him as politely as possible under the circumstances. If he is keen to contest Advani will have to stand from Gandhinagar. Sources close to Advani say he might still not contest at all.
In rejecting Advani's request the party (read Modi) has also handed a message to Madhya Pradesh Chief Minister Shivraj Singh Chouhan who invited Advani to contest from Bhopal. Which is that he should not see himself as another power centre within the party. Chouhan has been repositioning himself after the party's third successive victory in the Assembly elections. His supporters have projected him as a moderate face acceptable to other NDA allies if the BJP fails to muster the right numbers for Modi.
The snub raises quite a few questions for and about Advani. Could he be subjected to such humiliation without his own permission? What does he gain by contesting and winning the Gandhinagar seat? Will he be considered for the job he has pinned his hopes on? What does he lose by simply refusing to be in the fray? Even if that does not change Modi's mind will Advani not have redeemed himself in his followers' esteem?
Bhopal was agog with expectations till late night. Hoardings welcoming him to the Bhopal constituency were up long before the party took a call on his candidature. With the BJP central election committee meeting dragging on for several hours some supporters had pulled down the hoardings from high visibility areas. State Home minister Babulal Gaur who was lobbying for his daughter-in-law Krishna kept insisting on having received the central leaders' assurance for her.
Advani's shift followed his reluctance to contest his current seat in Gandhinagar. He has represented Gandhinagar five times. Political and media circles at Bhopal, however, made it out as though Advani acceded to the requests of Chouhan and the sitting member Kailash Joshi to move here.
"I spoke to Advani about three days ago and made an offer to him to contest from Bhopal," Joshi had said recently. Incidentally Joshi, 84, was persuaded through his son against contesting due to his age. Advani, two years his senior, was to replace him in the fray.
On the other hand, the picture emerging from Gujarat suggests that though state unit of party had officially proposed the veteran's name from Gandhinagar, Advani feared sabotage as a section of the party wanted Modi to contest from Gandhinagar. The Modi group was vocal about Advani's inability to connect with the party rank and file. His supporters even said Advani had done little for the Gujarat capital. But, realising that jettisoning Advani could send a wrong signal among the voters Modi apparently got the state unit to propose his name.
In Bhopal, Chouhan reportedly called up party president Rajnath Singh to offer the state seat to Advani. It is another matter that it would have turned Madhya Pradesh into a refuge for Modi baiters with Sushma Swaraj already in the fray in Vidisha.
Though the party keeps denying it, the chasm in the party persists over Modi's style of functioning.  Ever since he was approved as the prime ministerial candidate Advani has kept registering his protests. He had initially praised Shivraj Chouhan for developing a 'Beemaru' Madhya Pradesh over Modi, who he said had developed a state that was already quite progressive. The BJP quickly overcame that phase and Modi campaigned extensively in Madhya Pradesh to help the party record a comprehensive win in the assembly elections.
Advani had also agreed to Modi's candidature but he recently protested against the party turning Modi-centric. His pronouncements and Swaraj's opposition to compromises being made in inducting tainted leaders in the party have again stirred up controversies.
The Congress general secretary Digvijaya Singh was quick to seize the opportunity to criticise the BJP saying the intra-party tussle was at its peak. He said with money from the corporates Modi has pocketed the entire party. The senior leaders are deeply hurt by this. Advani was the first senior leader to have opposed Modi's candidature for prime ministership. Digvijaya Singh said Modi wants every adversary removed from his path.
Regardless of whether the scenario remains the same or changes for Advani, the Congress has enough mileage to draw from the BJP's predicament even if it doesn't affect the overall picture.
Find latest and upcoming tech gadgets online on Tech2 Gadgets. Get technology news, gadgets reviews & ratings. Popular gadgets including laptop, tablet and mobile specifications, features, prices, comparison.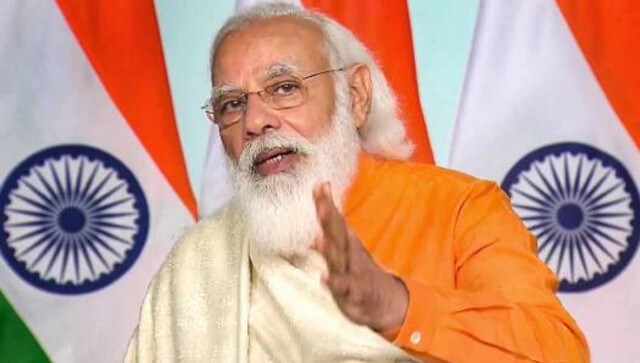 India
Aimed at boosting tourism in the region, the trains will connect Kevadia to Varanasi, Dadar, Ahmedabad, Hazrat Nizamuddin, Rewa, Chennai, and Pratapnagar
India
The pilot issued an apology saying his tweets 'may have hurt sentiments'. A GoAir spokesperson said the airline has a zero tolerance policy on such matters
Politics
The AIMIM foray may not amount to much in Bengal, given the distinctly Bengali identity of Bengali Muslims. Nevertheless, that will play into the equation. But BJP can't rely on Owaisi to mount a challenge to the TMC, especially with Banerjee's latest slew of welfare schemes pulling a lot of popular heft.