'Who in DDCA asked for favours from Virat Kohli's father?' AAP asks Arun Jaitley
In the latest round of allegations in the DDCA row, the Aam Aadmi Party is riding on Virat Kohli's revelation to a national newspaper to attack Finance Minister Arun Jaitley. AAP is asking Jaitley who in the DDCA asked for favours from Kohli's father for his selection in the under-14 team and why the junior player was ignored when DDCA's demands were refused.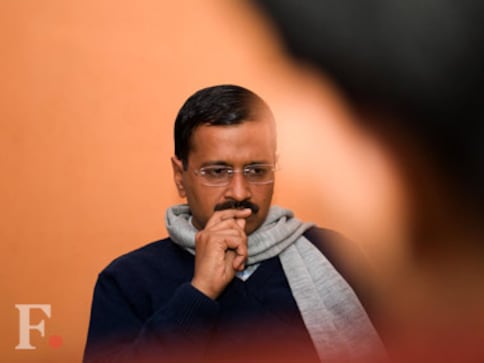 In the latest round of allegations in the DDCA row, the Aam Aadmi Party is riding on Virat Kohli's revelation to a national newspaper to attack Finance Minister Arun Jaitley. AAP is asking Jaitley who in the DDCA asked for favours from Kohli's father for Virat's selection in the under-14 team and why the junior player was ignored when DDCA's demands were refused.
The AAP has alleged that the cricket body under Jaitley has been involved in large-scale financial irregularities. Jaitley on his part has termed the allegations baseless.
AAP's statement comes a day after DDCA working president Chetan Chauhan claimed that Kohli would not have been the captain of the Indian test team if there was corruption in the cricket body.
Kohli told The Hindu that being ignored for the Delhi under-14 squad was "shattering." "You know well how the system works in Delhi. The option was to do someone a favour and get me into the team. That option was presented to my father and was promptly dismissed. Next year I got into the team on my credentials."
"Mr. Jaitley, can you deny the specific allegations made by Indian skipper Virat Kohli?," the party asked in a press release.
Why did Jaitley want to close DDCA matter? asks AAP
In the last week of 2015, AAP has been going at Jaitley with renewed energy. Kejriwal alleged that a Delhi and District Association (DDCA) official had asked for sexual favours from a player's mother and followed it up with a fresh wave of attacks.
Allegations are flying thick and fast as multiple camps are coming together and finding common cause in attacking Jaitley.
AAP spokesperson Ashutosh, in a press conference in New Delhi, said Jaitley misused his constitutional post of Leader of Opposition back in 2011 by pressurizing Delhi Police to derail investigation in the DDCA corruption case. Almost simultaneously, Kirti Azad trained his guns once again on Jaitley and BCCI secretary Anurag Thakur. Azad also gave Kejriwal's allegations of DDCA officials asking for sexual favors some lift saying it was "not a new thing" and he had raised a similar issue in 2007.
The Indian Express reports that DDCA president S P Bansal, who figures in the 2011 letter purportedly written by Jaitley to then Delhi Police chief B K Gupta, has been under the scanner for a year over allegations of financial impropriety involving Rs 1.55 crore.
The AAP presented what it termed "proof" of Mr. Jaitley's attempts at interfering with the Delhi Police's investigation into how the Syndicate Bank Cricket Club was illegally converted into a private club. Jaitley, who was president of the DDCA for 13 years till 2013, apparently wrote to then Delhi Police Commissioner B.K. Gupta on October 27, 2011, to ask that a probe against DDCA office-bearers be closed.
"BJP and Jaitley, till today, are trying to hide their heads and are in denial mode," Ashutosh said. "(He) had said that he will not answer vague questions. But he hasn't answered the five specific questions we asked him the next day and the four other questions we posed afterwards."
Ashutosh then went on to read from a letter which he claimed had been written by Jaitley back in 2011. He read from that letter and said that the letter had been written to the Delhi Police, asking them to close the DDCA matter.
Jaitley wrote to Ranjit Narayan, then Special Commissioner in Delhi Police, on May 5, 2012, asking him to stop questioning DDCA officials in the matter, AAP said.
"The complaints are unsubstantiated and do not disclose any offence. Certain office-bearers of the DDCA are feeling harassed by the repeated questioning in this regard," read the letter.
The letter reiterated Mr.Jaitley's demand that the probe be closed, citing his earlier letter to the Police Commissioner. Mr. Ashutosh said these letters proved that Mr. Jaitley had tried to stall the police's investigation. "On the basis of documentary evidence, it is proved that Mr. Jaitley tried to interfere in the probe. He has said that he was not involved in the day-to-day running of the DDCA being a non-executive president. But there is no such post," said Mr. Ashutosh.
The AAP said Mr. Jaitley was aware of the corruption in the DDCA. The party posed five questions to the Minister, including whether he has misused his position.
"In 2011, Jaitley was Leader of Opposition in the Rajya Sabha," AAP said, claiming that he used this post to pressurise the Delhi Police.
"Why did Jaitley interfere?"
"On 5 May, 2012, a second letter was written to the Delhi Police, telling them the complaints (linked to DDCA case) were unsubstantiated...Who is he to tell the Delhi Police that the complaints were unsubstantiated? Is this not a criminal offence?" Ashutosh asked.
"Arun Jaitley, didn't you misuse your position of Leader of Opposition to put pressure on Delhi Police?" Ashutosh asked the finance minister.
"What was your interest in trying to derail the investigation?" he said, adding, "Jaitley has no right to hold his current constitutional post. He should resign."
Ashutosh's charges comes merely a day after Kejriwal unleashed a fresh wave of attacks against Prime Minister Narendra Modi, saying the prime minister has devoted his "entire machinery" against him and that the CBI has been "pressurised" into raiding his offices in New Delhi. In an interview to NDTV, Kejriwal claimed he has proof of a DDCA official asking a junior player's mother to visit him at night if she wanted her son to figure in the team roll call.
"You'll be amazed to hear this, a senior journalist's wife got a text message to come to a DDCA official's house at night, so that her son could be selected," Kejriwal said in the interview.
He also said that Modi, at whose order the CBI raided his office on 15 December, was ready to befriend hostile Pakistan, but won't let the Delhi chief minister work.
On 15 December, the CBI raided the third floor of the Delhi Secretariat — also housing the chief minister's office — in connection with corruption charges against Kejriwal's principal secretary Rajendra Kumar.
Kejriwal alleged that the investigation agency, which reports to the central government, raided his office too and read the files related to DDCA in order to save Jaitley.
With Kirti Azad and Arvind Kejriwal attacking simultaneously, the DDCA is clearly feeling the heat. The Hindu reports on how Syndicate Bank was able to get "converted into a private club in order to continue its participation in the local cricket league."
With Agencies
First Cricket News
The performance of the Indian top order has come under the scanner after the ODI series defeat against Bangladesh.
First Cricket News
Virat Kohli opening the innings in spite of KL Rahul's availability confirms that the Indian team management is not willing to open with KL Rahul in the ODI format and will give him a long rope in the middle order.
First Cricket News
Among bowlers, Indian pace duo of Mohammad Siraj and Shardul Thakur also made gains following their good show in the opening ODI against Bangladesh.