Where's the vision, Mr Rahul Gandhi? Modi bashing and poverty indulgence won't take Cong too far in UP
Rahul Gandhi is leaving no 'cots' unturned in his 'kisan yatra', the farmer outreach programme-cum-UP elections campaign designed by hired poll strategist Prashant Kishor.
"It cost the nation a fortune to keep Mahatma Gandhi in poverty." One was reminded of this old but oft-cited Sarojini Naidu wisecrack looking at a picture of Rahul Gandhi partaking of samosa and jalebi at a roadside shanty in Mohammadabad Gohana, a village panchayat in Mau district of Uttar Pradesh.
The picture accompanying a report in The Times of India shows the Gandhi scion seated on a plastic chair inside a ramshackle eatery along with a rather dejected-looking Ghulam Nabi Azad, the party's UP minder. As the Congress vice-president tucked into the humble snacks off sheets of newspapers, behind him rapt in full attention stood the SPG commandoes — part of Gandhi's security detail.
"Rahulji ate a samosa and a jalebi. He appreciated the food," Gopal, the shopkeeper, told the newspaper. "It was a great surprise for me," he added.
Before the evening snacks, however, Rahul Gandhi had stopped by for lunch at a Dalit hutment on Sunday. Rukmini Devi and her husband Swaminath Ram served him roti-chokha (bread and potato mash). As another Times of India report states, the local Congress committee had two days ago asked Ram, a member of the Dalit community at Baragaon village in Mau, to get ready to "host" Rahul Gandhi.
The Gandhi scion is leaving no 'cots' unturned in his 'kisan yatra', the farmer outreach programme-cum-UP elections campaign designed by hired poll strategist Prashant Kishor. Rahul's 2500-km long door-to-door promotion features 'khat-sabha' rallies and strategic stopovers for meals at different locations to show solidarity with the minorities, the socially marginalized and the oppressed.
The Congress vice-president met Muslim leaders, for instance, at Arabia Riyazul Uloom Guraini Madarsa in Jaunpur on Saturday. As Hindustan Times points out, the closed-door 50-minute meeting with "prominent" Muslim leaders was followed by a hearty lunch of paneer subzi, roomali roti and non-vegetarian dishes cooked up by chefs "imported" from Delhi and Lucknow. SPG, had, of course checked the menu in the morning. 
While the 'cot' concept is certainly new, the Congress sadly has shown a remarkable lack of imagination while engaging with the poor. In fact, Rahul Gandhi's UP campaign has a sense of déjà vu written all over it.
This isn't the first time the Gandhi scion has embarked on a 'poverty tour' while paying "impromptu" visits at their huts and shanties, sharing their food and sorrows. While that makes for a handy if vacuous PR exercise, it does little to uplift the poor or tell them how Rahul proposes to do it if voted to power.
The simple logic that eludes Rahul Gandhi is that the poor aren't proud of their poverty. They do not want to wear it as a badge of honour on their chests while dying of hunger and diseases. They want poverty to be eradicated. They want a better life, better price for their crops and a better future for their children many of whom do not want to continue tilling the lands.
A recent study on the State of Indian Farmers finds that an overwhelming majority of farmers do not want their offspring to continue farming. The report was based on the primary survey across 18 Indian states by the Centre for the Study of Developing Societies (CSDS), Delhi, conducted between December 2013 and January 2014 across 274 villages spread over 137 districts.
Section 4 of the lokniti.org survey, under the subhead Indian Farmers: Their Economic Outlook, reports "poor pay" and "interested in other job or work" as main reasons behind the aversion. It further states: "When asked whether they (farmers) would like to see their children engaging in farming, only 18 per cent responded positively. 36 per cent said they do not want their children to continue farming as their occupation and 37 percent said they will prefer their children's choice and go with their decision while choosing their profession."
What message does Rahul Gandhi have for this deeply aspirational section of the society who want to get over their poverty and become a part of India's growth story? As the Congress vice-president continues to run a century-old party to the ground, the paucity of his ideas and the bankruptcy of his message reveal his shortcomings as a leader.
The Congress has kick-started the UP Assembly polls campaign quite early and with a lot of intensity but it amounts to little if all that its star campaigner is able to do is patronize the poor through a manicured road show, focus on poverty as a political slogan instead of laying out a roadmap for alleviation or limit himself to taking vitriolic potshots at the Prime Minister.
Rahul Gandhi could have taken a lesson from Narendra Modi's prime ministerial campaign in 2014 when his message of development and growth resulted in unprecedented success for the BJP in UP, in areas where it had tasted no success before. But the Gandhi scion's campaign remains stuck on Modi-bashing like a wound-up cassette player.
There is always a possibility that the excessive focus on Modi and overwhelmingly PM-centric negative campaign may put off the electorate and backfire on the Congress. Voters would like to know what Congress can do for them. Very little, it would seem from Rahul Gandhi's rallies except promise of a 'farm loan waiver' and clichéd punches that have lost their edge.
The centerpiece of Rahul's rallies was Modi's three-piece suit.
"Modi ji promised that Rs 15 lakh would be deposited in every account. Instead of keeping his words, he put on a suit worth Rs 15 lakh. He ignored the farmers," Rahul said. In Azamgarh on Sunday, he said the PM must be put on a leash.
"Modi selfie leta hai, masti karta hai, iski masti kam karna hai (Modi takes selfie, make merry; we have to put a leash on this)," he said at another 'khaat' sabha in Ghazipur, according to The Times of India.
In Mau, he brought in Modi's relationship with Barack Obama. "Modi ji hugs Obama, clicks selfie with him. He goes to China and again takes selfies. Have you ever seen him visiting a farmer's house, hugging him or taking a selfie with him. No… because he fears that his Rs 15 lakh suit would become dirty".
There is no vision, roadmap or agenda of change in the speeches of the Gandhi dynast. Perhaps he thinks the poor will remain satisfied as long as they can carry home the cots from his sabha.
India
The prime minister also inaugurated projects worth around Rs 744 crore and laid the foundation stones of several projects and public works worth about Rs 839 crore
India
Rahul, along with party MPs Pratap Singh Bajwa, Ravneet Singh Bittu, Deepinder Singh Hooda, Gurjit Singh Aujla, Jasbir Singh Gill and other leaders like Randeep Surjewala, also carried banners and raised slogans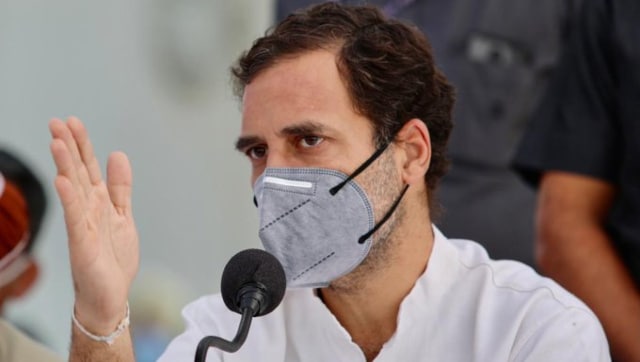 India
The Congress leader had asserted that any phone that he uses are tapped, adding that a Supreme Court-monitored probe should be ordered in the matter