When SRK played Mamata Banerjee for Brand Bengal
The Bengal Leads ad stands for everything that is wrong with the Bengal government. There's too much culture at play, and little work done.
No, that picture above doesn't imply you'll be made to suffer a Ra.One sequel. It's also not about the magical trans-formative powers that a Lux Cozi banyan comes with. That's actually Shah Rukh Khan playing Didi, in the Bengal Leads ad, which has just made its way onto YouTube.
The commercial, directed by National Award-winning filmmaker Aniruddha Roychowdhury shows Shah Rukh Khan emerging Batman-style from the dark and handing over a golden magic ball to kids, who of course were shuddering at the thunderstorm that preceded his entry. Much like how Didi gifted 'poriborton' to the state.
However, the limping CPI(M) in the state should be at least thankful to the director's sense of rhetoric. Who else would call them a storm otherwise?
What follows is a probashi (non-residential) Bengali's antidote to Monday morning blues. There's a bluesy version of one of Banerjee's favourite Rabindrasangeet playing in the background - Banglar Maati, Banglar Jol, as the camera sweeps over first the pastel-green Bengal countryside, then the Kanchenjunga, the Darjeeling tea estates, the tribal dancers in Purulia, teracotta workers in Birbhum and the whole bank of touristy cliches associated with Bengal. And when we move back to Kolkata, its the Metro Rail and scientists dressed like they are in toothpaste and Horlicks ads who greet you.
That's actually Bengal-in-Wikipedia for you. The last time Metro Rail-citing on TV was exciting, it was in the Mile Sur Mila Tumhara video. The Metro was Kolkata's Red Fort, Prithvi Theatre and Marina Beach. And that was 20 years back. Delhi has a snazzier Metro now, the Kolkata Metro commuters themselves have added to their cache of swear-words, ever since they've had to deal with Metro routes that were extended and the trains turned into mini battle-grounds.
And no, this couldn't be a come-drool-over-us tourism commercial. It ends with credits that call it a Bengal Leads ad. How you expect Bengal to 'lead' with a bunch of  doped bauls, gleeful Santhal dancers and scientist-types gawking like they have just seen a UFO, is anybody's guess.
It doesn't even sell Darjeeling or Bolpur like Amitabh Bachchan sells Kutch or the Somnath temple in Gujarat. In fact, if you're not an insider, you'll probably mistake it for a Rabindrasangeet music video.
If the commercial is anything to go by, in Bengal, you listen to baul songs, travel in metros and when you're tired of it, visit temples, mosques and churches. The last, I'm guessing, is still a way to get ahead, so what if it's one that makes sense only to your god-fearing grandmother?
And whoever thought Mamata Banerjee never had a plan, just needs to watch this one. Her plans, of course, come with the clarity of a shiny, golden ball. If you thought that a ball like that made sense only in a fairy tale, that's evidently your problem. Or you're just cynical and a closet-Maoist!
Watch video here:
India
Mamata's support for the agitation which has drawn on the agrarian community in rural north India, may be perceived by farmer leaders as a potential force multiplier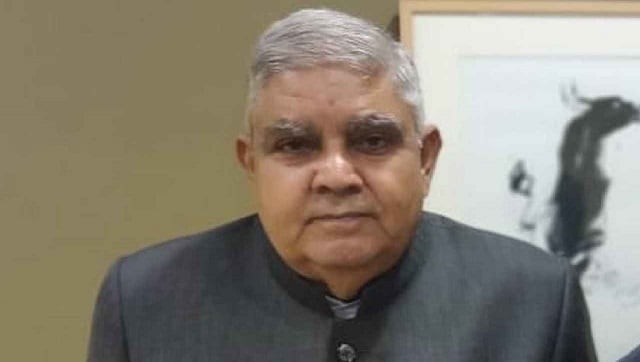 India
Jagdeep Dhankhar, who has been at odds with the state government, claimed the police has been "engaged as an extension of ruling dispensation to let loose vindictiveness on political opponents"
Politics
Prasada's induction will further wear away whatever's left of the Congress and the Gandhis in Uttar Pradesh, even if it does not yield dividends for the BJP