When Rajdeep Sardesai and Arnab Goswami discussed Narendra Modi
It was an evening most 9-pm couch potatoes would have loved to watch. The top two of Indian news television Editor-in-Chief of IBN18 Rajdeep Sardesai and Editor-in-Chief of Times Now Arnab Goswami on the same panel, yes, a seat away from each other, discussing Narendra Modi.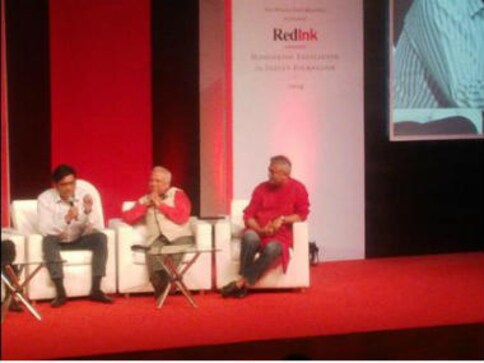 It was an evening most 9 pm couch potatoes would have loved to watch. The top two of Indian news television, Editor-in-Chief of IBN-18 Rajdeep Sardesai and Editor-in-Chief of Times Now Arnab Goswami, were on the same panel. Yes, they were a seat away from each other, and they were discussing Narendra Modi.
The two editors were asked whether the media, in their coverage of elections 2014, stoked the Modi wave, with Uday Shankar, CEO of Star India as moderator, who tried his best to play Arnab and keep answers as brief as possible.
"A section of the media has converted journalism into supari journalism. Journalists must ask themselves why they elevated Narendra Modi to God. He's not a messiah.  They did this to get interviews. Arnab was the only one who raised questions to Modi. When I last did an interview with him he made me sit on the foot-board of the bus. I'm fine with that but will ask him the questions he has to answer," Sardesai said.
They may have been former colleagues at NDTV, but at the auditorium, Sardesai and Goswami barely acknowledged each other until the panel discussion began. Both sat five rows apart, and when on stage, there was no direct conversation between the two. It was Arnab who reluctantly made the first move, reaching out to Rajdeep with a handshake, before the discussion began.
On Modi, Sardesai agreed that he must be given credit for leading an election campaign that was unprecedented. "Modi led an amazing campaign, an innovative and sustained campaign in an election ever. He decided he wanted to be PM in 2012... We have to give him credit for that," he said, adding that there was no competition for Modi.
"Rahul Gandhi can do anything but politics. He is not a politician of the 21st century, not a communicator. In politics, Rahul Gandhi is in kindergarten."
Arnab, however, dismissed any form of supari journalism, disagreeing with his former NDTV colleague, saying his biggest advantage of operating out of Mumbai was that he's "not romantically associated with any party".
"I don't know about supari journalism... I'm not cynical about this profession. Modi did not tell us to go cover Muzaffarnagar."
When asked how Modi influenced his TV ratings, Arnab said the emphasis was on Modi because there was no competition. There is no scientific evidence that Modi gets you ratings," adding that he was not "over impressed or worried about the Modi wave."
Senior journalist Kumar Ketkar, however, dismissed the theory, saying one could stoke the Modi wave even by not covering crucial issues during Modi's campaign.
"Intially, there was no Modi wave, but only Gujarat model. How many journalists went to cover it in detail? While Modi was campaigning there were floods in Gujarat, not covered. When Modi was sworn in, there were Hindu-Muslim riots in Ahmedabad but no one covered it," Ketkar argued, adding, that "Modi was not only treated with kid gloves but was pampered."
Sardesai jumped in, saying news coverage has now been reduced to a 'he said, she said', form. "We can't have a 1.76 lakh crore telecom scam. It was a presumptive loss. But it was our headlines," Sardesai said,  adding that if journalists had questioned the CAG, it would have appeared to have been politically biased.
"We have lost the capacity to go beyond our headlines," Sardesai said, sticking to his we-need-to-introspect stand.
"We are now caught in our arrogance. We really do not care anymore. Arrogance will lead to the downfall of journalism"
https://twitter.com/anubhabhonsle/status/475519566622117888
It was at this point that the host for the evening walked up to the dais and took away everyone's microphones, forcing Arnab to throw his hands up in the air in dismay, for supposedly not being given a fair chance and enough 'air time'. He was, however, placated with"30 seconds" to have the final word.
"Rajdeep has been my boss for a decade, I won't quarrel with him," Arnab said, ending the discussion with an advice for journalists, "don't get emotionally involved with politicians, it's bad for your health."
It was left to Minister for Information and Broadcasting Prakash Javadekar to ensure that his boss, Narendra Modi, was happy. "You cannot sell bad products with good advertisments. Modi was the best."
The icing on the cake, however, came from Maharashtra Governor K Sankaranayaranan, a former journalist himself.
"It's a loss for the nation that Arnab Goswami won't be on television at 9 pm tonight."
https://twitter.com/sardesairajdeep/status/475369843051331584
India
Last month, during his visit to Himachal Pradesh for campaigning for assembly polls, PM Modi stopped his convoy to give way to an ambulance in Chambi. He was returning from the venue of a rally in Kangra district of the state
Politics
Australia's former Prime Minister Morrison on Wednesday unsuccessfully argued against being censured by Parliament for secretly amassing multiple ministerial powers
India
Addressing a rally in Rajkot in poll-bound Gujarat in support of BJP candidates, the prime minister compared his performance with former PM Manmohan Singh's tenure of ten years