What has gone wrong with Congress and how Hindutva is ready to take over
Like BJP rigorously stands for its Hindutva and development agenda, what does the Congress stands for? Also, behind the cacophony of election results, we can perceive the drum beat of Hindutva.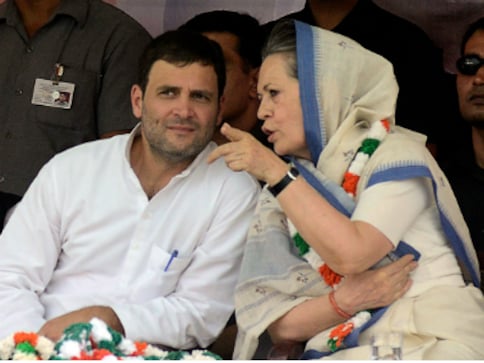 My old boss MJ Akbar used to say: 'Always kick a fellow when he's down'. I have found that to be sage advice and in keeping with it, let's analyse these elections by first looking at the Congress.
I was on the Gujarati channel CNBC Bajar on Thursday at noon. Framing his question to me, the anchor said the Gandhis were now left with only a few large states "including Uttarakhand". I said to him it may not be accurate to call a state with a smaller population than a city's a large state.
The fact is that there is only one relevant state the Gandhis control now and it is Karnataka. Narendra Modi's cold but absolutely correct move in bringing back BS Yeddyurappa (tainted, yes, but beloved of the BJP base, the Lingayats) will guarantee that state will also change hands in a couple of years.
So what has gone wrong with India's oldest party, that once started greatest political movement in the developing world? It is inaccurate to say there is a crisis of leadership. Yes, Rahul G comes across as bumbling and inarticulate, always willing to go off on vacations abroad (to recover from what exertion, I should like to know). And yes, the party is stuffed with sycophants, just as the BJP has not a few psycho-phants. But the real problem is not an absence of charisma but absence of message and narrative.
I can tell you immediately what the Bharatiya Janata Party under Narendra Modi and my friend Amit Shah stands for. It stands for development and Hindutva. The party services the first through its sharp messaging on such things as Make in India and the Gujarat Model. And it services Hindutva through, again, sharply focused messaging on topics such as nationalism and slogan shouting, beef ban, justification of illegal and extra-judicial killings (Ishrat Jahan), winking at acts of Hindutva terror (Malegaon) and so on. It's all quite clear.
What does the Congress stand for? This is, for me, difficult to define as promptly. One could mumble 'secularism' but this would not be convincing. The party's chief in Gujarat was initially an RSS man (Shankersinh Vaghela). The suspension of a Maharashtra MLA on the 'Bharat mata ki jai' issue was because of Congress' insistence. There are other instances but these will suffice to show that there is neither any theme nor narrative. Till the Gandhis can convincingly answer – What does the Congress stand for? – to their supporters and to themselves, they will remain where they are: knocked out cold. My view is that the Gandhis haven't even asked the question, let alone look for the answer. So there is no hope to be had for Congressmen in despair who have invested decades in a party that is in its last throes.
I want to talk about the real victor, the BJP, and I will get there in a bit. First, we must acknowledge the deep political skills of two very great women: Mamata Banerjee and Jayalalithaa. Faced with a permanently hostile media, and seen with ridicule by many outside their states, they have retained control of their realm through pure ability. One gets the feeling that had Mamata remained in the Congress (and older readers will remember that she was chased out) the party would be fighting fit.
Of Jayalalithaa – imperious, dismissive, totally out of reach for the media (like that other political genius Naveen Patnaik) – what else can be said other than that she is magnificent and supremely competent? Were Karunanidhi and Stalin ironing their mundus for the swearing-in, encouraged a little by the opinion polls in their favour? No. Politicians always know which way the winds are blowing. They will have anticipated this.
Assam was not a surprise to those who observed the numbers of the 2014 election. Once the debate shifted to 'outsiders', 'Bangladeshis' and so on, the game was over for the Congress. The question is: will the BJP exploit this victory and given the opening it has received in once-closed states like Bengal and Kerala; oh yes, it will.
The thing about Hindutva is that it has the ability to temper high emotion with extreme patience. Why is Gujarat called the 'laboratory of Hindutva'? The sequence is remarkable. In the 1950s, swayansevaks from Maharashtra began setting up shakhas in Ahmedabad and Baroda. The vote share of the Jana Sangh, it may surprise the reader to know, was only about 2 per cent in Gujarat till the 1970s. But Hindutvawadis kept at it modestly and, importantly, without any expectations of reward.
Do you remember the prime minister briefly breaking down when he first came to Parliament? In that speech he remembered two generations of RSS men who, in his words, "khap gaye" (sacrificed themselves) in order that he, Modi, may lead the victorious legions of Hindutva into the Lok Sabha.
We should be ready, those of us who will be around in 20 years, to see that happen in Kerala and in Bengal, where the door has today been cracked open. The Bahujan Samaj Party's founder Kanshi Ram once said an astonishingly astute thing: Political parties could only ever be expanded during elections. The BJP knows this.
There is a sense of cacophony in these results: the TMC in West Bengal, the ADMK in Tamil Nadu, the Communists elsewhere. But behind all of them, in every state, we can perceive, if we listen closely, the drum beat of Hindutva. Steady, even and patient. Clear of message and, when the time is right, ready to take over.
Politics
After Rahul Gandhi's statement, Rajasthan CM Ashok Gehlot took a U-turn and said it is good to adopt the 'one man, one post' as the Congress President will have to take care of the entire country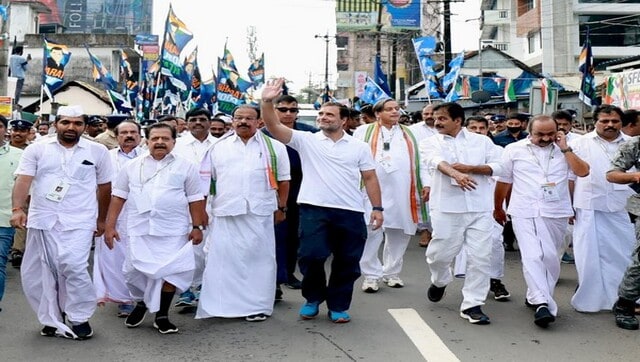 Politics
From Kerala, the yatra will traverse through the state for the next few days and will reach Karnataka on 30 September, and cover a distance of 25 km every day
Explainers
What is in store for the INC in the upcoming party president polls? Tune in to find out