West Bengal polls: Politicians are using Twitter, Facebook and even Soundcloud to up their game
Here is how political parties are using social media for campaigning in the West Bengal Assembly election 2016.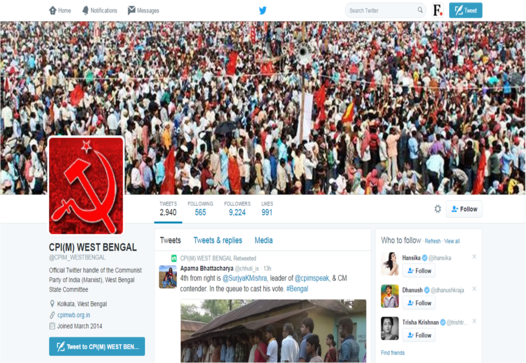 With the first phase of the West Bengal Assembly polls over, political parties in the state have extended their fight into the digital spectrum, swearing by the revolutionary impact of the social media.
In a bid to reach out to Gen-X, Trinamool Congress, CPI-M, Congress and BJP have come up with innovative ideas to make their presence felt in the digital space through their top leaders.
Trinamool Congress
Topping the chart is Trinamool Congress supremo and West Bengal Chief Minister Mamata Banerjee who is not only a regular user of Facebook and Twitter but also the most popular face there.
Banerjee's Facebook page is being liked by near about 16 lakh people and her Twitter handle @Mamataofficial has more than 2.6 lakh followers.
"Trinamool Congress has been very active on social media with a strong presence on Twitter, Facebook and YouTube. It has given us a huge window to share with all of you our thoughts, achievements and concerns. I hope you too must have had a great experience staying in touch with us through the digital world," Banerjee had recently said in a Facebook post.
Banerjee also uses Facebook and Twitter to promote a short film series that goes with the hashtag #RealBengal that basically highlights her achievements in the last five years with 'real stroies' of people.
Here is her most recent #RealBengal post
Mamata Banerjee also tweets these videos out on Twitter along with sharing pictures of the various rallies she participates in.
The TMC also has a presence on SoundCloud, but they have put out only one track so far - Trinamool: The Song
While Banerjee refrains from slamming other parties on Twitter as much as she can, TMC's national spokesperson Derek O'Brien, who is very active on social media, believes in re-tweeting posts that don't show the best side of other politicians. This retweet, for instance, takes a dig at Rahul Gandhi.
Derek O'Brien also has a wicked sense of humour. Look at this tweet for instance:
It looks like he wants to make a case against the CMP-Congress alliance in West Bengal. The TMC took its youth-connect strategy one step ahead and created a mobile app, which is now in its third version and can be downloaded on Android as well as IOS, reported The Indian Express.
Before the launch of the app, Mamata Banerjee posted this on her wall: "To give you a whole new world of experience on digital interface, a new customised and updated mobile app has just been launched, which can help you to get lots of information at your fingertips on mobiles, tablets etc. Please enjoy the experience."
The TMC also has a website that has a weekly poll, their manifesto, a voter's guide, student's corner and a little widget that counts the number of days in government. The website was launched in 2009 and the party has expanded its presence in the digital space since then. The website is called aitcofficial.org.
Left Parties
The CPM, which was against the introduction of computers in India on the grounds that it would mean loss of jobs, are also using social media platforms like Twitter and Facebook to reach out to younger voters.
Surya Kanta Mishra, state secretary of CPM, regularly uses Twitter to express his views and opinions. His handle, @SurjyaKMishra, have over 3,000 followers. Mishra does not shy away from expressing his intolerance towards TMC's rule in the state. Four out of the nine tweets put out by Mishra in April are regarding the ouster of TMC in West Bengal. His campaigning strategy is simple - slam the opponent (and the election commission)
Sujan Chakraborty, a prominent face and leader of the CPM, mostly tweets in Bengali. Charkraborty shares his party's manifesto on Twitter. One of his latest tweets promises better electricity across the state -
The CPM is also probably one of the only parties to use WhatsApp wisely. Sujan Chakraborty tweeted about reaching out to him on WhatsApp urging people to make suggestions and ask whatever questions they may have
"Facebook and Twitter have a democratic space where you can place your views within a few seconds and can reach lakhs of people within a minute. At times media houses are driven by their own policies, but in social media you are your boss, you can place your views, participate in a debate," CPI-M state secretariat member Sridip Bhattacharya, who is in-charge of the social media segment of the CPI-M, said.
Even CPM's official twitter handle also does not miss an opportunity to rally for the ouster of TMC:
The CPM's Facebook page on a regular basis are uploading pics and posters of candidates who are contesting the elections.
BJP
BJP's West Bengal Twitter page, which goes by the handle @bjpbengal, does little to campaign for West Bengal. Their agenda is promoting Modi and it wouldn't be wrong to say that most of their twitter home page is filled with Modi's achievements, his visits, quotes and achievements of their party members. Their social media strategy for West Bengal stands no chance in front of the CPM and TMC.
Dilip Ghosh, BJP's key candidate, also has a social media presence and his Twitter handle does some rallying for himself and his party.
"Nearly 70 lakh people have smartphones. More than one crore people in Bengal use one or the other form of social media, be it Facebook, WhatsApp or Twitter. So we can easily send out our message to the masses through them," BJP media in charge Krishanu Mitra told PTI. BJP has also brought in Niraj Gaur in Bengal who had played a vital role in helping the BJP win in Haryana and Jammu and Kashmir.
The BJP state unit has formed a separate Media and IT cell, complete with a call centre. The network will also allow leaders to talk directly to booth workers as well as whole-timers. "The social media campaign has helped us in the last few months. Through small videos and messages we have been able to reach out to lakhs of people and inform them about incidents which local media has completely blacked out," Mitra said.
With inputs from PTI
also read
India
Crores of BJP workers, over 300 MPs and more than 1400 MLAs will vigorously participate in this program to take the public welfare policies and achievements of the Modi government to the public. The achievements of the BJP government will reach everyone.
World
Elon Musk may be planning Twitter's exit from Europe, if the social media platform isn't eventually banned from certain EU countries. Musk had Twitter pull out of an upcoming agreement that mandates social media platforms take measures to stop disinformation
World
Elon Musk has again defended Twitter's recent uptick in censorship, especially with regard to Turkey's election. Musk even went on to call journalist Matt Yglesias a 'numbskul' for pointing it out, adding that Twitter will reverse its decision, if proven they had a choice.