West Bengal poll verdict: 'Non-aggression' with Congress hurt Left Front, says CPI
CPI said the Left Front's electoral tactic of 'non-aggression' with Congress in West Bengal assembly polls did not help communist parties.
New Delhi: In a veiled criticism of CPM, CPI on Friday said the Left Front's electoral tactic of "non-aggression" with Congress in West Bengal assembly polls did not help communist parties and instead reduced their strength, as it called for analysis of the results.
The CPI though hailed the "historic" return to power of CPI(M)-led Left Democratic Front (LDF) in Kerala and thanked people of the southern state for their "positive" support to the Left forces. It also hit out at Prime Minister Narendra Modi over his claim that the result in Assam has reflected acceptance of ideology and politics of the NDA major and termed the same as one "without basis".
"CPI expresses shock at the unexpected defeat of the Left in West Bengal, in spite its best efforts to defeat the arrogant, anti-democratic TMC government. "TMC winning with bigger margin is definitely not a positive development. Apparently the electoral tactics of the Left Front of non-aggression with Congress in each others seat did not help the Left.
"It further reduced the Left strength. This is to be deeply analysed by the Left and its partners," CPI general secretary S Sudhakar Reddy said in a statement without naming any party specifically.
Hailing LDF's victory in Kerala "with a big majority in seats and votes", Reddy said the "consistent and massive" struggles of the Front on the issues of corruption and misgovernance had "exposed" Congress.
"The programmes and policies of LDF won hearts of the people. Now the LDF should work to fulfill the aspirations of the people, maintain harmony and secular values of the Kerala," he said. Reddy refused to buy Modi's claim that the poll outcome in Assam, where the BJP put on an impressive show to clinch power for the first time, reflected acceptance of the saffron party's ideology and politics by people.
He noted the BJP could not open account in Tamil Nadu and Puducherry but for the first time got one seat in Kerala assembly and bagged three seats in West Bengal. Reddy further observed there was drop in BJP's vote share in West Bengal, where the latter bagged three seats, from 17 percent in 2014 Lok Sabha polls to 10 percent in the assembly election.
The CPI national executive will meet on 28 and 29 May in Delhi to review the electoral results and decides the future course of action.
As BJP made debut in north-east with its victory in Assam assembly polls, Modi on Thursday hailed win as "historic" and "phenomenal" and said the mandate reflects growing popular support for the party's ideology of development and effort to transform the lives of people.
Politics
Mukul Roy, who joined the Trinamool Congress on Friday, did not comment on the reasons behind quitting BJP, but he made it clear that he will never rejoin the saffron party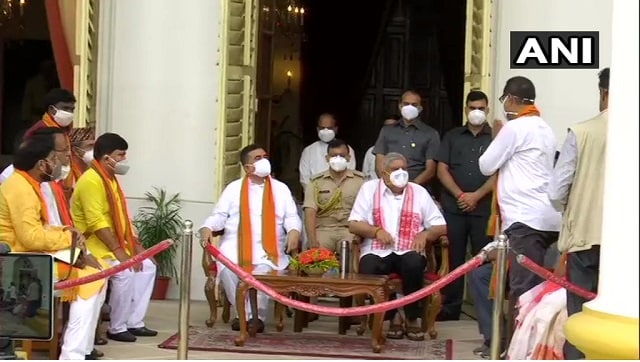 Politics
This is the second time when Adhikari met the governor in June. Earlier he met the governor and submitted a representation about unabated post-poll retributive violence
Politics
Several BJP leaders downplayed the impact of Mukul Roy's return to TMC, with Dilip Ghosh saying Roy himself wasn't sure whether the BJP 'gained anything'