West Bengal elections: Mamata says Trinamool not responsible for Tahidul's death
Kolkata: West Bengal Chief Minister Mamata Banerjee denied that her Trinamool Congress was involved in the murder in Murshidabad district during phase three of the assembly polls on Thursday.
"They (the opposition and a section of the media) are showing it in a way so as to ensure people don't vote for Trinamool. We conducted municipal polls, no one was killed. In 2014 also, no one was murdered. The Election Commission is holding the polls now. They should fare well, that is what I will always wish," Banerjee said an election rally in North 24 Parganas.
Communist Party of India-Marxist candidate from Domkal, Anisur Rahman alleged that his polling agent Tahidul Islam was killed in poll violence. The district administration rejected the allegation, saying the man was not a polling agent and his body was placed near a polling booth. Additional Director General of Police (law and order) Anuj Sharma said according to the FIR, the victim's name was Tahidul Mondal.
Islam's daughter claimed "Trinamool goons hurled bombs and fired bullets" at her father, killing him.
However, the district administration in its report to the Election Commission said Islam did not die "in any clash or bomb blast".
"The body of Tahidul Islam was found 500 metres away from Haridoba Notunpara with a sharp cut injury. Apparently, he was murdered by unknown people and the body was placed on the road. The allegation of the victim being a polling agent has been checked with the presiding officer and found to be incorrect."
The report said Tahidul sustained sharp cut injuries on the right side of his face, the right palm and left lower leg.
Politics
Several BJP leaders downplayed the impact of Mukul Roy's return to TMC, with Dilip Ghosh saying Roy himself wasn't sure whether the BJP 'gained anything'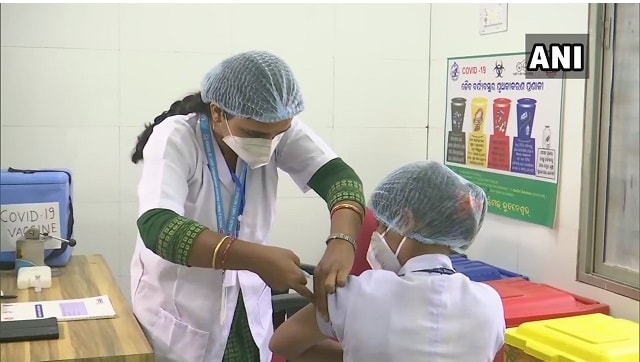 Health
Priority groups include health workers and their families, transport, media professionals, sanitation workers and hawkers, among other
Entertainment
Eastern India Motion Picture Association also asked for exemption of tax and duties for theatres, and providing financial help to the employees of single screens.