West Bengal Election 2016: Why Muslim Votes matter significantly for Mamata Banerjee
All the other candidates from the party have also been asked to do as confidence building measure. It is time for a consolidated verdict from the community or Mamata Banerjee might feel the heat.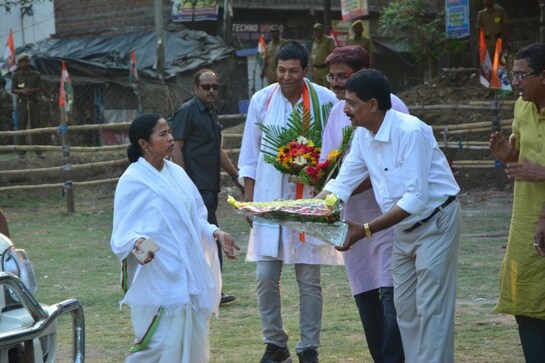 Had it not been so, Mamata Banerjee would not have kicked off her election campaign from Malda, recently infamous for the rioting by the "Ulemas" in skull caps burning police vehicles and looting a police station. Her nephew MP Abhishek Banerjee fluently recites a "Qalma" in midst of Muslim clergymen, in his "jansabhas"( public meeting) at Birbhum district while campaigning for his party candidate. Mamata Banerjee herself has without any qualms sported the "Orhna" (shawl) covering her head with ends tucked behind her ears to appear more like a Muslim woman on posters. In several of such publicity material across the state she is seen asking for votes. In Raniganj she campaigns for Nargis Bano, wrapping her trademark white cotton shawl on her saree with her party symbol displayed clearly as she addresses people in rallies. "Insha Allahtalla Muslim bhai bon bhalo thakun" implying "Muslim brethren keep well", she says along with her other high pitched slogans.
Until now this was being termed as her style of inclusive campaign that Mamata is used to. It would not have been noticeable back as the leader was sure of her winning streak that had kicked off from the 2009 Lok Sabha polls. The arithmetic said so. There is a 27.5 percent dedicated vote from the Muslim community in the state and if that voted en masse for the ruling party, nothing could stop Trinamool from reclaiming power. It seemed like a cakewalk.
The Muslims did vote together in the last Lok sabha, 2011 assembly and 2009 Lok sabha elections. Three districts in the state have Muslim majority votes, Malda, Murshidabad, and North Dinajpur whereas in districts like Birbhum, Burdwan, South and North 24 paraganas, Nadia, Cooch Behar it is more than 25 percent. Altogether out of 294 assembly seats 95 seats are such in the state that have a sizeable deciding Muslim votes with about 30-40 percent of votes. Among these seats half of them have more than fifty percent of Muslim voters in a state where the community constitutes about 24 percent of the total electorate.
Mamata Banerjee has been carefully nurturing the community since she came to power. She offered salaries to the Imams and Muezzins even after fighting a legal battle. She forged alliances with right wing Muslim outfits like the Jammat-e Ulema-Hind (JuH) to an extent that the influential general secretary of the JuH Saddiqullah Chowdhury agreed to contest on a Trinamool Congress ticket from Katua constituency of Burdwan district, although JuH has its own political outfit, the People's Democratic Conference of India (PUCI). On the other hand, Toha Siddiqui the Peerzada of Furfura sharif shrine that holds equal clout on rural Bengali Muslims of south Bengal, is also by her side. To add to numbers the Shahi Imam of Tipu Sultan mosque Nurur Rehman Barkati as an efficient party spokesperson defends the Trinamool Congress in television interviews. Also Abdul Razzak Mollah, former veteran from the fold of CPIM, switched sides and is contesting from Bangur, his old constituency in South 24 paraganas.
These are symbolic gestures but in public life symbols matter. Her party gave about 19.3 percent seats to the Muslim community that she highlighted prominently raising the number from 38 to 57 seats in a 294 member assembly.
But since the new unusual alliance of the Congress and the Left was forged hastily and gelled well at grassroots level despite severe doubts from political analysts, the cakewalk for the TMC has turned trying. And it is worrying time for the Chief Minister because her arithmetic goes awry. In the 2014 Lok Sabha polls, TMC won or was leading in the 85 of the 95 seats that has more than thirty percent votes from the Muslim community. But had the Congress and Left contested together in the Lok Sabha polls, the alliance would have been leading or won in not less 90 seats and their numbers would have grown in places where the Muslim community votes were between 25-40 percent.
"Muslims had in fact voted en masse for her thumping 2011 historic victory. She had then realized their potential. But then she had fought the elections with the Congress", explains Shabana Ejaz of ETV Urdu news channel.
Still in rural Bengal, Malda, Bankura, Birbhum the community in return is coming in large numbers to listen to her. The mayor of Durgapur Apurba Mukherjee wearing skull cap visits the Nayeemnagar Bari Masjid asking for votes. All the other candidates from the party have also been asked to do as confidence building measure. It is time for a consolidated verdict from the community or Mamata Banerjee might feel the heat.
"Muslim votes are divided this time unlike in 2011. A sizeable percentage of votes will also go to the Left and the Congress. And these votes are divided in the Muslim dominated districts like in Malda, Murshidabad and north Dinajpur where Congress has a dedicated vote bank. So are the left voters of central and north Bengal who had deserted the Left after the Sachar Committee report and the fallout thereafter. They thought Left had taken them for granted. Mamata seems to be making the same mistake", explains Professor Salman Khurshid political analyst and former general secretary of Muslim Institute. "Also this time Muslims are divided between the Urdu and Bengali speaking people, urban and rural Muslims", he adds.
A dent in Muslim vote bank is not a great sign for ruling TMC. It is because of this she is aggressively targeting 'the Modi led central government' during her last days of campaign in Burdwan, Birbhum and Malda. She wants to consolidate the minority votes that can easily bail her out. For the Left Congress alliance she wants to rake up issues of mere "opportunism" and "past animosity" but of late she has been vicious towards "Modi" and the "recent national issues" that can polarize minority votes in her favor now.
Much needed for a Trinamool Congress victory!
Take the quiz to find out if you should vote for Mamata Banerjee
World
Chinese president Xi Jinping is in Russia to meet his 'good old friend' Vladimir Putin. The two are expected to discuss a host of issues, including the war in Ukraine. Xi is likely to play peacemaker and reiterate Beijing's proposal to settle the conflict
Explainers
The MQ-9 drone is a large unmanned aircraft remotely operated by a two-man team. It was given the 'Reaper' moniker by the US Air Force and the Royal Air Force. Primarily used to gather intelligence, it can also conduct precision strikes on high-value targets
Explainers
Richard Sharp is under investigation for helping ex-prime minister Boris Johnson secure an £800,000 loan just weeks before being appointed to the post in February 2021. Now, the furore over Gary Lineker has seen fresh calls for him to step down