West Bengal assembly polls: Phase-4 records 42% votes till 11 am, over 100 people arrested
Over 42 per cent voters exercised their franchise in the first four hours of polling for the fourth phase of West Bengal Assembly elections on Monday.
Kolkata: Over 42 per cent voters exercised their franchise in the first four hours of polling for the fourth phase of West Bengal Assembly elections on Monday even as over 100 people were arrested for bogus voting and booth jamming.
Till 11 am, 42.37 per cent voters cast their votes in North 24 Parganas district while the corresponding figure in Howrah was 41.25 per cent.
Overall, 42.01 per cent voter turnout was recorded for 49 seats in the two districts after polling began at 7 am. In Howrah district, BJP candidate Roopa Ganguly accused the presiding officer at Salkia of being biased.
In Dum Dum North constituency, CPI(M) candidate Tanmay Bhattacharya sustained injuries on his hand after stones were hurled at his car. Three persons were arrested, Barrackpore Police Commissioner Niraj Singh said.
So far, 110 people were arrested in Barrackpore police commissionerate area for bogus voting, booth jamming and being outsiders, Singh said.
Two other persons were arrested this morning in connection with an attack on the house of a family known for their affiliation to CPI(M) in Halishahar last night, he said.
In Beejpur seat, a family of CPI-M supporters alleged that their three-and-half-year-old child was beaten up. West Bengal opposition leader and CPI-M candidate Surjya Kanta Mishra said, "Unnerved TMC goons targeting all. From the 3.5-year-old child to the Left candidate. Even women were not spared. People will give a rebuff by ousting TMC."
In Howrah north seat, Trinamool candidate Laxmiratan Shukla has complained that her co-contestant and BJP leader Roopa Ganguly entered booths and "threatened" presiding officers, disrupting the polling process.
The phase is crucial as it will decide fate of several ministers - Finance Minister Amit Mitra, Agriculture Minister Purnendu Basu, Law Minister Chandrima Bhattacharya, Tourism Minister Bratya Basu, Food and Supplies Minister Jyotipriyo Mullick and Agriculture Marketing Minister Aroop Roy. Former Minister Madan Mitra, who has no voting rights as he is in judicial custody in Sharada chit fund scam, is defending his Kamarhati constituency on a Trinamool ticket.
An estimated 1.08 crore voters are eligible to exercise their franchise to decide the fate of 345 candidates, including 40 women. Voters were seen lining up before 12,500 polling stations since morning to avoid the scorching sun as the day progresses.
Kolkata had on Sunday recorded 40.2 degrees Celsius, five degrees above normal and several districts are already reeling under heatwave. Unprecedented security arrangements have been made as about 90,000 security personnel, including central armed forces, have been deployed by the Election Commission.
Special interventions includes patrolling in night and even on rivers are being done for the first time in this elections. Special focus is being laid on Salt Lake area (Bidhannagar) in the northern part of city, EC officials said.
The central force contingent, including 672 companies, will be assisted by a 22,000 strong team of state police personnel. To keep a strict vigil on the law and order situation, five police observers, all of IAS ranks, have been deployed in the two districts. Besides, another 1100 mobile surveillance teams will be doing additional monitoring work.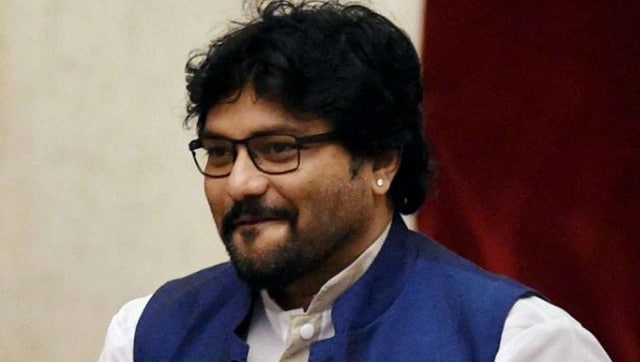 Politics
Mamata Banerjee is an iconic leader and she has shown the country that she definitely has an important role in 2024, says Babul Supriyo
Politics
Earlier on Saturday, the home ministry reduced Supriyo's security category from the 'Z' to 'Y' category
India
Ghosh was among those suspended during the ruckus in Rajya Sabha in the recently concluded Parliament session where both MPs and marshals were allegedly injured