Bengal Assembly elections: Sonia's rallies prove Left-Congress alliance wary of BJP more than even TMC
The unpredictability of BJP and its voter base has forced the Congress into making some late tactical moves.
Even before the Augusta bomb had exploded in her face via Tuesday's Italian court verdict, Sonia Gandhi was a worried woman. India's 'default operating system', as Rahul Gandhi put it in the run up to the 2014 general elections, is in danger of being replaced by a new national OS, BJP.
Among the seven states that Congress is still in power, it is in danger of being wiped out in four, barring the three north-eastern states. Narendra Modi's grand plan of 'Congress-mukt Bharat' looks a plausible reality than a pipe dream.
It is understandable, therefore, why the Grand Old Party is so desperately hoping for the alliance with Left Front in West Bengal to work. And late developments suggest that it has decided to put all its cards on the table as Assembly Polls enter Mamata Banerjee's home stretch.
At this stage, the Left Front-Congress alliance seems to be fearing the BJP more than even the ruling Trinamool Congress. It is under the impression that the BJP — though in itself not strong enough in Bengal to form the principal opposing force — nevertheless may queer the pitch by garnering a sizeable number of anti-incumbency votes and make it easier for the TMC to scrape through in what increasingly looks to be a very tight three-way contest.
BJP logged an unprecedented 17 percent vote share in the 2014 Lok Sabha elections, a number which is widely expected to take a hit this season. A CVoter-India TV opinion poll points out that BJP's vote share may come down to around 10 percent.
If that happens, the alliance would be best placed to bag the remaining seven percent but in election, two and two rarely make four. Besides, the BJP still remains a force in pockets. In Mamata's seat Bhawanipore in Kolkata, for instance, the BJP has a substantial support base in quite a few wards. Party leaders are hopeful of winning in at least two seats in Assembly polls which may even turn out to be four if results go their way.
The unpredictability of BJP and its voter base has forced the Congress into making some late tactical moves. One, show solidarity with CPIM on a public platform. Two, create an impression that BJP has a secret understanding with TMC. Three, put pressure on BJP to withdraw its candidate from Bhawanipore seat so that Mamata can be challenged head on in a two-way fight.
The strategy became evident when Sonia Gandhi landed in the state on Tuesday for yet another round of election rallies. In a clear departure from her earlier stance, the Congress president canvassed for votes in favour of Left Front in back-to-back rallies in Serampore and Canning with top CPIM leaders by her side. In earlier rallies — Malda, for instance — Sonia had attacked Chief Minister Mamata Banerjee but refrained from requesting voters to fly the red flag.
There were no such restrictions on Tuesday.
"Main aap logon se nivedan karti hoon sabhi umeedwaaron ko — Congress aur laal jhandewali party — vijayi banayein (Bring your own government to power by voting for the Congress and the party with the red flag)," the Congress president said in a rally in Hooghly's Serampore.
"In order to bring peace, prosperity and speedy development, people in Bengal must fulfil their historic responsibility by bringing the Congress-Left alliance to power," she added.
There were murmurs among state Congress circles that Sonia Gandhi wasn't personally in favour of an alliance with the Left Front given her own equation with Mamata Banerjee. She wouldn't have forgotten how the CPM left UPA government high and dry over the Indo-US nuclear deal. With alliance gathering steam in Bengal, however, Sonia sought to allay those fears and send out a message of solidarity through her rallies on Tuesday.
The second step was to suggest a collusion between TMC and BJP so that anti-incumbency votes are not split. Towards that end, Sonia spent a considerable time on Tuesday trying to convince voters that the party at the Centre and the one in Bengal are both sides of the same coin.
"Five years ago, the TMC had asked for your votes by giving you false hopes and promises. Now it is trying to take your votes by terrorising you. Just like her, Modi too had spoken of dreams two years ago," she said in Serampore.
"Modiji claimed that Congress has done nothing in the last 60 years. Everything was done in the last two years. Mamata too says there was nothing in Bengal before she came to power. This Mamata-Modi collusion is a big danger for Bengal. These twin arrogant forces are a danger to democracy," thundered the Congress president.
She accused the BJP and TMC of striking a secret entente, or else "why is the investigation into the Saradha scam going slow… And why does Trinamool help BJP pass all anti-national bills in Parliament," asked Sonia. The Congress had earlier raised questions over TMC's "silence" in Parliament when it had gone all guns blazing against the BJP over Uttarakhand muddle.
"When the entire country is speaking out against the Centre's arbitrary decision to topple a democratically-elected government and impose President's Rule, the TMC has maintained a stoic silence. This only proves political match fixing between the two," state Congress president Adhir Chowdhury had said recently.
The final piece of the tactical jigsaw fell in place when CPM's state secretary and the alliance's chief minister hopeful Surya Kanta Mishra urged BJP to withdraw Chandra Kumar Bose, its candidate from Bhawanipore constituency to make it a direct fight between the alliance and TMC.
"If the BJP is really serious about ousting TMC from the state, the Prime Minister should issue a handnote and withdraw Bose's candidature," Mishra said during a rally in the city on Tuesday.
BJP expectedly ridiculed the overture, but the fact that CPIM sought its cooperation to oust TMC is a pointer to how high the stakes are in Bengal.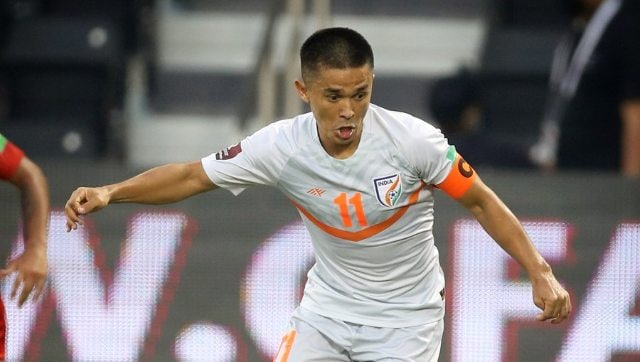 Sports
The 36-year-old Chhetri scored a second-half brace against Bangladesh to hand India their first win in the joint preliminary qualifying round match on Monday night.
Sports
India had held Asian champions Qatar to a goalless draw in September 2019.
Sports
Sunil Chhetri's brilliance once again came to India's rescue but their ineffectiveness to create clear-cut chances from open play and poor finishing may cost them some other day.