West Bengal Assembly polls: Man of the match in Phase 4 is the Election Commission
Election Commission was the Man of the Match in the fourth phase of West Bengal Assembly elections which was held across 49 seats in North 24 Parganas, Bidhannagar and Howrah districts on Monday.
Election Commission was the Man of the Match in the fourth phase of West Bengal Assembly elections which was held across 49 seats in North 24 Parganas, Bidhannagar and Howrah districts on Monday.
From the crack of dawn till the last ballot was cast, about 90,000 security personnel including 672 companies of central armed forces and 22,000 police officers remained on high alert, dispersing unlawful assemblies, chasing away goons, stopping leaders from breaking the law, checking vehicular movement and keeping proceedings on a tight leash that left the opposition purring their approval and the ruling Trinamool Congress grumbling in discontent.
Nowhere did the picture change so dramatically from last year than in Salt Lake. During the civic body elections last October, alleged Trinamool Congress goons led by party leaders created mayhem, marching into polling booths, threatening voters, beating up several local residents including a few senior citizens and even hurling bombs when faced with resistance. Journalists, too, weren't spared with several suffering injuries while doing their duty. One scribe was even threatened with gang-rape as cops stood as mute spectators.
This time, however, nary a sound emerged from Bidhannagar. The only noise was from disgruntled TMC leaders with candidate Purnendu Basu, who is contesting from Rajarhat-Gopalpur constituency, complaining of "undeclared emergency" as paramilitary forces refused to let him visit polling booths with followers. ABP Ananda footage showed Basu, state minister for agriculture, losing his cool and lashing out at a jawan for doing his duty, asking him to "behave yourself".
TMC candidate from Rajarhat-Newtown Sabyasachi Dutta, who was caught in a Times Now sting operation allegedly owning up to syndicate raj in the state, was also seen scolding police officers in Rajarhat. ABP Ananda reported that Dutta became angry when police took strict action against 'unlawful assembly' of TMC workers near the booth No 242.
Sporadic violence results in 4173 complaints
Reports of violence, however, trickled in all through the despite strict vigil. The Election Commission said a record number of 4173 complaints were received and dealt with at the end of phase 4.
In Beejpur area of Halishahar, North 24 Parganas, the family of CPI(M) leader Tito Samajpati were finally able to cast their ballot after the EC sent a team at their residence to allay their fears.
Tito's house was attacked and his family members — including his three-year-old granddaughter — was beaten up Sunday night by alleged TMC goons. The family was threatened with "dire consequences" if they step out to vote on Monday. Following media reports, the family members cast their ballot under EC's supervision. Two people have been arrested.
By afternoon as complaints scaled the 1200 mark, three more were arrested in connection with an attack on Tanmay Bhattacharya, the CPIM candidate from Dum Dum North. Bhattcharya alleged in his FIR that seven TMC-linked goons had smashed the windshield of his car with brickbats — resulting in deep cuts in hands — when he went to visit an injured party worker in the early hours of voting on Monday.
Footage from ABP Ananda showed Bhattacharya bleeding profusely from the hand and blaming TMC henchmen for "launching a terror campaign" in the area since the last two days.
"The goons have been demolishing our party offices and attacking our workers for the last two days. Today, they tried to stop voters from going to booths and threatened them. My car was attacked and I suffered cuts in my hand," Bhattacharya was quoted, as saying in TV channels.
TMC candidate Chandrima Bhattacharya, however, denied the charges calling it "baseless allegations".
Reports of violence also emerged from Baranagar under North 24 Parganas where a Left Front (RSP) polling agent was thrashed while on duty by alleged Trinamool Congress goons, Kolkata TV reported.
Sanjib Guha, who was admitted to RG Kar hospital after his condition took a turn for the worse, identified one Raju Ghosh and Shankar Kar, both TMC workers, as his attackers. "I was doing my polling duty at Khalsa Model High School when these two waylaid me and beat me up. They hit me on my face and chest," a distressed and injured Guha was quoted, as saying in the report.
Rise of the Didis
Move over Mamata Banerjee. Bengal on Monday witnessed the rise of three more 'didis' as they took the voting arena by storm with their theatrics.

An FIR was lodged against BJP leader Roopa Ganguly for allegedly threatening and pushing around a voter during a squabble in Bamangachhi area of Howrah (north) from where she was contesting. In a role-reversal of sorts, it was the ruling party which lodged a complaint with the EC against Roopa. Laxmi Ratan Shukla, former Bengal cricket captain now contesting on a TMC ticket, said Roopa had broken rules by barging into several booths and trying to take pictures in her mobile.
Not to be deterred, Roopa, in turn, brought allegations of rigging against the TMC and got into a scuffle with a voter. TV footage caught the BJP actor-politician accosting a woman aggressively which shortly resulted in her being handed an FIR.
"An FIR wouldn't have been lodged against me if the presiding officer had done his duty," spat out Roopa.
Another feisty BJP woman leader, Locket Chatterjee, against whom the EC had already filed a case for intimidating a polling officer in Mayureshwar constituency of Birbhum in the third phase, ran into fresh trouble on Monday by taking on a polling agent in a booth in Ariadaha where she had gone to cast her vote.
Not to be outdone, TMC showed it has one more didi in its ranks as Baishali Dalmiya, the daughter of ex-BCCI president Jagmohan Dalmiya who passed away last year, was seen threatening a CPIM leader in Bally, Howrah.
Baishali, who is making her poll debut in favour of TMC, was seen telling her rival "Do you know I am? If anything happens, I won't spare you" during a squabble.
Do we have space for more didis in Bengal?
Politics
Tibrewal, a lawyer by profession, is one of the petitioners in the post-poll violence cases against the TMC government in the Calcutta High Court.
Politics
A PhD in botany, 41-year-old Majumdar, known to be sharing close ties with Ghosh, is the first state president of the saffron camp from north Bengal.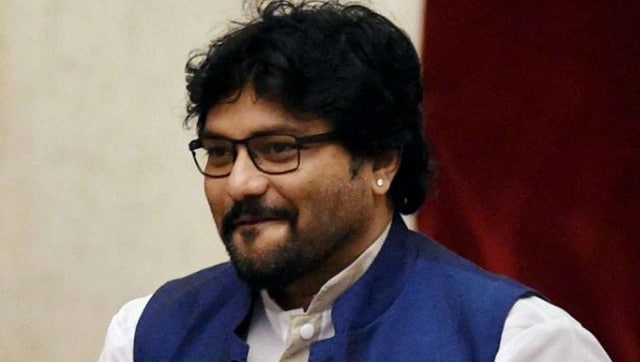 Politics
Mamata Banerjee is an iconic leader and she has shown the country that she definitely has an important role in 2024, says Babul Supriyo